Hello all! Today's post is my first attempt at writing this blog on a biweekly schedule. Granted it's probably been about three weeks since my last post, but hey, nobody's perfect.
The past two weeks have been pretty eventful, inspiring me to come up with a variety of topics I've been VERY excited to write about. The problem is that my successful writing life only exists in one place: within the confines of my mind/imagination. I'm extremely observant in social situations, constantly making witty commentary to the audience in my mind (in turn the audience applauds me for being wonderful, laughs, buys me stuff, etc.). But once I actually sit down to write? Not much comes out.
The actual quality of my writing is questionable (prose, syntax, grammar — the important stuff), and the content often only makes sense in my mind. This is probably why I don't write  as often as I should.
This is also why I want to thank you all for reading and for at least trying to follow my thought process. You are awesome!
Much of what I thought about writing for this post doesn't necessarily have to do with college but has more to do with everyday world questions.
For instance, "why the hell are lesbians so goddamn scary?" And "why don't girls hit on me but guys hit on me even when I tell them I'm gay?"
A couple of weekends ago, I somehow managed to go out two nights in a row; a huge deal for me as "going out once" generally renders me comatose for the rest of the weekend. I'm convinced I already have the body of an 80-year-old.
So it was during this tiring weekend that I started thinking about the Scary Nature of Lesbians.
"Girls are scary no matter what their sexual orientation is — we size each other up whether we mean to or not."
The first night proved to be a very stereotypical Columbia/Barnard freshman outing at a couple of… um… liquid-serving gathering places. It was all very heterosexual. A couple of guys asked me to dance and some others wouldn't stop talking to me even when I mentioned that no, I do not have a boyfriend — I date girls. I don't mind talking to these guys and will admit that they do a lot to boost my ego no matter how much I imagine I might still find them unattractive even if I was straight… but it gets old pretty fast.
However, lest my slowly growing ego expand past Friday night's initial boost, the events of my second night out managed to completely shoot me right back down to my bell jar of insecurity. This is 'cause Saturday night was a lot gayer, and a lot more of what I like to tell myself is "my crowd." This makes it scarier.
Actually caring if the other people in the room like you or not makes being in the room so much scarier.
We visited two different locales during our night of alternative fashion, and at both places, no one seemed even slightly interested in me — but they were extremely interested in the girl I was with! Okay, fine. This will teach me not to let my ego become a hindering pain on my still-developing personality, but it still doesn't change the fact that lesbians are really, really, scary!
The second place we visited that night was more of a lesbian "gathering place" and the minute I walked in I felt… weird. Girls are scary no matter what their sexual orientation is — we size each other up whether we mean to or not — so being in a room with a bunch of women who are most likely looking to hook up with other women? Well that just takes the experience to an exponentially greater level of absolute terror.
But I'd walked in confident enough from the night before. Then when I realized the girls weren't hitting on me but instead hitting on the girl I was with, I lost my confident stride.
And then I learned something even more frustrating: apparently, I look like "the straight friend."
Perhaps I'm overthinking the situation. I guess I live in this constant fear that my sexuality isn't being taken seriously, probably because guys keep hitting on me despite my disinterest in their entire gender. So that's part of why I'm terrified in these situations.
Look, I know it's totally politically incorrect to say this, but guys just seem so much easier than girls. I'm sure they have real feelings and are very smart creatures, but they don't scare me.
Guys don't seem to be looking at me in a way that suggests that they are:
a) trying to figure out if I'm gay
b) wondering if I'm a threat/going to steal their girlfriend
c) judging my outfit/hair choice and finally
d) deciding whether their feelings include wanting to have sex with me, wanting to be friends with me, or just wanting to look like me.
I'm pretty sure straight college guys aren't wondering where I got my shoes or what my sexuality is. But perhaps the reason guys are so nonthreatening is because I have no desire to sleep with them. I'm not trying to impress them. I'm not frustratingly trying to "prove" my sexuality to them.
In my womens-studies-heavy curriculum, I often come across readings about the horrors of the "male gaze,wp_postsbut let me tell you — there's something to be said about the "female gaze," too. It's different though — whereas the "male gaze" is associated with power disparity, the female gaze is just kinda … judgey! Maybe all of us lady-loving ladies can make a uniformed effort to stop looking so scary! Or really all women in general should just stop judging anything & everything that we can find to judge in other women.
My idea may be idealistic and undoubtedly hypocritical but we have too much shit to deal with in the world, we might as well at least try to love one another. It's strange how being close to a woman can be such a rewarding experience — but until you get to that point, it's really anything but.
The remainder of the last few weeks I haven't spent thinking about scary lesbians included my birthday, my birthday party, cats, and snow!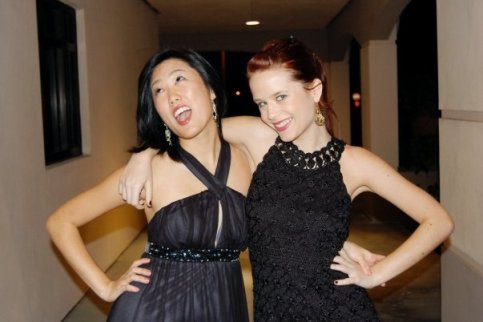 Question: Why isn't snow fluffy and soft like it looks but actually cold and wet? It's deceiving and mean. It's lucky it's so goddamn beautiful or we would  have found a way to get rid of it already.