ALEX SAYS: JOHNNY BE GOOD, JOHNNY BE ROBBED
According to Riese, I am Autostraddle's "glamorous-gay-man correspondent"…
"You're our expert on men who wear shiny things and like other boys!"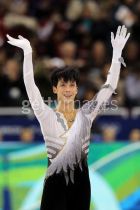 ..so I must write about Johnny Weir and how he was snubbed by the judges at tonight's Olympic mens figure skating long program. Why? Cause he's gay. Yeah. I said it. 'CAUSE HE'S GAY. Okay, maybe not. I am just going to throw something out there: Lady Gaga, bisexual queer supporter often accused of having extra private parts, lost a Grammy (we shall not dwell) and Adam Lambert, our gay boyfriend, lost American Idol and hai it wasn't too long ago that Kim Stolz lost America's Next Top Model and Ashley lost Top Chef and I lost my puppy and Riese came in third at the Science Fair in Second Grade. GAY. GAY.
Listen, I'm not knowledgeable about figure skating nor am I claiming to be. But I'm pretty knowledgeable about twitter and trending topic "Johnny Weir" made me feel better about life. The consensus was clear: Johnny was fucking robbed.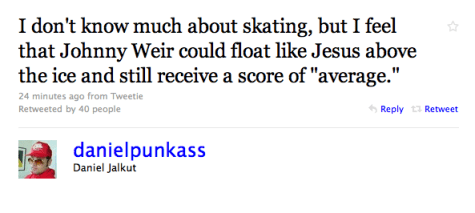 Is it just because the people on twitter are cooler than the average social networker? I'm confused. There is an overwhelming display of love for this crazy/candid/flamboyant skater fairy. And I love it.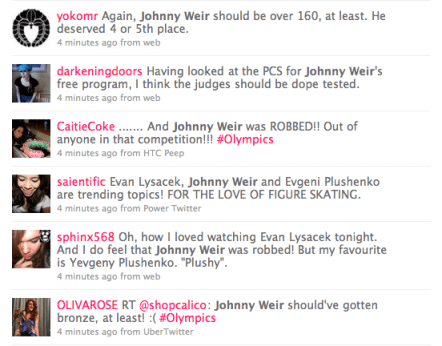 I'm not saying Weir should've won gold. Bronze would've been nice and even 4th place is so close it's satisfying. But come on, 6th place? Gawker's article (which has the whole video of Johnny's performance) said it well:
"He skated it beautifully. It was dramatic, it was acrobatic, it was genuine, it was emotional, and—according to the judges—it was good enough for sixth place."
This was the live-tweeting from USA Today's Christine Brennan:
11:57 p.m. ET: Johnny #Weir! Clean, no falls. Wow. Where did that come from? He almost quit last year? A medal for him now? It's possible.
11:52 p.m. ET: #Weir up now. He can win a medal with a strong long program. It's sitting there for him.
Right…
Evidence-schmevidence you guys, it's cause they're gay and gay-like and we all know it.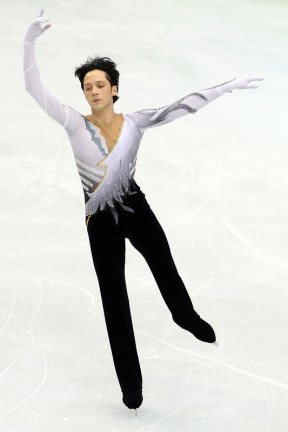 But you know what DO you get when you're too fabulous for real life and its silly (yet reassuring) accolades?
A reality show:
+
(No objections here!)
+
---
+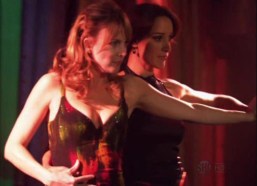 SAME SEX OLYMPICS:
Is the world ready for same-sex figure skating? "In figure skating, as in much of the rest of life, we seem to have a two-track mind: either you are in a boy-girl couple or you are alone. But that's all in our heads. In our real lives, we have our solo acts, our boy-girl events, our same-sex ties, and our groups." (@psychologytoday)
In other Olympics news, OutSports has a feature on 5 out lesbians participating in the Winter Olympics this year. (@outsports)
GAY LICENSE PLATE:
An Oklahoma student is suing his state's tax commission over its rejection of his request to put the words "I'm Gay" on his license plate. The student argues that the denial violates his First Amendment rights, and that it represents a double standard because license plates with messages such as STR8FAN and STR8SXI have been approved in the past. (@wallstreetjournal)
STRIPPING:
FourFour has a full-on multimedia extravaganza on his blog after discovering the 1986 documentary "Stripper." Animated GIFs within! (@fourfour)
RACE & LGBT HEALTH:
A new article examining the health care hurdles facing LGBT Americans of color: "For people of color, a lack of affordable health care and insurance and culturally competent service providers—along with persistent racism in society—are some of the largest causes of health disparities. An LGBT person of color faces the combined impact of these barriers, increasing the likelihood of negative health outcomes." (@racewire)
MOMMY ISSUES:
Two new studies show that not only are parents responsible for how you look, they may have a hand in whether or not you ever find true love. Can I just add how disturbing it is that this Telegraph UK article chose a photo of Jennifer Aniston, of all possible images to accompany this "unlucky in love" article? WTF does this woman have to do to get a break? (@telegraphuk)
RACHEL MADDOW:
Rachel Maddow will deliver the commencement address at Smith College this spring and the women lost their shit during the announcement:
+
+