This intro includes some spoilers for the movie, so if you want to avoid those, scroll down to the coats!
On the first day of third grade, when asked by my teacher to write a journal entry including a summary of my summer and a brief introduction of myself, I instead opted to write a plot synopsis of the film Mighty Joe Young and a short profile of Charlize Theron. In other words, I have been under Charlize Theron's spell since 1998. That, coupled with my devotion to the James Bond franchise since middle school, made Atomic Blonde my most anticipated movie of the year. Atomic Blonde isn't a perfect movie, but it thrills and delights, and Theron gives a searing performance that reinforces just how magnetic she is as an action star. I walked out of the theater hoping to one day be lucky enough for Charlize Theron to kick me in the face.
Helmed by David Leitch, who started out in Hollywood as a stuntman and stunt coordinator before breaking into acting and making his directorial debut with 2014's John Wick, what Atomic Blonde lacks in coherent plot, it more than makes up for with brilliant action crafted by someone who understands what makes a compelling fight sequence. There are fewer cuts and more wide shots than in the fight scenes tediously fashioned for superhero films. (Oh my god, remember the horrendous Iron Fist fight scene that somehow had 56 cuts in 35 seconds?! My sister and I crafted better action sequences in the James Bond parody, titled Jenny Bond, we made in middle school with our family camcorder.)
Who cares that the actual story only barely makes sense? Who cares that the story employs an unnecessary flashback framing device? Who cares that the script is, at times, laughably trite? Atomic Blonde is a stunning, queer action thriller, which is something I feel like I have been waiting my whole life for! Theron captivates in the action scenes as well as in her quieter, sexier scenes with Sofia Boutella, who plays Delphine Lasalle, a French operative tracking Lorraine in Berlin. Theron and Boutella crackle on screen together, and their sex scene is one of the hottest things I've watched in a very long time. But the most egregious turn in the show's plotting is Delphine's death, which isn't ultimately necessary for the story and is a pretty blatant replication of the harmful Bury Your Gays trope. It's especially a let down since Delphine is a genuine love interest for Lorraine, who doesn't sleep with her to get information or for any other ulterior motive other than just wanting to sleep with her.
The only other dynamic duo in the movie on the same level as Lorraine and Delphine is Lorraine and coats. The costuming in Atomic Blonde contributes to the brilliance of the fight sequences. Lorraine's coats billow and swing behind and around her as she thrusts and twists her body in attack mode. The shape and movement of these coats have been emblazoned in my brain since I left the theater. So I present you with my definitive ranking of the coats worn by Charlize Theron in Atomic Blonde, including the names I have given them in my head when I fantasize about them.
---
10. White Vinyl Storm
There's nothing better than a raincoat when your life pretty much means you could be splattered with blood at any given moment. This is one of the first coats of the film, and it was custom-made by John Galliano, so it pretty much sets the coat tone for the rest of the movie. The killer boots are also worth noting. Those could puncture a jugular or two, and Lorraine no doubt considered that whilst purchasing them, because she's a woman who thinks ahead.
9. Double Trouble Trench
Love a simple trench! Look at how effortlessly that collar is popped. I mean, that's some Grace Hanson levels of effortlessly popped collars. Do you think Lorraine wears so many trench coats because she can use the belt as a weapon if needed? I do!
8. Killer Duster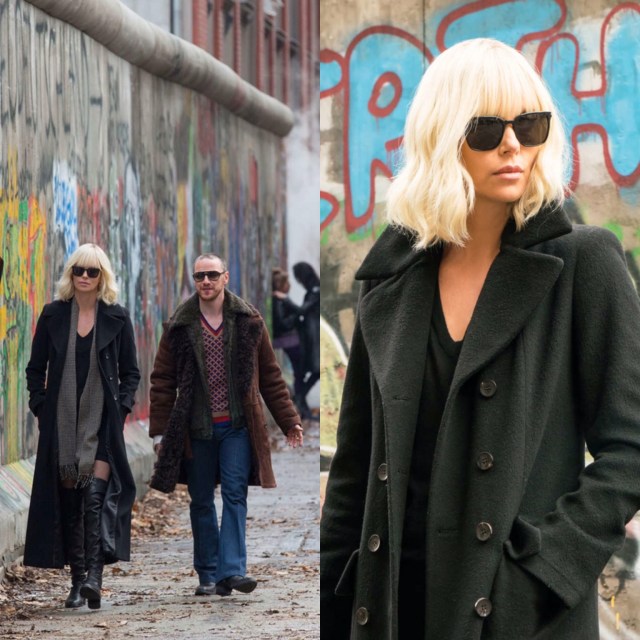 Nothing like a long n loose black duster to make you feel like a shadow in the night. Lorraine is giving off some casual Catwoman vibes, and I'm here for it!
7. Winter Assassin
It's cold in Berlin! So sometimes, you gotta throw on a wool coat and thigh-high boots and chill out, even though you're a character in a movie with no chill to be found. I, too, owned a dark green wool coat in high school. Am I basically a queer superspy who thirsts for men's blood? Ya.
6. Undercover Trench
Lorraine wears this one when trying to sneak through the streets of Berlin undetected. But what starts as her incognito coat transforms into one of the focal points of the film's longest, most grueling fight scenes. Fight scenes that unfold on a stairwell are nothing new, but this one makes all the others look like child's play. It also ends with Lorraine's best one-liner.
5. Atomic Green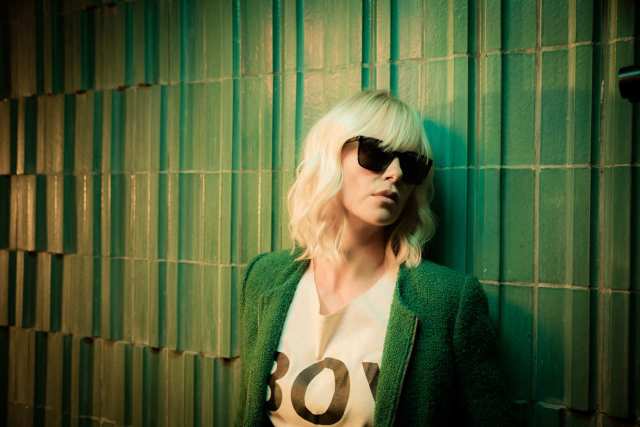 Lorraine doesn't wear a ton of color in the movie, so when she does, it feels significant. The coloring and lighting in this movie is truly fantastic, neons popping against a bleak Berlin background. And the Boy London shirt she's wearing underneath this coat reminds us we're in the 80s (it's bizarrely easy to forget that detail when watching the movie, even though Cold War news soundbites play throughout).
4. Leather Menace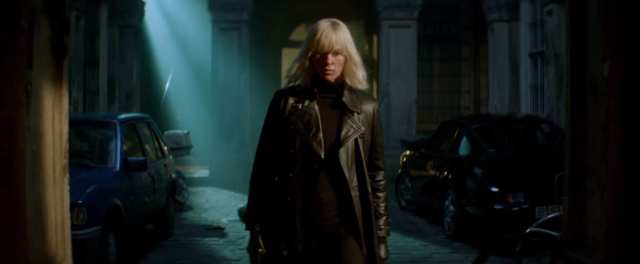 I'm somewhat surprised Lorraine didn't don more leather coats, but costume designer Cindy Evans has also noted that fabrics for Theron's costuming were considered not only based on how cool they looked but on how well they performed in fight scenes. Lighter, looser fabrics than leather are no doubt better for maximum slayage, but at least we got this one strong leather look for Lorraine.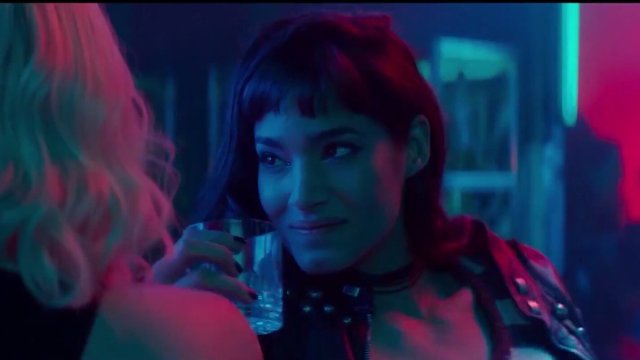 Now seems like a good time to mention Delphine's studded biker jacket, which is the best coat in Atomic Blonde not worn by Lorraine (Lorraine does, however, rip it off of her).
3. There Will Be Blood
This gorgeous piece came from the Dior archives. Note! The! Pockets! Functional fashion! Lorraine's sudden change to a bold color (and brown hair) accompanies a sudden plot twist, but the coat is more compelling than the twist.
2. Popping Collar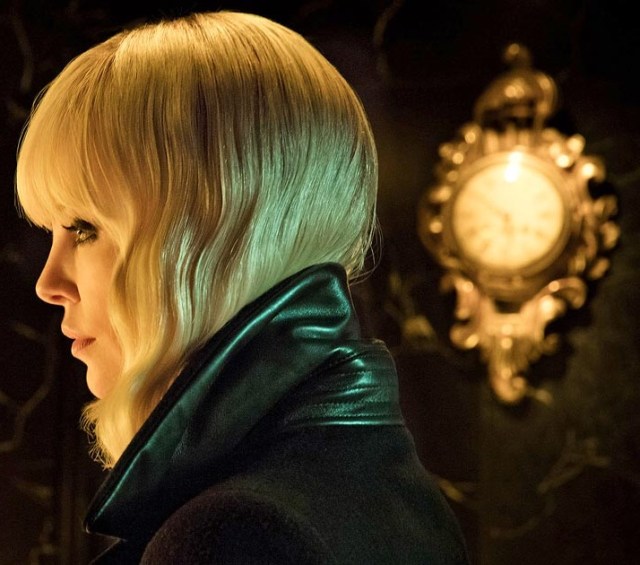 This black wool coat is sleek but pretty basic…until you notice the freaking leather collar that Lorraine pops for some edge and an air of mystery.
1 . Never Wear White To A Fight (Unless You're Charlize Theron)
Um excuse me? How dare this Massimo Dutti white coat exist? It's too beautiful and then somehow made even more beautiful in motion in another one of the film's standout fight sequences.
In addition to coats, Lorraine sports a lot of excellent turtlenecks in the film, and as a lifelong turtleneck devotee, I feel extremely seen. Tactical turtlenecks are a spy tradition thanks to the likes of Archer and James Bond. When Lorraine pulls her black turtleneck up over her face in this scene, I almost stood up and clapped.