No matter what you thought of Happiest Season — and if our socials and comments are any indication, most of you thought Mackenzie Davis' character should have died in a Christmas light electrocution accident — it did at least one very important thing. It became a record-breaking Hulu hit, which forced networks and studios to perk up their ears and pay attention. And now, one year later, we've got over a dozen new queer women in holiday films. Most of them are even the main characters! One of those is Tello's Christmas at the Ranch, a welcome horse girl holigay rom-com that feels like fan fiction in the way all the best Hallmark Christmas movies do.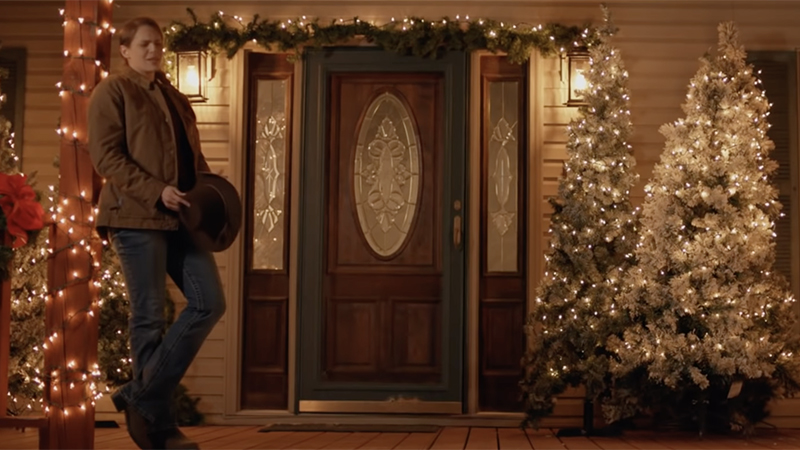 The story is so familiar you could tell it on your sleep: Haley (Laur Allen) is a big city workaholic whose love life always takes a backseat to her career ambition. And also app dating is hard! And exhausting! But Haley comes from a farm, of course, and when she returns home for Christmas she finds that her Meemaw (Lindsay Wagner) is in big debt due to medical expenses and the high cost of equine ownership these days. Meemaw raised Haley and her brother, and now she's also kind of a grandmother to Kate (Amanda Righetti), her horse-hand who's got no time for the prodigal granddaughter and her city slicker ways.
But here's where things get interesting! In most Christmas movies — and also 13 Going on 30, The Proposal, etc. — the career girl realizes she's an evil villain and decides to repent for her success, but not Haley! She gets that everyone else around her might be great at farm stuff, but she's great at making money! And so maybe, by combining her powers with Kate's, they can make the ranch profitable again and save Meemaw and also Christmas!
And maybe in the process they'll totally fall in love.
There's an extra layer here, too, that makes this story special. This is director Christin Baker's THIRD lesbian rom-com. Tello started making lesbian movies before Kristen Stewart was even a twinkle in canonical gayness' eye, and I feel confident that plans for this one were already being mapped out long before Happiest Season stormed the scene last year. That's because Tello has been telling queer stories long before queer stories were lucrative. They don't have the budgets of major studios, and there's no sense in pretending that doesn't affect the production quality of their movies. There's no A-list stars here, no Tegan and Sara songs on the soundtrack, but there's obviously a whole lotta love for gay people who want to relax in a plaid robe with their balsam and pine candles while watching a predictable love story, but without some smooching straights.
Christmas at the Ranch is sweet and fun and Kate is exactly the kind of hard-shell/gooey-caramel-center lesbian that we all know and love. Plop her down on a hayride wearing a Rudolph nose, and you'll be falling in love with her as quick as Haley!
Bonus: Literal patriarchal destruction! My grown-up Christmas wish!
You can rent Christmas at the Ranch from Tello for six bucks, or! You can subscribe to their entire catalogue for six bucks a month.