GAYS, GAYS EVERYWHERE

Defamer has noted that Hollywood is having its Gay Teen moment. Because you know nothing has happened really since My So-Called Life's Rickie Vasquez, who honestly changed my life. Well, except Jack from Dawson's Creek. And the guy on Greek, and Skins and Marco on Degrassi and Andrew Van de Kamp on Desperate Housewives and Justin on Queer as Folk. Anyhow, back to the article: it's focused mainly on Marshall in The United States of Tara, Kurt in Glee and Betty's nephew Justin (Mark Indelicato), who officially came out on Ugly Betty this week,, which was adorbs and so progressive for such a young character. The article points out that unlike perhaps many of the aforementioned examples, these gay teens have prospered on TV without much criticism or protest. And that's a really, really good thing.
It mentions, of course, our problem (sexism factors in here in a major way as well — less women on TV in general will mean less lesbians. That's just one of many factors at work obviously). Anyhow, Defamer says:
There are three out gay male teens on major television these days and no one's lost their monocle or fainted to the floor. Sure we've a dearth of lesbian teens — that mean little so-and-so on Weeds and the band girl on Friday Night Lights are all we can think of at the moment — but hopefully we're getting there. Hopefully we're getting to a place where none of the gay stuff is more surprising than any other story on the show. It's a shame that Ugly Betty waited until the show was ending to give Justin his moment — it would have been interesting to see him navigate his new gay life — but at least they got there eventually and hopefully have helped set a precedent.
We had a moment around '04-'06: Spencer and Ashley on South of Nowhere, Kim on Sugar Rush, Alex & Paige on Degrassi, Alex & Marissa on The O.C., as well as teenage queer characters on shows like Six Feet Under, Wonderfalls, and One Tree Hill. Some other queer teens have trickled through since: like Stacy on Lincoln Heights, Emily & Naomi on Skins and kinda Claire on Heroes.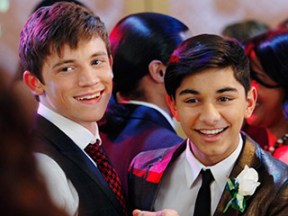 Meanwhile CNN is also asking if Hollywood is "Gay" enough? Well apparently there are a lot of dudes in teevee shows and movies, we're all very excited about Modern Family it's so revolutionary everyone yell in joy. It's funny! But again; not enough ladies:
And while shows like "Modern Family" are working to open peoples' minds about same-sex parents, the "L" and the "T," of LGBT, are still waiting for their TV time, said Hollywood casting director Tammara Billik.
It's very common for female characters to be portrayed as bisexuals instead of lesbians, she said.
"I wouldn't say it's because of a discomfort with lesbianism, it's just an interest in bisexuality," Billik said. "[People] think it's hot, and it gives characters a wide variety of storylines."
Also; two men are going to be on the show that annoys us more than any other show presently in existence, fighting over a life-size statue of Betty Boop. Oo girl this is gonna be a shitshow of terribleness. Good luck on making it through this thing tomorrow night without a GLAAD Alert.
A fight over a life-size statue of the campy 1930s-era cartoon character has earned a Tampa duo the distinction of becoming the first — and so far, only — gay couple to appear on Jerry Seinfeld's unscripted comedy show for NBC, The Marriage Ref.
WE HAVE TO STOP NOW:
Check out a new teaser for the upcoming season of lesbian super-couple Jill Bennett & Cathy DeBuono's web series, We Have to Stop Now. FYI: Season 2 premieres next Tuesday, April 13. We will be recapping once the season gets going but get your subscriptions while they're hot.
RICKY MARTIN: Although most of America sighed a collective "obvs" when Ricky Martin came out last week, GLAAD President Jarrett Barrios feels Ricky's coming out could make a big difference in the Latino view of the gay community and have an effect come the 2012 election. (@huffpo)
RACHEL MADDOW:
As mentioned the other day before the full thing was accessible online, OMG, it's a People Magazine story about homos without a "Yes, I'm Gay!" cover! Rachel Maddow and her girlfriend give up TV on the weekends. (@people)
REAL L WORD:
News of the upcoming reality spectacular has gone mainstream with Entertainment Weekly psyched for the premiere. (@ew)
GAY MARRIAGE DOCUMENTARY:
Prop 8 Films, a new production company working on documentaries geared toward social justice has released the trailer for their first film focusing on gay marriage. Check out the trailer for Till Death Do Us Part:
LIZ FELDMAN:
Don't miss our brand spankin' new interview with Ellen DeGeneres and Jay Leno alum, the hilarious Liz Feldman. (@autostraddle)
GREY'S ANATOMY:
Jessica Capshaw (Arizona of Callie & Arizona) is pregnant. No no no no no no. Let's take this opportunity to beg Shonda Rimes NOT to make this a pregnant lesbian finale. (@people)
ELLEN DEGENERES:
The Sutton Family was on its way to sweeping the "Something That Everybody Knows About Ellen DeGeneres" category on Family Feud. Until it was Papa Mike Sutton's turn, and he turned in the most hilarious(ly offensive) answer ever. (@queerty)
GLEE:
The cast of Glee appeared on Oprah this week: