HUNGRY LIKE THE WOLF:
This weekend at Girlbar's White Party, Samantha Ronson DJ'ed followed by a performance by Kelis, who you know as the lady that sang Milkshake. Kelis inexplicably required a stuffed wolf on display during her performance. Here's a wide shot of the stuffed wolf howling while Samantha Ronson DJ'ed:
Here's our friend, Courtney Jackson, who found herself in pre-show proximity to the wolf. Courtney did what any woman would do in this kind of situation — PHOTOSHOOT!
Following Kelis's performance, things did not go exactly according to plan. From My Desert Dot Com:
Palm Springs police are asking residents for help in tracking down a stolen stuffed wolf.
The wolf — which police said was worth more than $10,000 — went missing after a Friday night musical performance at Hotel Zoso, 150 S. Indian Canyon Drive.
"It was stuffed by a taxidermist (and) it was one of several props that were on stage during a concert," said Officer Melissa Desmarais, a Palm Springs police spokeswoman. "When the performance was done, they noticed that this one was missing."
Hotel Zoso played host to Girl Bar Dinah Shore Week's Pure White party Friday night, which included performances by DJ Samantha Ronson and R&B singer Kelis.
Phil Lobel, publicist for the Girl Bar event, said two stuffed wolves, posed in a howling position, were on stage for Kelis' performance, which began around 1 a.m.
Clearly when we heard of this we were really disappointed that we hadn't thought to steal the wolf, although Riese has a lot of feelings about dead animals and likely would've thrown up on the whole situation, just like the Paradiso Girls wanted. Whomever did steal the wolf eventually got scared of getting caught, and dropped the wolf off at the k9 Country Club, therefore restoring peace in Dinah Shore.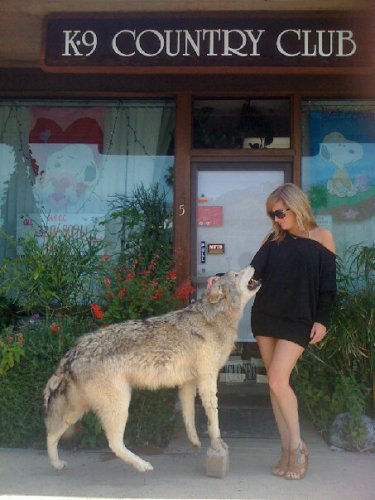 The End! Oh also, here's a reminder for you of how Kelis feels about PETA.
THE GAYBORHOOD:
A contract between the gay community and our straight neighbors: "Growing up gay can be a very isolating experience, where one is always worried about his safety or her being found out at any moment. To find a place full of people like you with a sense of history and community is a great thing. After all, the only thing that unites many gay men and lesbians is the place where they live." (@gawker)
MARTINA NAVRATILOVA:
Martina Navratilova, the tennis star using a lack of gay marriage laws to get a favorable divorce from her ex, talks to Larry King about having breast cancer. She has an "aggressive form of ductal carcinoma in situ (DCIS), considered the earliest form of breast cancer." She says she has a "great chance" of making a full recovery. (@advocate)
GAY/STRAIGHT PILL:
"A study of 2,500 gay and bisexual men claims that almost three-quarters of them would refuse an advance in medicine that could change their sexuality to heterosexual. … Whilst 26% of those surveyed admitted that they would take a 'straight pill', if such existed, almost three times as many men (74%) had no desire to alter their sexual preference." The survey was conducted by ManCentral.com, a dating website and probably a decent place to find guys who really, really like being gay. (@pinkpill)
ADVOCATE'S 40 UNDER 40:
The Advocate's annual 40 Under 40 has been released, and some of our faves made the cut: Shannon Wentworth (Sweet), comedian Gloria Bigelow (CherryBomb), and Jillian Michaels. It's nice to see Jillian has evolved from coming out bi in Ladies' Home Journal to clarifying some confusion about her girlfriend to being honored in The Advocate. (@advocate)
GAY BULLYING ONLINE:
A new California case concerns the point at which permissible teenage taunts become actionable threats, when Internet goofs by schoolkids became places for judicial intervention. The primary question for the California courts was whether R.R.'s comments were "true threats," falling outside the ambit of the First Amendment, or instead were harmless bits of immature jocularity, protected as free speech.
That's probably the right call. For one thing, a threatening homophobic comment really isn't any less threatening because it appears amongst inane homophobic comments. And though no one wants a censored Internet, surely we can live with a rule that allows us to deploy the full range of vulgarisms short of calling for someone's violent death. Homophobes can be First Amendment champions; the guardians of free speech are often odious. But the online equivalent of tossing a burning cross on someone's lawn is not exactly the type of speech that implicates core First Amendment values.
(@theawl)
MICHAEL STEELE:
Jon Stewart, muppets, lesbian bondage fiascos, and stupid Republicans. What else could we ask for? "The lesbian bondage fiasco. If that is not the name of a new indie band by tomorrow, I will be disappointed."
WOMEN & BUSINESS:
An interesting account of a woman going to a business seminar: "Men are like waffles, women are like spaghetti": My day at a business seminar for women:
"I'd been holding out hope that the seminar would acknowledge the particular challenges that women face dealing with institutionalized gender discrimination in the workplace, empowering us with strategies to address issues that hamper our success. If they were truly acknowledging the particular challenges that women face thanks to structural inequality (the glass ceiling, unequal pay, harassment, etc.) that'd be one thing. But this was not that – and without that foundation, the gender-specific approach merely segregates and reinforces tired stereotypes."
(@feministing)