JILLIAN MICHAELS: Yesterday our top search terms were all variations on "Jillian Michaels Vanessa Marcil girlfriends" — leading to the article we wrote about Jillian coming out bisexual in Ladies Home Journal (yah! Ladies Home Journal!) a few months back.
Now we know why! Perez Hilton published a story yesterday about Jillian Michals & Vanessa Marcil banging (me thinks his helpers did a total f*up). Despite what Perez said, Jillian Michaels is not banging Vanessa Marcil and went on Facebook to prove it.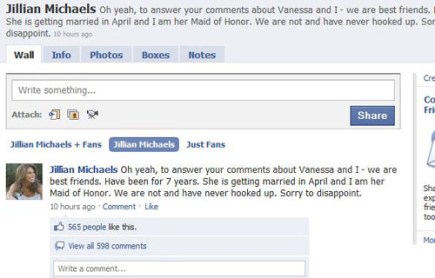 Jillian Michaels' girlfriend is Heidi "Mouse" Rhoades.
So there you go. Don't feel bad that your straight best friend won't bang you, it's not like an epidemic or anything.
CAROL LEIFER ON HOWARD STERN:
Fellow lesbian, comedian, vegan and animal rights activist Carol Leifer wants to know what the f*ck is up with Ellen DeGeneres.
You may not know the name Carol Leifer, but you're more than likely familiar with her work. She's a sought after comedy writer after performing  stand-up on David Letterman's show over 20 times in the 1990s, writing for Seinfeld and 6 different Academy Awards shows, most recently last month hosted by Steve Martin and Alec Baldwin. She also co-created Ellen DeGeneres' second sitcom The Ellen Show in 2001 with Arrested Development creator Mitch Hurwitz. After an epiphany while watching Bound, she started dating her first girlfriend after a failed marriage and turning 40 and they've been together for 14 years and have an adopted son.
In a new interview with Howard Stern she discusses how Bound "turned her gay," and goes into detail about why she's hurt & disappointed that Ellen DeGeneres will not have her on her talk show after working together on their sitcom and being friendly for nearly 20 years. After all, they have a lot in common – they're both lesbians, vegan, rescue animal lovers and comedians. But Carol says that Ellen won't take Carol's calls to allow an appearance on her talk show. Leifer's memoir When You Lie About Your Age the Terrorists Win is a New York Times Best Seller and has appeared on nearly every other talk show in existence to promote her book.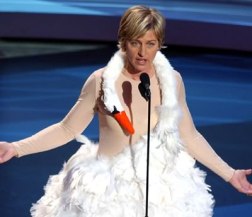 LISTEN to Carol talk about her burning desire for lesbian sex after watching Bound, the lesbian fling that turned into a 14 year relationship, her Jewish parents' reaction to her going gay at 40, her history with Ellen DeGeneres, writing for the Oscars, her hilarious porn addiction and getting fired off Celebrity Apprentice this week.
GAGA:
Lady Gaga finally explains this truly bizarre/fascinating video of her nearly passing out on stage while performing in New Zealand. She explains she laid down on stage during a show because, "I'd rather die on stage than walk off the stage because I was going to pass out. I said, 'Lay down and sing those lyrics, you little bitch." She adds that at the recent New Zealand show, "You see at the end of 'Bad Romance,' I get up and hit that last eight count. It's never happened to me before, I was just really tired… I was so jetlagged, I got in the night before and the jetlag just really caught up with me. I passed out about three times on stage that night but I got myself to the floor." Stay healthy, bb! We really don't want you turning into Britney. (@people)
Also, it was only a matter of time (2 weeks exactly) before someone made a parody of the Telephone video:
BROADWAY:
Megan Mullally pulled out of the Broadway play Lips Together, Teeth Apart two weeks before it's first preview due to conflicts with the director. Coming to NYC this spring? Here's a list of 10 new Broadway shows not to miss. (@nypost)
TEGAN & SARA:
Tegan is interviewed by OnMilwaukee.
CYNTHIA NIXON:
"I'm here to tell you that I've been straight and I've been gay and gay is better." Watch Cynthia Nixon's funny and insightful speech at the GLAAD Media Awards while receiving the Vito Russo Award presented to an openly lesbian or gay member of the entertainment or media community for outstanding contributions toward eliminating homophobia. (@glaad)
JENNIFER COOLIDGE:
AfterEllen interviews Jennifer Coolidge, who will be hosting an HRC event at Girlbar's Dinah Shore Weekend and once played Jane Lynch's girlfriend in Best in Show. (@afterellen)
TONI COLLETTE / UNITED STATES OF TARA:
Don't miss our interview with Toni Collette about the super gay new season of United States of Tara, including getting it on with Joey Lauren Adams. (@autostraddle)
WE HAVE TO STOP NOW:
A new teaser for the lesbian web-series We Have To Stop Now starring Jill Bennett and Cathy DeBuono has been released to get your juices flowin' for the April 13 premiere.
SARAH SILVERMAN:
"I'm not against marriage, but it's just not for me. I'm a vegetarian, but I don't have a problem if you want a hamburger. Marriage to me is like eating meat. I think it's gross and [bleep]ing crazy. [Because gays and lesbians can't get married in most states], if you're getting married today, it's the equivalent of joining a country club that doesn't allow blacks or Jews." – Sarah Silverman (@nypost)
CHLOE: An interesting analysis of the upcoming lesbian film, Chloe, starring Julianne Moore and Amanda Seyfried. (@ebar)