UPDATE 5.4 2:30 PM: OMG SERIOUSLY WE HAVE OUR LETTER OPENERS READY AND ARE PREPARED TO SLIT OUR CARPAL-TUNNELED WRISTS.
This week we've become so confused about the way "information" is presented online that we have decided to only write about the htc Evo 4g and ourselves from now on.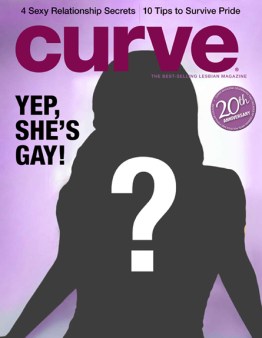 Around 8:30 PM last night, May 3rd, we got this email from our friends at Curve Magazine:
Don't let the online buzz fool you. Just months after Curve published an article on lesbians in country music which asked whether popular country crooners like Terri Clark and Shelby Lynne (both once rumored to be gay) would ever come out, one major country singer is doing just that on Curve's June cover. The issue hits stands May 25, but excerpts from that groundbreaking interview can be found on Curvemag.com on May 5, along with video of her top hits and a song track from her latest album.
Because a person cannot come out on two different magazine covers, we inferred that it could not possibly be Chely Wright, despite the magazine cover silhouette's resemblance to Chely Wright, who is being heralded as the first country music artist to come out lesbian. See, Wright is set to come out on the cover of People Magazine on Cinco de Gayo/May 5th. People released tidbits from Chely's cover story online yesterday, which we printed earlier today on Autostraddle.

The original headline of this post was "How Many Lesbian Country Stars are Coming out on May 5th?" and we theorized that the woman coming out on Curve's cover would be Shelby Lynne, again, because clearly we are now obsessed with her.
This morning around 10am: We received a tip from a reader directing us to this article from the Examiner, which appears to be a legitimate website. This article stated:
Later this month, Wright will appear on the cover of Curve, a monthly magazine for lesbians. The issue, which hits stands on May 25, will also feature a full-length feature article and interview with country music's sweetheart. You can read excerpts of the groundbreaking interview online beginning May 5 on Curve's website.
AND THEN! JUST NOW, (2 PM EST, Tuesday May 4th), we heard back from our friends at Curve Magazine who said that they cannot reveal the identity of their cover star just yet as they are sworn to secrecy. I told her about The Examiner article, and she told me that The Examiner is "just speculating."
In conclusion, our money is on John Travolta.
As far as Chely and the People Cover goes, I guess the biggest thing to look forward to is the cover, in which we're 100% confident based on our own imagination/People's most recent cover that it will feature Chely gazing lovingly into the eyes of a tiny lesbian who she will be lifting in her arms, Simba-style, and the lesbian will be wearing a beaded rainbow necklace of love and homosexuality.
The coming-out print issue of Curve hits the stands May 25th. The current issue with Sarah Silverman on the cover is on stands now and it features an article by Riese & Alex of Autostraddle.com, so you should check it out.
I've discovered a lot of new music this week btw! Like Shelby Lynne and Chely Wright!