Lucky Dog Leather is the kingpin of celesbian style. Anyone who has attended Dinah Shore or LA Pride in the past few years (or seen the pictures) has seen smokin' hot ladies like Cathy DeBuono, Jill Bennett, Erin Foley, and Suzanne Westenhoefer traipsing around in sexy "Get Lucky" tank tops and rockin' leather cuffs & belts. The one-woman operation is run by Lucia Gerbino, who custom makes leather belts, cuffs and bracelets for men and women out of a small workshop in Los Angeles. The business recently expanded to include a line of jewelry including silver necklaces, pendants and rings. The limited edition Lucky Dog t-shirt & hoodie are so highly coveted that sales are only offered once a year.
Customization & comfort are key in this operation and Lucia does her damnedest to ensure YOUR happiness with her products. Hell, the web site's own mission statement is: "Every item is created to be an outward expression of the super cool, sexy mother f*cker that lives inside you."
Jess: What was the inspiration behind starting your own leather company?
Lucia: Well, I had a business making custom mosaic furniture before the leather business, so I've always been of the mind for running my own business – it's part of my personality.  I was doing research because I was just going to make myself some things as a hobby and the way it evolved was I went to hang out at a friend's company that had a little leather shop. A couple days later they offered me a job as an apprentice. I was just looking for leather to make myself bracelets, next thing you know I'm working in a leather shop! I worked there for a couple years and towards the end I started thinking about how I could turn it into a business with my own twist on it.
Jess: Where did the name "Lucky Dog" come from?
Lucia: The original idea was for was dog collars and leashes.  I had worked for a company that did accessories for people and I didn't want to infringe on that, so I initially focused on dog accessories. My nickname has been "Lucky Lucia" FOREVER, like a decade before this started. It was one of those eureka moments when it all came together. Honestly, I was walking my friend's dogs and I thought to myself "aren't you a couple of lucky dogs?" I had been wracking my brain, literally, trying to think of a name and it all just crystallized at that moment.  I also have a whole philosophical point of view around "luck" and what that means to me. I really believe you make your own luck and I have a quote at the bottom of all my emails that says "Luck is when preparation meets opportunity" which is a great saying that I love.  I truly feel like a very lucky person and I have a lot of gratitude.
Jess: Was it difficult starting up your own business? How did you finally get it off the ground?
Lucia:It was difficult at first because I didn't have any start-up investment money. So, I started really small – literally one piece at a time and I would get materials in small little batches just enough to make a few belts. There was never enough money and I had to keep working a regular [day] job to support myself while I reinvested all the money I made in the leather work back into that business.  It took a year or so before I could do it full-time.
Jess: Is a year considered a short amount of time to get a small business going?
Lucia: I think it was really quick for me because I had the good fortune of people helping me as far as marketing and reaching customers. That was the key to really bringing in the consistent business. Cathy DeBuono & Jill Bennett (of lesbian web-series We Have To Stop Now) have been amazing. Basically I live in the hub of entertainment and people doing really creative and interesting things and what I've found is there is a community of women who are really excited to help each other, cross promote and work on each other's projects. I've been going to The Dinah for years and Shannon Wentworth included me in the Sweet cruise. There are a lot of women have their own businesses who are more than happy to help and that has helped me – a lot. The [lesbian] community support has been helpful. I think I had a bit of an advantage over any old business because I'm part of a tight knit community that is very loyal. A lot of it is repeat business.  I also think that my aesthetic really speaks to our demographic.  I have not just lesbians but a LOT of gay guys that I directly market to and I found the community support to be HUGE.
The Real L Word's Tracy Ryerson & AutoNatic's Natalie Garcia
Jess: How do you market to gay men?
Lucia: A lot of that marketing is through Facebook which does targeted advertising. You can do particular keywords in a profile or men interested in men, you can specify an age group, etc. Also, just like I would have ads on SheWired, I have ads on sites heavily trafficked by gay men.
Jess: It's great that you had the gay community to really hone in on, rather than just be out there in the LA masses without a way to really distinguish yourself.
Lucia: Totally. It's easier to make a name in a small pond and I have friends who are all making waves in that little pond, so I'm really lucky in that way. If I were out there in the mainstream I'm not sure if it would have worked for me cause I'm just a workshop, a small, tiny little company so what works for me is really focusing on a niche of people. I don't need to conquer the entire universe. But, say I want to market to people interested in motorcycles, then I'd just target my advertising to motorcycle web sites. I do all my advertising online since it's an online business and I'd like to stay there. Another demographic that likes my stuff are rock 'n roll people. The niche that I focus on now is a lot of lesbian entertainment but experimenting with a little niche marketing in the mainstream.
Jess: Do you have any advice for creative women out there looking to start their own business but they don't know how to take it to that next level?
Lucia: It took me until my mid-30s to finally figure out a formula that was working for me. I'm a creative person and have always had trouble in conventional jobs… it's hard for me to fit into that world. The advice that I can give is that it's hard but if you stick to it, work hard, and can figure out the formula for what you do, it's really rewarding. The trick for me was figuring out that formula which was a web product that comes from my heart. I think that my love of making leather comes through in the final product. I really want you to be happy with what I make for you., so I'm going to take pride in the product and give it authenticity. But that's only one part of the formula… the rest of it is: Is it a feasible product to sell? How are you going to sell it? Where are you going to sell it? Be realistic. Information is power. Gather as much information as you can in the industry that you want to be involved in and really study it. Figure out what succeeds for other people and emulate them.
Cherrybomb's Dalila Ali Rajah & Jill Bennett rock Lucky Dog cuffs in their NOH8 photos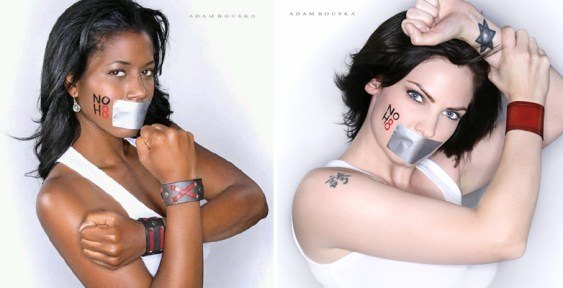 Jess: Do you know what percentage of your clientele is directly from the LGBT community?
Lucia: I don't know for sure because I haven't done a lot of marketing in other areas, but I'll say well over 80%. I have over 6,000 fans on Facebook and I'll say like 90% of those are gay.
Jess: What new products are you excited about?
Lucia: It's an old craft, it's nothing new… I'm not reinventing anything here! I'm basically putting my stamp on it. What my brand stands for is high quality, attention to detail and the customization I do for my customers.  I had the wide cuffs and same belt styles for a while so now the new thing I'm doing is stacking thin items so you can wear multiple items at once. Really mix it up and have fun with it. I really like the double and triple wraps too, they're really cute. I also have another line called Gemini that is multiple strands of Greek leather with silver accents. It's funny cause men love them, women love them… they come in a couple different colors, they're cute and easy to wear and they give you that feeling that you're wearing leather but they're appropriate for all different situations.
Jess: What's your favorite item in the Lucky Dog collection?
Lucia: My personal favorite is Gemini Original bracelet with the silver accents and the reason I love that one so much is because I really set out to do something that still involved leather but had a completely different aesthetic that the more feminine among us might like to wear. I think I hit the nail on the head with that one. My favorite belt is the "Spot Stud" belt which everybody loves. It's got these round studs all over it and I do a finish on it that softens and fades over time so it's really particular to the person wearing it. It's like everybody's favorite old belt that they've had forever.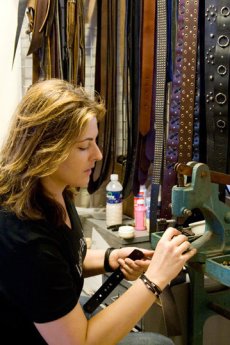 Jess: All of the "Get Lucky" t-shirts and hoodies are sold out now! How can people get their Lucky Dog gear?
Lucia: I know! Well, since I'm not a clothing company it's really hard to stock all the different shirts in different colors and sizes so what I decided to do was have a sale a few times a year where I'll say "if you order by this date" I'll get them to ya. It's actually good because I'll keep having new styles that people will be able to pick from.
Jess: Is your goal to one day open a Lucky Dog Leather store? How do you want to see the business grow?
Lucia: I don't have any plans to open a store. I like to keep my overhead low… I would like to expand my workshop as business grows and bring on more people and have them make products with me, that would be nice!  The web site has been great to me and it's a really easy way to communicate directly with my customers so I'd just like the business to keep going on the trajectory that it's been going for the past two years. I do want to expand more in the mainstream but my world and my heart will always be in the gay community. The people who take care of me without whom I wouldn't be in business!
---
Visit luckydogleather.com & become a fan on Facebook