Last month, I had the opportunity to go on set with Jill Bennett & Cathy DeBuono and managed to steal them away for a little chat.   I practically minored in the Lesbian Internet so I naturally had a lot of questions for these two.  They promised a follow-up interview and guess what – they came through!  So here we go — everything you wanted to know about their split from AfterEllen, all the gossip sites, the abrupt ending of We're Getting Nowhere, season 2 of We Have To Stop Now, with a little Gaga & Glambert thrown in for good measure.
Editor's Note: Jill & Cathy finally opened up about leaving AfterEllen because they have been asked repeatedly about their abrupt departure from the site over the last year. They have declined to comment in all other interviews but finally felt enough time had passed to share their experience with their fans, who still wanted their side of the story. I asked the question because they were owed the opportunity to finally close this much speculated chapter in their own words.
On Going Live with The Gloves Are Off & What's Your Problem
I know it's difficult to put yourselves so out there on the internet. Do you ever feel naked, exposing your lives to that degree?
Cathy: All the time! But, at the same time, I think I've never felt more myself in my own life.  I feel really good about continually finding my own truth and continually being able to share whatever that is. And, being able to make mistakes and grow and let people see it. Having done it and realizing that my world hasn't gotten smaller, it's only gotten much bigger has made it easier to be naked and more fun and it's a happier place to be.
Jill: Yea, the way we are with our opinions is similar to how we are with being open about our sexuality. It's that knowing that the truth is out there and there is no need to try and manage every relationship that you have. It's interesting because before the video blogs, before I even started on AfterEllen, I had done some press. I had done some interviews here and there for different websites and magazines, and then obviously once the video blog revolution began and I was working more and there was a lot more press. I had managers come and go, and agents who would advise me on what to talk about, things not to talk about, and frankly, it got a little tiring trying to manage certain topics and honestly, there's a freedom in being like – it's out there and I don't have to hide anything. With The Gloves Are Off, as long as people understand that these are opinions, — we're not presenting anything as fact – this is just how we feel based on our own cultural biases, then I don't feel naked, I just feel like I'm talking to my friends.
I really think The Gloves Are Off has hit its stride these last few weeks.  You guys were so fired up over cyberbullying and coming out over the holidays…
Jill: I think in general, it's not always a good idea for actors to be as vocal as we are and to be as open as we are, and I think we reached a point a while back where we decided that even if we didn't want to do this anymore, it's too late. Less and less do we plan what we're going to say or edit how we really feel.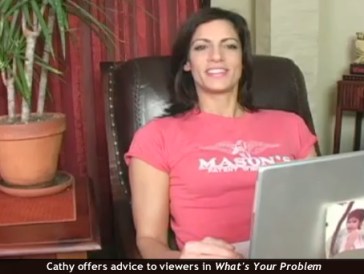 Cathy: I know I reached the point where editing was very, very time-consuming, although I would enjoy doing it and coming up with new episodes of What's Your Problem, but it was really hard to keep up that pace. I feel like that along the way there's been a community created [The CDB Chatroom] with What's Your Problem and The Gloves Are Off that I haven't really been able to walk away from, and I feel like they need each other and going live was the next natural step, to be more interactive and in more immediate contact with each other.
I think the real important thing that it's doing is bringing people all over the world together and what I've found that people really need is to just identify with each other, and they need to know that it's OK to be imperfect. And Jill and I are so not afraid to let our imperfections, flaws and our biases show. It's important because lots of people in our community don't have folks to look around at and equalize themselves with, you know to see if they are doing okay.
Most of us don't grow up with an older sister who is gay. We wake up in a dark world like, "oh my god, what's this thing that I am?" We don't grow up in gay families for the most part. We're not born into our culture the way other minorities are like Jews or African Americans. They're born into their minority culture and their ancestry is handed down and they're taught what they need to know and how to feel about themselves and, gay people are just born and they wake up one day like "What is this? I don't get this?" And everything around them tells them that they are a freak or they're sick or wrong, or that they're alone, mostly.
What I've found by doing the vlogs on the internet is that it's important to expose how human we all are and the lives that we can lead, and that we're normal. Gay kids out there, and even adults, they need people to look at and get an idea of what's OK and what's not OK. So, whether you agree with us or not, it's the visibility that matters.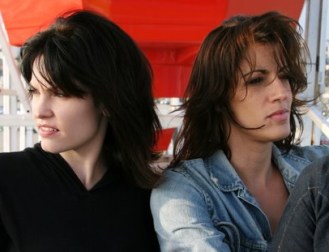 Jill: I think part of the appeal of [The Gloves Are Off] for us is that we can't edit. And, what we found people responded to in the [pre-taped] video blogs was the Real Jill and the Real Cathy, our real opinions and our real stories, not a canned, carefully created, crafted persona that a PR person tells you to put forward. So, for better or worse, this is how we came out in our community and we're gonna stay that way. At this point, even if we didn't want to, it's too late!

On Cyberbullying
The episode on cyberbullying in particular was probably the most relevant and passionate topic you've covered.
Jill: I really wanted to do that episode because I had seen something on CNN that day and also because of our own experiences having gone through it. We get a lot of letters from younger girls who are trying to come out, and are being harassed through cyberbullying or at school, and I wanted to talk about it because I can identify with this, through my own version of it. It's not quite the same as a teenage girl getting attacked, but the feeling is similar, and I do feel very passionate about it. It's something that, over the last year [has become very relevant]… I put up a huge blog about it on my web site.
Oh right, remember reading that last year.
Jill: Yes, I was really upset! And I was like, why do we do this to each other!? I would say as passionate as Cathy got last week [on the topic of] coming out at Thanksgiving, was how I felt about this phenomenon that's going on in our community. You know, we went to see the movie Precious and I watched how her mother attacked her, it was the same in The Color Purple where in a marginalized community instead of helping each other up, rips each other down. And instead of having this attitude of we want to help each other and support one another, we're ripping each other to shreds and making each other feel less-than.
You mentioned that while you may not agree with Perez Hilton, at least he's not an anonymous attacker. His name is right there so at least he owns it and isn't hiding behind a computer.
Jill: Right, Perez Hilton stands behind his words.

On Leaving AfterEllen
+
We're Getting Nowhere began in August 2007 and ignited the video blog revolution on AfterEllen. Starring Jill Bennett and AE writers Karman Kregloe & Dara Nai, it recapped South of Nowhere, America's Next Top Model and most popularly, The L Word. The show featured some amazing guests, including Jane Lynch and introduced Liz Feldman and Bridget McManus to the AE crowd. Feldman and McManus would later get their own spin-off vlogs and eventually jump to TV (on LOGO and The Jay Leno Show). WGN hit its peak recapping the 5th season of The L Word in spring 2008, when it occasionally received over 200 comments per episode.
What's Your Problem began in January 2008 and has featured some amazing guests, including Thea Gill (Queer as Folk), Maeve Quinlan (South of Nowhere), Suzanne Westenhoefer and Erin Foley. Cathy left at the peak of WYP's popularity on AE, receiving over 150 comments with Jill Bennett as her final guest on the original incarnation of the show.
I know the Afterellen vloggers were subject to gossip a few years ago and that played a part in your eventual move from Afterellen to SheWired. Can you walk me through what happened?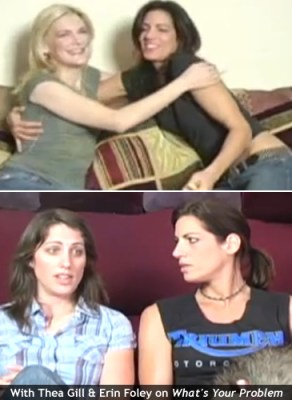 Cathy: Jill and I shot And Then Came Lola in late 2007. Around that same time was when I first met Sarah Warn. Out at the Wedding was making festival rounds and AfterEllen had done feature stories on both me and the film and there was some interest there. So I started talking with Sarah about doing a video blog rooted in my being a therapist and an actor and I came up with What's Your Problem, which then first started airing on AfterEllen in January 2008. Around the same time, things started to explode in gossip sites online about Jill's breakup. The chatter was running amuck in gossip circles that I had "seduced" her while shooting And Then Came Lola, and that I was responsible for her breakup.
To be quite honest, I paid very little attention to it. However, I came to understand was that it was upsetting Sarah and that she was now getting some sort of backlash from it in terms of how people started participating [commenting] on AfterEllen. I hadn't frequented AfterEllen so I didn't notice the difference before or after I got there, but somehow Sarah attributed my presence on AfterEllen to bringing negativity to the site and she was honest with me about this.

Next:
"What was upsetting is that I never had the chance to say goodbye to all the ladies who watched and commented every week."
Pages: 1 2 3See entire article on one page