On the Subscription Based Season 2 of 'We Have To Stop Now'
+
We Have To Stop Now ups the ante in season 2 with some amazing guest stars, including Meredith Baxter, Erin Foley, Nicol Paone and Kate McKinnon (Big Gay Sketch Show).
Do you have a date set for season 2 of We Have To Stop Now?
Jill: We're still in negotiations with Wolfe Video and we're shooting for Spring… and we'll be subscription based for season 2. It'll be like $24 for the full season and that will include special features and behind the scenes videos. The thing is, we would love to be able to keep giving it away for free, but we just couldn't… I think very soon, a lot of quality online shows will be charging because there's just no way to monetize it otherwise. Advertisers are not paying money for lesbian video content.
"Straight shows aren't about being straight, they're just shows. We Have To Stop Now is not a show about being gay, it's just a show that takes place in our world."
Cathy: We really believe that our community is out there wanting something new. I'm not afraid to say that I think they're wanting what we're attempting with We Have To Stop Now. I really think we're taking our gay stories to the next level… it's not as predictable as a lot of the gay things we've seen [in the past.] Girl figures out she's gay by falling in love with another girl, but has a husband, or, teenager has to go through the trials and tribulations of self-discovery and telling their parents. We've seen those stories and they are important, but we've seen them a million times. It's now time to see just stories about people who are gay, but the stories are nothing about their gayness. It's just about what they encounter every day: their relationship, their therapy, family coming to town, shopping for a house… Straight shows aren't about being straight, they're just shows. We Have To Stop Now is not a show about being gay, it's just a show that takes place in our world. I think there's a much bigger longing for that than what any of the networks have put their finger on just yet, because they're not providing a lot of gay substance. We asked our viewers "if this was a pay-per-view show, would you buy it?" And the response was "of course we would! And we would give you even more [money]!"  They're SO supportive!
Jill: The price point we came up with is so that we can pay back our investors — incredibly amazing women in our community who gave us money so that we could do a second season with a little bit of a budget. We basically shot a feature length film for a very small amount of money. We're not looking to get rich, we're just looking for a way to keep doing this show.
Will there be more episodes than last year?
Jill: Technically we shot eight episodes, but we were thinking about doing either eight episodes or 16, five-minute episodes…we haven't decided. It looks like each episode will end up being 12-15 minutes so we might cut them in half.  But, if you get the subscription you'll get the full season. It's like a night out at at the movies – you'd spend $22 to go to a movie. Is it worth $22 to support quality lesbian content? We're so excited about this season… we have a teaser trailer up and we're so excited about what we got! We got people to be guest stars on our show who normally command tens of thousands of dollars and people who are on television shows who just donated their time so that they could be a part of it and we really hope that we can make it successful and continue to do this show because we're really, really proud of it.
Catch up at wehavetostopnow.tv

On Avoiding the Lesbian Urge to Merge
It's a big risk to have your personal and professional lives so intertwined. Does that make you nervous at all?
Jill: We've thought about it and we've talked about it a lot…especially in the beginning we wanted to make sure that we didn't merge and become "Jill & Cathy."  We thought about it and wanted to be super careful about doing that, but there have always been [projects] that we both wanted to do as actors before we even met each other – that we are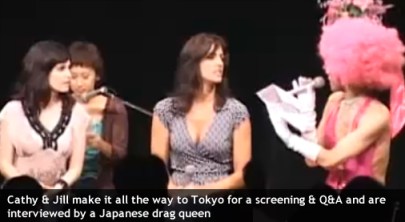 finding a way to do because we found someone in each other that we work really well with, that we have great chemistry with, and we have a lot of fun with. Politically we're very much in line with one another. Artistically speaking, there are things that we want to do as actors and it's a natural thing that we're doing them together. Now, we do have other projects that we're not doing with each other. But honestly, life is too short and careers are too short to spend so much time obsessing about "oh my god, are we merging?!  What's gonna happen?!" I mean, who knows what's gonna happen? But in the meantime, we have a really good time together and I think that we are good for each other creatively.
Cathy: Ya know, the whole beginning of our friendship leading in to our relationship was surrounded by so much controversy and so much conflict that we must have really wanted to spend time with each other because we did it anyway. It would've been so easy to just walk away from all that crap, but we just really not only fell for each other personally but also professionally. When we're acting together now on We Have To Stop Now, there's a trust there emotionally that when you're an actor and looking to take a risk and you're looking into the eyes of someone you really trust, that's really helpful. So, I know that I've been able to expand as an actor and I've seen Jill do it as well. We also just make each other laugh a whole lot…. I think even if we weren't a couple, I just love working with her.

On Mainstream Fame & Hollywood Careers
Is a mainstream Hollywood career and fame something that you still want if it meant sacrificing your direct access to fans and voice in the gay community?
Jill: At this point I don't even know if that's in the cards for me because of how outspoken I am. Even before I started doing video blogs, I know there were a couple of TV series regular roles that I was passed over for, just because I was an out actor. And this was before the video blog revolution!  It was just the simple fact that I was OUT was enough that they did not want to cast me, even though as an actor they liked my work… and I got this straight from the mouth of a casting director who is gay. I think he told me this not so that I would go back in the closet, but just so I would understand why I kept hitting this wall. I'm not saying that I couldn't get cast anymore or that out actors aren't getting cast –because they are-, I'm saying that it's been my experience that just being out was enough to exclude me from being a series regular. Do I want mainstream fame? Hell fucking no! I don't want to be famous! In the very small little micro-world that I have it in, and I wouldn't even say that I'm "famous" in the lesbian community – I'd say that I'm "known" – even that, at times, feels overwhelming to me. I can't even imagine how truly famous people deal with it. I would never want that. I would like to be able to have access to better roles, higher quality films, better written scripts, being able to work with actors and directors that I really admire… but fame.. no. It would amazing to be like Jane Lynch and to become a character actress that gets to play all the fun stuff and gets to do mainstream stuff — because playing the romantic lead is not in the cards. Jane Lynch's career to me would be a dream! I would love to have her career.
Are you still auditioning for mainstream roles?
Jill: I just recently had my first mainstream audition in 2 years… I've been pretty busy or steadily working or creating my own projects in the gay community.. and, it was…fine. But, I have to say, sitting in a room full of 10 other actresses and being back in that boat is not fun. I would rather just create my own work.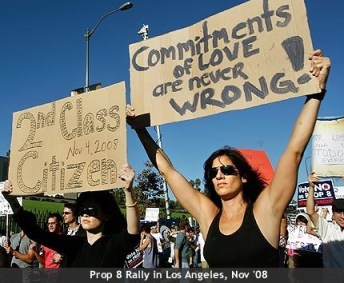 There's something to be said for being a big fish in a small pond…
Jill: Yes, there is… and for me the most satisfying thing about doing stuff in the gay community is that these are stories that matter to me personally. I care about gay projects because there are so few out there.  To be part of that means something to me, whereas being in some crappy, big budget action film has no meaning to me, other than just getting a really nice paycheck.
Cathy: I would happily take a series regular role on many different mainstream productions. There are a lot of them that I respect and would love to work for. But if it meant having to sort of quiet down my gayness? I don't know if that's possible. Things that are on the internet don't disappear into the ether, they kind of stay there forever, so if anyone Googles my name, you're gonna see my loud and proud voice out there already, I don't think there's any taking that back. Would if I could? Hmm… well, I'd love to make mainstream dollars… but I wouldn't abandon our community if that was a pre-requisite. I have had a few mainstream auditions, nothing yet – we'll see…

On Auto-faves Lady Gaga & Adam Lambert
We're all pretty obsessed with Lady Gaga and Adam Lambert here on Autostraddle. What did you guys think of the national meltdown that happened last week over the AMAs?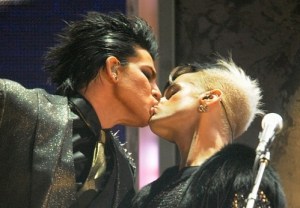 Jill: Yes!! Well, we watched it and I didn't realize that his keyboardist was a boy… I thought that was a girl!
It was a straight man.
Jill: Yea, I didn't realize that was a guy until after the fact. I fucking love him for doing that!
Cathy: WAIT. That was a straight man?!
Jess & Jill: Yes!
Cathy: Are you kidding me?! I'm sorry… that looked like a girl, let alone a straight man.
Jill: Well, I love him for that. I think that's awesome. And, I've been obsessed with Lady Gaga since the New Now Next Awards, back in 2008. I went up to her after and I was like "Oh my god! You're like fucking awesome!" And we had a really cool conversation and she was so normal and down to earth and amazing and I was just like "I hope you fuckin' blow up cause you deserve it!"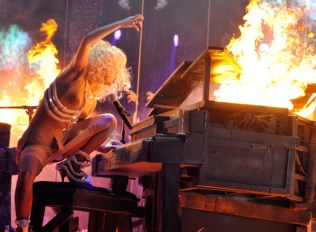 I'm so jealous that Cathy's sister waitress-ed with her in NYC.
Cathy: Yea!  They knew each other several years ago I guess.
I think she's the greatest pop star to come out in the past 10 years.
Jill: Oh, easily! I totally agree. And, she's outspoken, she's outrageous, she's smart, she's fuckin' talented… I'm all about Lady Gaga. Not to say I "discovered" it, but I started drinking the Kool-Aid the minute I saw her. Adam Lambert… I like that he did it. I like that he went on national television and was his Big Gay Self and didn't hold back, that's what we [the gay community] need!
Cathy: Yea, I want more gay people to see that fearlessness because it's not being gay that's gonna hold you back, it's being homophobic yourself. It's gotta be "so what? I kissed a guy." "You're not gonna see how talented I am because I kissed a boy?"
I loved when you said the other week, "You have to get good with being gay." That really struck in my head for days.
Cathy: Yea, if you're good with being gay then a lot of things are gonna change. You're not gonna accept "The Glass Closet," cyberbullying, people can throw stones at you and it's not gonna hurt you. The only time being gay can hurt you is when you're not good with it, when you have your own homophobia. I mean, someone could walk down the street right now and go "You fuckin' dyke!" Why would that ever hurt me?!
Ok, well thank you so much for coming through with the follow-up after the cruise, I know this was very long but I really appreciate it!
Jill: Awesome, thank you. I really, really love Autostraddle and I seriously like what you guys have to say. I was all over it, and I was reading not only the articles but about the site and what you guys are trying to do.  So anything we can do to help!

Check out jillbennett.com | cathydebuono.com | shewired.com | wehavetostopnow.tv
Editor's Note: Jill & Cathy finally opened up about leaving AfterEllen because they have been asked repeatedly about their abrupt departure from the site over the last year. They have declined to comment in all other interviews but finally felt enough time had passed to share their experience with their fans, who still wanted their side of the story. I asked the question because they were owed the opportunity to finally close this much speculated chapter in their own words.
Pages: 1 2 3See entire article on one page