Your presence in particular?
Cathy: Yea. At that time We're Getting Nowhere was hugely popular, and Jill was AfterEllen's golden child, people just loved her. Now there was this rampant rumor, that she had an affair with me and I think it really concerned Sarah that it seemed as if Jill's reputation was at stake the more I was around, and that somehow AE would suffer too. I think as a result she really aimed to contain my presence on the site. I never guested on any other AE vlogs, I wasn't invited to AE events, like the 2008 NewNowNext Awards, where I was a multiple nominee. I guess she felt she was doing the right thing for her site, but I just felt thrown under the bus. It was hard for me to understand because people really seemed to like What's Your Problem, it was very popular and growing all the time. I was excited to be a part of the AfterEllen team and I looked to Sarah Warn as a mentor… and ultimately I had to draw the conclusion that she just did not feel the same way about me. I mean, she never really got to know me at all, which I thought was a shame.

Jill: There is so much to be said about Sarah Warn and what she did for lesbians online and she did an amazing, amazing thing with AfterEllen. I'm really glad that I was part of it. However, I will say on the flipside of that, because she was someone coming from the internet, she didn't understand how the entertainment industry works or how to use it [gossip about the vloggers] to the site's advantage and they in fact lost something as a result of not understanding how this kind of thing works. People who work in Hollywood, who understand the way our business works would never run from controversy or gossip.
"People who work in Hollywood, who understand the way our business works would never run from controversy or gossip."
It can only help you.
Jill: Exactly. It seemed to me that she feared that her site was somehow being damaged by the gossip. I won't get into details about the particulars, but I was asked to distance myself from Cathy. When I didn't, I noticed that my presence on the site steadily dwindled until I got a phone call from Sarah saying that We're Getting Nowhere had run its course and she was canceling it. No explanations, just you're done. I know that we were still one of the most popular vlogs on the site and were looking toward doing [recapping] the final season of The L Word, so it seemed a bit abrupt. One week later, Dara and Karman had their own show without me. I got the hint. What was upsetting is that I never had the chance to say goodbye to all the ladies who watched and commented every week. I haven't heard from anyone from AE since. It's just really sad to me that it went down the way that it did and that no one felt the need or obligation to explain why. Clearly, I drew my own conclusions as to why, and I believe that based on Cathy's treatment at AE that I'm right.
Did money play a part in both of you leaving?
Cathy: No, I left because I was unhappy. I loved the viewers and they were enormously supportive of me. But I was a square peg trying to fit into a round hole.
Jill: Was it over money? A little bit. Did I think I was gonna get rich doing video blogs for Afterellen? Absolutely not. But, there comes a point when, if your work is selling ad space and making a profit, the mutual benefit for everyone involved evens out and you do feel you should be getting paid.
If you build popularity and a following and are getting the kinds of views that I know we were getting at a certain period of time, I go "Ok, I need to be compensated for my time. Are we gonna talk about getting paid?" It's not just getting together and turning on the camera. We talked about it beforehand, there was editing done after. Going to meet & greets… all the things that are involved with it.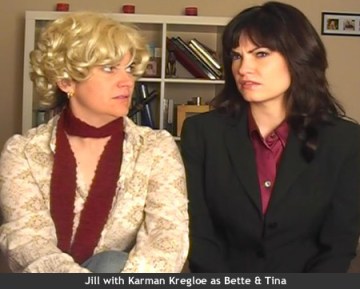 We're not talking about a huge amount of money!  We're talking about throwing something to a group of people who are creating content and driving traffic to the website…that's it.
Are you now paid at SheWired?
Jill: Yes, we are getting paid at SheWired. And again, we can't retire on this money. This is very part-time money, but to me the difference is respect. Getting the message that we're bringing something to the site and doing something that's worth getting paid for.
You're now doing live vlogs as opposed to filmed & edited vlogs. How did that come about?
Cathy: There was a push for there to be more interaction with What's Your Problem, I could feel it coming from the viewers. The internet moves so quickly that you have to evolve what you're doing with it as well. In addition to the natural push for interaction, the live vlogs are a lot less time consuming to produce.
How do you feel about being referred to as "Celesbians?" Do you get a kick out of it or does it bother  you?
Cathy: I think it's funny… the first time I heard it I thought it was hilarious and I think it's appropriate. It's a creative word that indicates exactly what we are… a lesbian who is known in the gay community.
Jill: Yea, I mean it accurately describes us because we're certainly not celebrities, but within our community whether it be via our video blogs or web series or films…  in the grand scheme of the world nobody knows who the hell we are. I think it's cute!

Next:
"Do I want mainstream fame? Hell fucking no! I don't want to be famous!"
Pages: 1 2 3See entire article on one page