TILA: Tila announced to her fans that she and her girlfriend, Johnson & Johnson heiress Casey Johnson, are tying the knot, announcing on her UStream vlog: "This is exclusive and going to be all over the news tomorrow … tonight, my girlfriend has asked me to marry her!"
She must've just visited Alice in Lesbo-Land, because she knows all the lingo and has announced, "We're what you call U-Haul lesbians, where you meet and fall in love and move in the next day and have kids." No word regarding if Tila does or does not know about Prop 8, DOMA, and other legislation preventing her from actually getting married. Maybe she can get her MySpace friends to um, get some laws changed!
LOHAN: Once again, we must cut through the riff-raff surrounding our misunderstood imaginary friend Lindsay Lohan, who has been headlined as sending a "flirty" twitter message to Jessica Alba's husband "An hour after Cash, 30, commented on a Los Angeles Lakers basketball game on Friday night, Lindsay wrote him a message." What was this message?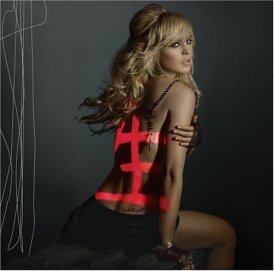 'Are you at game too? Watching it, wishing I went!'
HELLO MAYBE LINDSAY JUST LIKES BASKETBALL, but I don't think that shit is flirting. No but really, maybe she's just lonely and wants attention and her life sucks right now and she doesn't know what to say or do when she's alone and not in front of people, because someone has to hear the treegirl falling in the woods.
Also, I think it's funny that LiLo's alleged romance wish Cash is based on "unconfirmed reports" that they "separately left an office building possibly after a meeting" and US Weekly's "alleged" report that the duo kissed at Hollywood nightclub Villa, and that a day after exchanging tweets about an upcoming project, "reportedly 'ignored friends and just chatted' for half an hour in the club before allegedly getting closer," according to… nobody? Also, pal apparently told Us: 'Lindsay becomes easily attached to everyone she meets and gets close to.'  Even if that last part is true (and it very well may be) it's hardly the subject of a gossip column, it's just sort of sad and I mean that in the most empathetic way possible.
The only confirmed quote in this entire freaking article is, Lindsay saying: 'That is absurd. He is married. I wouldn't dare kiss him."
But really he most disturbing part of this article is the last part, claiming that "Jessica is currently filming the Meet The Fockers sequel in LA." Another? Really? That's what the world needs right now.
RACHEL: Rachel Maddow got wasted with Jimmy Fallon before kicking Rich Cohen's ass. She really can do everything!
BRUCE SPRINGSTEEN: The Boss has spoken out in favor of gay marriage! I urge those who support equal treatment for our gay and lesbian brothers and sisters to let their voices be heard now.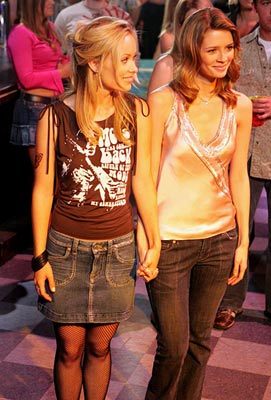 MALEX: Mischa Barton on her many lesbian roles: "It's so much easier to kiss another girl. You're so much more relaxed filming and you can have a laugh. It can get a bit tense with a guy."
ELLEN VON UNWERTH: An interview with our second-favorite photographer of all time, Ellen Von Unwerth. (@dazeddigital)
THREE RIVERS: A little late to the game, but a cute writeup about Kate Moennig on Three Rivers: "I purposely took this job to get far away from Shane. I'd like to believe that within time, the proof will be in the pudding, and they'll be able to see the difference and accept it." (@whirl)
THEATRE: A review of "She Likes Girls" at The New York Times: The good: "Ms. Hutchinson, who has a sharp ear for dialogue (most of her best lines can't be printed here), gets many things right." The Bad: "It's a tidy downbeat ribbon tied around the messy particulars of a life that Ms. Hutchinson has entered into so imaginatively. Bang, bang. Play over." The Ugly: "a health teacher's lecture involving a banana and a condom"
VAMPIRES: "True Blood" gets a 'possible lesbian relationship' (@rabid doll)
SANTA CLAUS: Focus on the Family is furious about "Santa Claus is Coming Out" – a) This play sounds hilarious and awesome "By using an imaginary icon, we can explore how people would react if a real superstar, such as a politician, athlete, or leading man in Hollywood came out of the closet. Given the stereotypes and prejudice against GLBT people, this is a legitimate subject well worth exploring." b) Why is a Christian group so worried about Santa Claus? He's not the reason for the season, y'all.(@fncp
RIHANNA: Rihanna wants to be a Lesbian Vampire Killer – "I'd love to be an assassin. Either that or a lesbian. Maybe both! Hey, a gay assassin, there's nothing hotter than that. Megan Fox would play my girlfriend – hands down. She's yummy. She's hot. All humans are born with the ability to be attracted to both sexes. I mean, I could see myself in a relationship with a girl." (@411mania)
BIG SCARY SEX: The title of this article is "Let the Fisting Begin." I am not making this up – "[Hollywood's] sauntered so far down the "freaky sex dungeon" trail that "fisting" has literally been left in the rearview mirror as mere child's play." (@big hollywood)
And ladies, don't forget that Better Off Ted premieres tonight at 9:30 on ABC!