B.Steady is a multimedia artist from DC who also happens to be a Queer Woman of Color and a total heartthrob. Her music makes up so much of the soundtrack to my queer life, and here's why.
Those of you who are into the underground queer music scene may recognize B.Steady from The Lost Bois, a queer hip-hop duo which B.Steady created with childhood friend A.O. (Awkward Original) and which Rachel once called 'the future'.
In addition to her work with The Lost Bois, B.Steady puts her energy into maintaining an amazing gallery on youtube, where she uploads music videos and song vlogs on a weekly basis. She also studies film at Howard University. What I'm saying is that B.Steady is a hella interesting and impressive artist; she's got a lot to show you.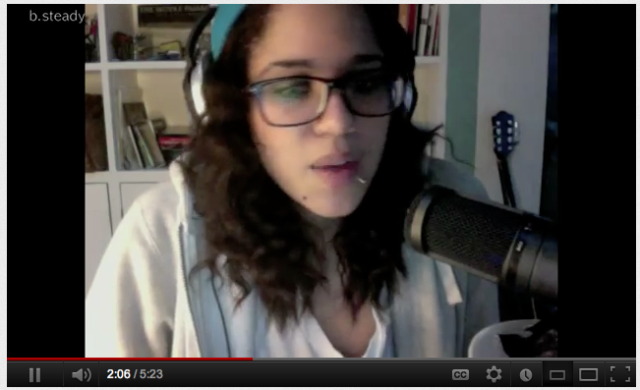 B.Steady's solo work is totally geared towards People of Color, Queers, Women, and all of the intersectionalities. She's got this amazing sense of daring and instinct; she'll write about any topic that strikes her, and her acapella vocals are arranged in unexpected ways that work so well.  She cleverly smears the line between singing and rapping in "Tickle".  She'll make you giggle with a slew of double-entendres in "Sweets" (aka your vadge), sung in a traditional Black-American spiritual style (oh yes). She has plenty of steamy songs too. "What I Want" has a cloudy sound that totally takes me there (y'know there, that lesbosexy daydream place you go sometimes… or all the time). "Wear It Low" is a propositional nod to girls working that smoldering hot masculine style, and "Sometimes" is a love song to non-binary sweethearts.
B.Steady writes the kind of lyrics that you'll hear more deeply with every listen. Sometimes they're so sentimental they hurt, in the best possible way. In "River Lullaby", B wants you to "Whisper to me for a thousand years, and you will have carved a canyon herewp_postsand in "By My Side" — which I've never gotten through without tears — she gets at some deep shit about falling in love that really plucks at the heart-chords. "Bones" expresses the horrors of the Atlantic slave trade ships through the eyes of a captive African woman witnessing her love jump overboard rather than live enslaved; yes, you will ugly-cry every time you hear it. It's one of her best works, and the video. The video. Just watch.
Did I mention that she can rock a loop pedal? B can do anything.
This Calls For (Play)Lists!
I was going to create a playlist that would give you an introduction to B.Steady's amazing body of work but then thought, you know what would be better? If we asked B.Steady to curate the playlist herself. And so she did!
If you want to delve a little deeper into B's catalog, here is a handy list of songs organized by topics and feelings:
Songs about women: Simmer Slow, Nervous, By My Side, Autumn, Impress You, Cartoon Girl, River Lullaby, Tickle, July, Blessed, Worthy, Starting Over, Chicken Pot Pie, Sweets, Girl Keep Dreaming, Malcom X Park, Worthy, I Ain't Her
Black is beautiful! Queer is beautiful! Also, women are beautiful: Mount Desert Island, Hey Girl Hey, Flow, Malcom X Park
Steamy sexytimes: Umami, Against The Wall, What I Want, Go Harder, Wear It Low
General amazingness: Thunder Prayer, Sometimes
B.Steady has about 40 songs available for download on iTunes. For everything else B.Steady, check out her YouTube, Facebook, SoundCloud, and Tumblr. This B.Steady appreciation Tumblr is also pretty neat.