Sneakers. Trainers. Jumps. Takkies. Stomps. Tennis. Chucks. Dunks. Gutties. Skunks. Runners. Kicks.
Call them what you will, but please don't ever say that a sneaker is just a sneaker, 'least not to my face. These days kicks cross cultural, racial, economic and sexuality-based boundaries. They've become some of the most versatile and mainstream accessories with which to adorn the body. Trainers transcend the hood, cross into your queer community and do kick flips across half-pipes without ever really needing to be laced. Sneakers are the universal sign for "I got this."
But I'm sure you know this wasn't always the case. I'm sure you know that at one point sneakers were little things that athletes wore to keep from breaking ankles and to get a little bounce in their game. I won't get into the history of kicks because there are documentaries and books that do a way better job of that, but I will say this: hip-hop did it. Old school rap artists like Run-DMC and celebrities embraced by rap culture, like Michael "The best basketball player in the whole world, ever" Jordan pushed sneakers from being athletic to being aesthetic. Run-DMC and their ode to A.D.I.D.A.S. shuttled shell-toed sneakers onto the block and into the consciousness of urban youth as things they so needed to rock, like on their feet, like yesterday.
The crispier, more expensive and rarer, the better. My kicks need to be my own and your kicks well…you do you. We compare kicks and comment on how badass they are and MCs drop them into lyrics, so we sing the sneaker electric without even realizing it until that one pair, the pair that stops all tracks and beats dead — the must have. Hip hop did this and now the rest of the world runs on rubber soles. And let's be real, hip-hop heads and queers are always on the up and up when it comes to trendy shit.
We are some fashionable mofos. (I mean just look at Lizz for cristalsakes.) We queermos have pulled sneakers into that reflective space; the space that says, "Look at how fly I am. I'm queer. I'm fashionable and you wish you had these kicks." In many ways, wearing sneakers aids in signaling out elements of our various presentations. So let's discuss shit for a second, shall we? And by discuss shit, I mean let's talk about me. I promise this is all really about sneakers.
My mother forced me to have a Sweet 16. Seriously, I wanted to die the entire time it was being planned and for most of the time it was happening. All of the things had to get did: hair, nails, fittings, make-up and learning how to walk in heels. Why, you ask? Why did I need to know how to walk in heels? Well, My Sweet 16 ceremony included the idea that I'd walk down an aisle to my awaiting father in blue and red low-top Nikes. He'd sit me in a chair and remove my sneakers, replacing them with lavender heels to match my lavender chiffon dress.
This totally happened. It was supposed to signify the end of me being tomboy and the beginning of my life as a fancy, femme, high-heel wearing woman. Much to my mother's dismay, those blue and red Nikes were back on my feet before the night was over. I should have known then that my connection to kicks would become a lifestyle choice.
In this big old mainstream world, women are supposed to wear heels if they want to be sexy, accepted, desired, acknowledged and all that other shit. End of story.
Note: There is NOTHING wrong with wearing heels. In fact, if you can rock them right, it's sexy as hell and beautiful and all types of women/people/teddybears should wear all of the things that make them feel sexy. This piece in no way passes judgment on heel-rockin' peoples.
But when you're a dykey little queermo like I was, and you feel like a clutzy overweight foal clomping around in heels, the pressure to wear them is/was fucking nauseating.
Anxiety-inducing.
Insecurity-rousing.
Self-hatred-boosting.
Womanhood-denying.
These are all the verb-jectives that describe my relationship with not only high-heels, but most other shoes designed for the feet of feminine and (ideally) heterosexual women. So just like when I came out, the decision to say, "fuck it" and embrace my love of kicks came from the fact that I refused to live in presentational misery. Wearing sneakers made me feel fly as fuck. And kick culture is imbedded in my urban upbringing. We used to say that we wore kicks cuz you never knew when you might need to run from cops, hop a fence or stomp a fool. Mostly, we wanted to look cool because we were too nerdy to get in any actual trouble. But also, who among us can really vault a fence in heels without breaking an ankle? No one. Stop lying. You know you can't.
So long story long, sneakers are my footwear/lifestyle choice. They aid in letting other queermos know I play for Team Homo. (C'mon, a well-dressed queer in some limited edition Pumas that match their bow-tie, leggings, sundress, plaid-shirt and/or fedora, always puts a blip on my gaydar. But maybe that's just me.) Sneakers connect me to my hood, to what I find fashionable and keep me close to the little girl that still likes to pounce puddles on the playground.
In my quest to share all of me with all of you, I asked Riese-Oprah-Jesus if I could do a post on sneakers. The homoheavens opened up and realized that such a post had not yet been made and so I was bestowed with the honor of making it so. Reaching out to certain members of the AS fold, one Hot Associate Editor Laura Wooley reached back and together we created this random but fly list of kicks for you to rock this summer.

+
Top Ten Kicks for Ballers of All Income Levels
brought to you by Laura Wooley and Me
+
Diesel Hi-Top GZ-212
Price: $28.99
Gabby: Classic doesn't always mean black and white, right? Try these Diesel kicks for color and a bit of dandified flair. (I apologize in advance for the limited sizes with this pair.)
+ 
Sperry Top-Sider CVO
Price: $50.99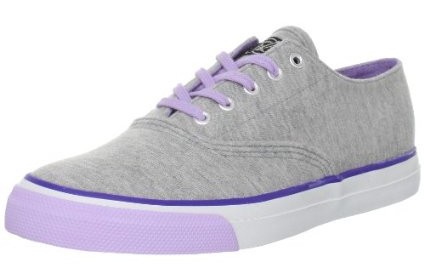 Gabby: If shoes could be dycons, then Sperry's would win the super laid back but versatile award. They'd also probably knock out Doc Marten's for queer shoe of the year, but this would only be the case if shoes had gay award shows.
+
Converse Chuck Taylor All-Star Reform Hi-Top
Price: $55.99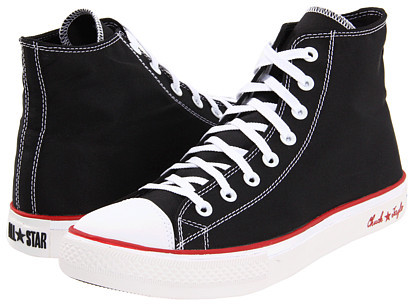 Gabby: A solid pair of Converse is one of those key items that could potentially go with everything. These won't burst your budget and they'll totally up your mack stats.
+
Nike 6.0 BRAATA LR Mid/ Rogue Green
Price: $65.99
Laura: I mostly buy my sneakers from the clearance rack at the Nike store. The one by me almost always has last seasons designs on sale for 50% off and you know what? Last season's shoes are good enough for me. Not to mention the leftovers are usually really amazing colors because everyone else was afraid that glow-in-the-dark shoes might be overkill. 
+
Aldo Dorgan
Price: $70.00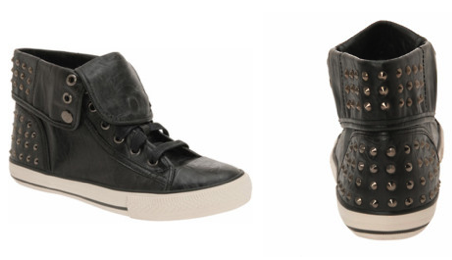 Laura: I can't help myself, I want these shoes. I've been making eyes at them every day when I walk past the shoe store on the way to work. If I had these shoes, I would have no option but to stomp around like a lady and get shit done.
+ 
TopShop Aerobic Wedge Heel Trainers
Price: $96.00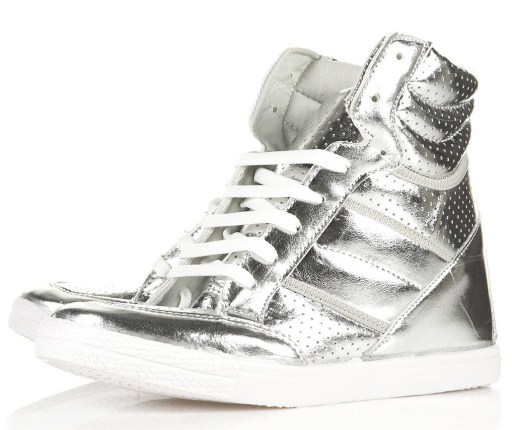 Gabby: Unfortunately, they're sold out of the black but these silver ones shine. TopShop is kind of the shit, for real.
+
G Star Raw Men's Skirmish
Price: $70.00
Laura: If I was blessed with all the money in the world and big feet, I would own all the G-Star Raw  shoes. They're all svelte and European and sexy, which are qualities that are hard to come by in a sneaker/trainer-if-you're-savvy.
+
Nike Air Yeezy All White
Price: $81.59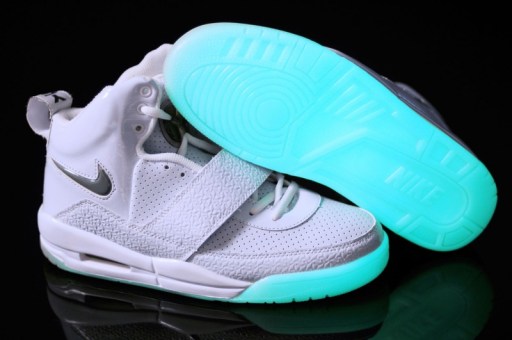 Gabby: I wasn't too sure how the glow in the dark sneaker thing would turn out until I saw these. Also, the name Air Yeezy makes me think about a flying dog that can rap and how if that idea ever became a movie, it'd make probably a billion dollars.
+
Puma Clyde X Undefeated Snakeskin
Price: $47.00
 Gabby: I just have a thing for red kicks, man.
+
Puma Mihara Mid Union Jack
Price: $150.00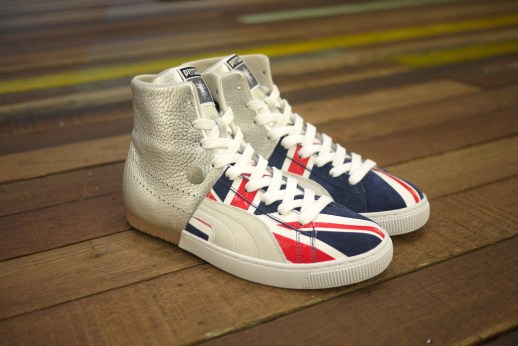 Gabby: If flag prints on things is offensive to you, then my bad. The Union Jack reminds me of this really hot British chick I fell in love with once and I love sneakers so…These.
 +
marc by Marc Jacobs Calf Dorada Sneaker Wedge
Price: $452.00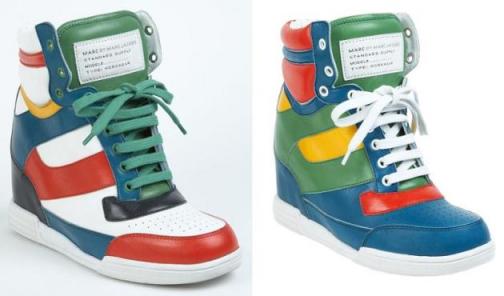 Gabby: Oh, you fancy, huh?
This list isn't intended to be the be all end all of all the sneakers in the land! It's just a little list intended to kick start your summer footwear. What types of sneakers do you like? Or do you hate sneakers and wish everyone just wore flip flops? Tell us about it.
Also, be on the look out for Sneaker Feature: Kicks are for Queers B-Sides with bits on hot sneaker-based tumblrs, customization and limited edition collector kicks.