all images © Najva Sol
I'll tell you the truth: I've avoided writing this article. Why? Because I'm still recovering from South By Southwest (aka #SXSW). How is that possible? I'm a seasoned traveler. I've shaken my booty in music festivals across the country, diligently attended poetry conferences and shot the kinkiest of summer camps — basically, this ordeal should have been a piece of babely warm-weather cake. A musician bought me a plane ticket in exchange for a photoshoot, but my actual job there cancelled* (see: Mercury retrograde) three days before my departure. I decided I'd go regardless, heart and suitcase full of optimism. Instead, SXSW kicked my ass, and laughed while walking away.
SXSW, if you don't know, is a two-week music, film, and tech conference/festival/shitshow that has happened in Austin since 1987 (we're the same age!). It's got over 40,000 registrants, over 100 venues, and upwards of 2000 bands, which basically rounds up to a million things to do at every moment (just thought I'd help you with the math).
Somehow though, when you look at the photos, you can't tell that I made every mistake possible! (Ok, maybe not all the mistakes — just many, many mistakes that caused undue anxiety that led to teary calls to my friends back in Brooklyn who all dismissed me and were like, "You're in 80 degree weather? Surrounded by free music? Oh, yeah, tell me how hard your life is. Not.")
SXSW Life Lessons
I learned some life lessons immediately:
-Everyone was right, you don't need a badge. The stupid long long long long long impossible lines will still exist with them. Even the VIP $1600 platinum bage holders have a line.
-Carry snacks. And cash. SXSW is Austin's largest source of event based revenue, which means ATM fees can go up to $7. Even roadside coffee (not a latte, mind you) is $3.
-Teenyboppers will threaten to cut you if you shove ahead of them. If you're press, attempt to get a press pass instead of pushing to the front of a sold out cant-breathe show with Macklemore and Tegan & Sara.
-Don't let #FOMO (Fear Of Missing Out) get to you. Don't fixate on the shows you can't get into *cough* Justin Timberlake's secret show for Myspace *cough* Prince's exclusive showcase for Samsung *cough* and instead think about how great it is that you can see the DJ from down the block spinning all the way in Austin! (Just kidding. But chances are that neighborhood DJ can get you in & you can stick around long enough to see someone you aren't already friends with, too.)
If you can avoid all those things, you can probably avoid my fate: hungry, defeated and alone for hours charging my phone in a random bar, begging my internet to work so I could come up with alternate plans after a show I'd wanted to see had a line that was four blocks long. #Fail
On FOMO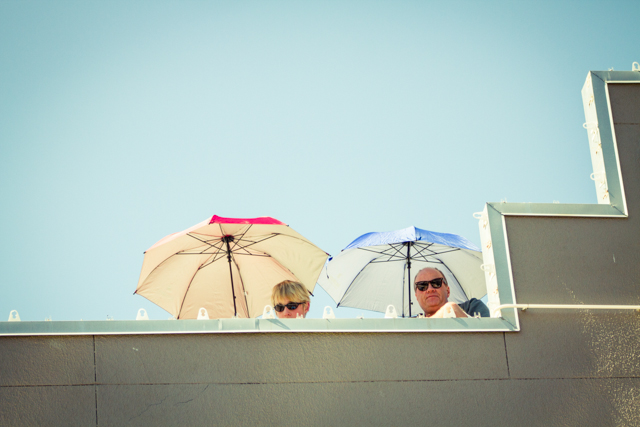 Some people don't have to miss out because they have private roof access. I am not one of those. My view is often this: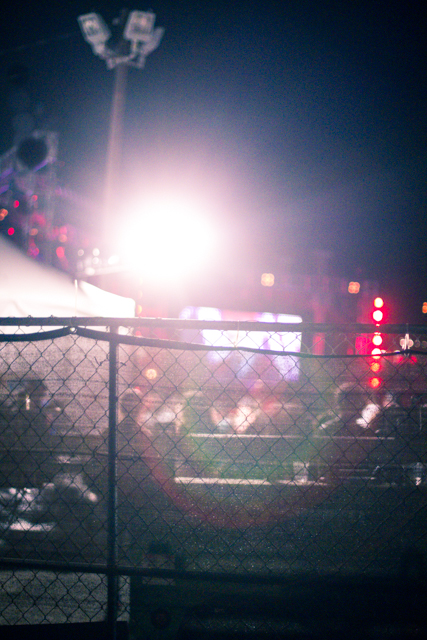 But when you get stuck outside, sometimes you stumble upon a midnight retro yard sale, or generous stranger to share a smoke & wait for the next adventure.
On Mercury Retrograde
Can you believe this tarot reading was in a crowded queer dive bar? I can. Queers love their woo, even in Texas.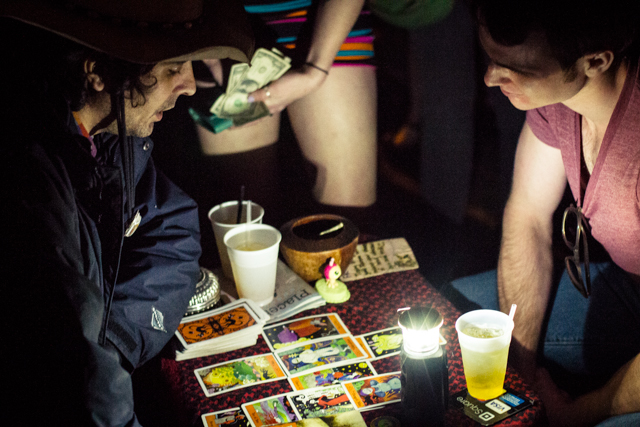 Admission: Until this go-round, I underestimated Mercury retrograde. My flight into Austin was cancelled and I almost had to spend 24 hours in the Dallas airport. My phone mysteriously stopped working for three hours. During SXSW, I had one possible commercial and one photoshoot cancel. One night I sat in a warehouse alone because it was too dark to shoot the girl emcee, Zuzuka Poderosa, and all of my buddies had cancelled. Finally I got a text to come to a bar a few blocks away, where a guy friend was debating going to another event in search of a hot girl from earlier in the day. Utterly exhausted and with nothing else to do, I decide to tag along. It's only after we arrive, and I decide to enter even though I'm not allowed to take photos, that I realize one of my favorite DJ's (Gaslamp Killer) is playing an extended set! THIS is how Mercury retrograde breaks you, like some crazy zen lose-all-your-hope-and-desires-before-you-seek-the-truth shit.
Everything sucked until retrograde ended on my last day, which was GayBiGayGay (more on this later,) and I actually dropped my phone in toilet and it DIDN'T DIE (totes MIRACLE.) Point being: plans will fall through. Just stop trying so hard and chill the fuck out.
next: food, accommodations, running away and austin
Pages: 1 2 3 4See entire article on one page