all images © Najva Sol
I'll tell you the truth: I've avoided writing this article. Why? Because I'm still recovering from South By Southwest (aka #SXSW). How is that possible? I'm a seasoned traveler. I've shaken my booty in music festivals across the country, diligently attended poetry conferences and shot the kinkiest of summer camps — basically, this ordeal should have been a piece of babely warm-weather cake. A musician bought me a plane ticket in exchange for a photoshoot, but my actual job there cancelled* (see: Mercury retrograde) three days before my departure. I decided I'd go regardless, heart and suitcase full of optimism. Instead, SXSW kicked my ass, and laughed while walking away.
SXSW, if you don't know, is a two-week music, film, and tech conference/festival/shitshow that has happened in Austin since 1987 (we're the same age!). It's got over 40,000 registrants, over 100 venues, and upwards of 2000 bands, which basically rounds up to a million things to do at every moment (just thought I'd help you with the math).
Somehow though, when you look at the photos, you can't tell that I made every mistake possible! (Ok, maybe not all the mistakes — just many, many mistakes that caused undue anxiety that led to teary calls to my friends back in Brooklyn who all dismissed me and were like, "You're in 80 degree weather? Surrounded by free music? Oh, yeah, tell me how hard your life is. Not.")
SXSW Life Lessons
I learned some life lessons immediately:
-Everyone was right, you don't need a badge. The stupid long long long long long impossible lines will still exist with them. Even the VIP $1600 platinum bage holders have a line.
-Carry snacks. And cash. SXSW is Austin's largest source of event based revenue, which means ATM fees can go up to $7. Even roadside coffee (not a latte, mind you) is $3.
-Teenyboppers will threaten to cut you if you shove ahead of them. If you're press, attempt to get a press pass instead of pushing to the front of a sold out cant-breathe show with Macklemore and Tegan & Sara.
-Don't let #FOMO (Fear Of Missing Out) get to you. Don't fixate on the shows you can't get into *cough* Justin Timberlake's secret show for Myspace *cough* Prince's exclusive showcase for Samsung *cough* and instead think about how great it is that you can see the DJ from down the block spinning all the way in Austin! (Just kidding. But chances are that neighborhood DJ can get you in & you can stick around long enough to see someone you aren't already friends with, too.)
If you can avoid all those things, you can probably avoid my fate: hungry, defeated and alone for hours charging my phone in a random bar, begging my internet to work so I could come up with alternate plans after a show I'd wanted to see had a line that was four blocks long. #Fail
On FOMO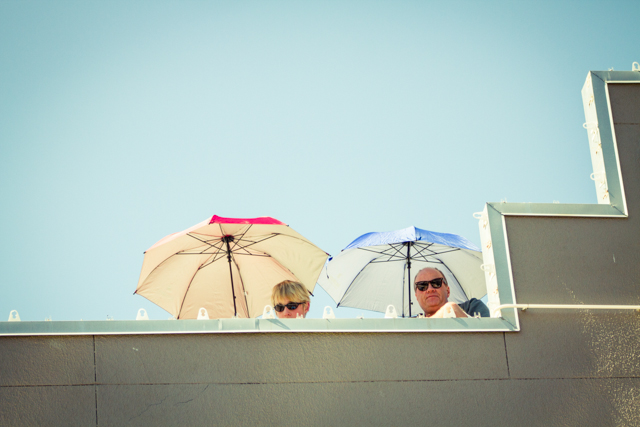 Some people don't have to miss out because they have private roof access. I am not one of those. My view is often this: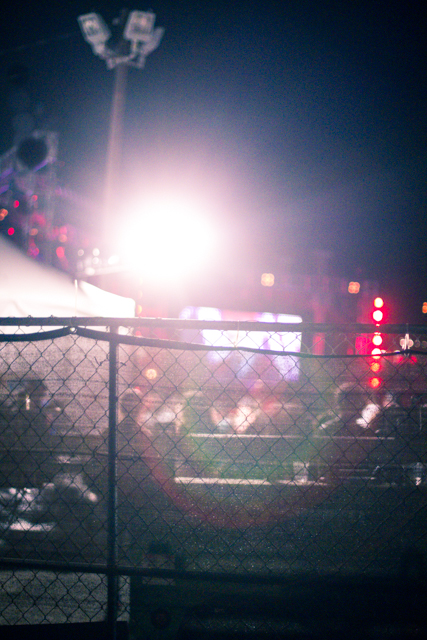 But when you get stuck outside, sometimes you stumble upon a midnight retro yard sale, or generous stranger to share a smoke & wait for the next adventure.
On Mercury Retrograde
Can you believe this tarot reading was in a crowded queer dive bar? I can. Queers love their woo, even in Texas.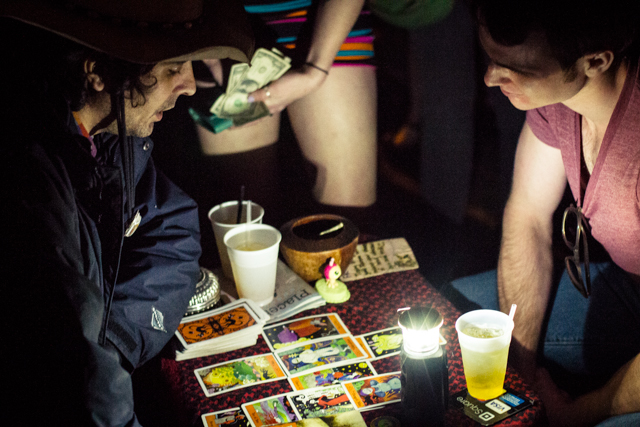 Admission: Until this go-round, I underestimated Mercury retrograde. My flight into Austin was cancelled and I almost had to spend 24 hours in the Dallas airport. My phone mysteriously stopped working for three hours. During SXSW, I had one possible commercial and one photoshoot cancel. One night I sat in a warehouse alone because it was too dark to shoot the girl emcee, Zuzuka Poderosa, and all of my buddies had cancelled. Finally I got a text to come to a bar a few blocks away, where a guy friend was debating going to another event in search of a hot girl from earlier in the day. Utterly exhausted and with nothing else to do, I decide to tag along. It's only after we arrive, and I decide to enter even though I'm not allowed to take photos, that I realize one of my favorite DJ's (Gaslamp Killer) is playing an extended set! THIS is how Mercury retrograde breaks you, like some crazy zen lose-all-your-hope-and-desires-before-you-seek-the-truth shit.
Everything sucked until retrograde ended on my last day, which was GayBiGayGay (more on this later,) and I actually dropped my phone in toilet and it DIDN'T DIE (totes MIRACLE.) Point being: plans will fall through. Just stop trying so hard and chill the fuck out.
next: food, accommodations, running away and austin
On Food
If you only go to one place to eat make it the vegan spot where all the cute alt-kids hang out: Counter Culture. I mean, this here is a Green Mimosa with kale, ginger, and pineapple. I would show you a photo of my food but it was so incredible I inhaled it.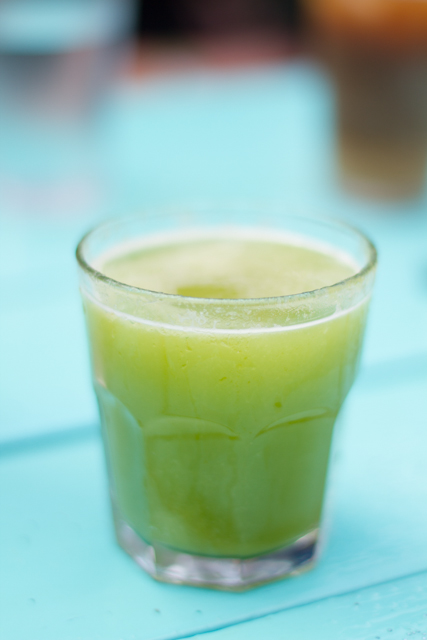 Ok ok, Austin, home of the food truck, right?
Kinda. Too bad they mostly jacked up their prices. I wouldn't care so much if my mind was blown but when I'm paying $5 for a taco & $4 for a cupcake out of a TRUCK I expect something amazing.
On that note, Hillside Farmacy, where you can sit down, was super yummy.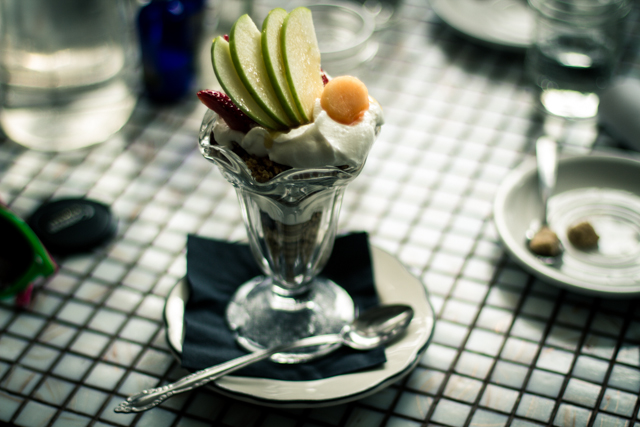 Free food was mostly meh, but this one advertising agency did soak their soda gummies in bourbon.
And I'm totally bias, but I found my first Persian food truck!
On Accommodation [aka the Magical Faerie Nostalgia Palace]
Everyone has to stay somewhere, right? I happened to land with a tarot-reading witchy beauty Angel, in her whimsical house of curiosities. I slept in a trailer, the bath didn't work, and there were 12 people sharing one bathroom. However, everyone was gorgeous and naked a lot, and when I'd go to brush my teeth, I'd emerge showered with makeup and jewelry from a bevy of babes. The only downfall was I kept forgetting to actually brush my teeth.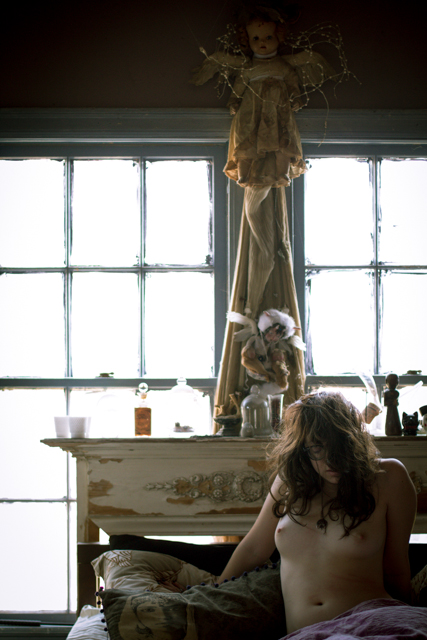 On Running Away
I've heard rumours that a major part of SXSW consists of a day trip where you and the people you're so excited to see from all over the country drive away from the smelly masses you're supposed to care about and go give yourselves a day of bliss. I'm pretty sure that's in the official program, somewhere.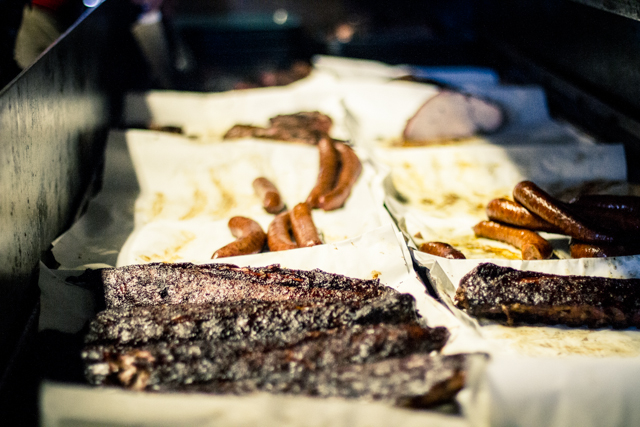 We went to Krause Springs, but not before loading up on traditional finger-lickin' BBQ. Even my mostly-vegan-self bought almost a pound of brisket and some creamed spicy corn.
As soon as we walked in, we ran into these folks who reminded us that we are, despite appearances, still in Texas.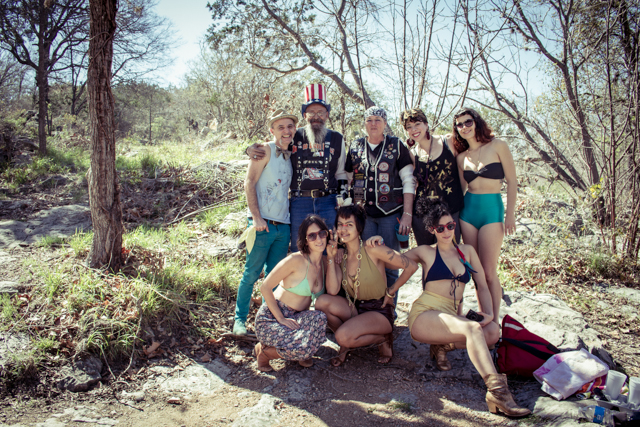 Go here. It costs $3. There's a waterfall, a rainbow, and a rope swing. And no lines.
On Transport
Yabba Dabba Doo- Flinstones-style foot pedal power won SXSW, hands down. You could drunk-bike or jump in a pedicab (finding a real cab was a nightmare) to go anywhere. Bonus points if you got to ride with darth vader or speakers or glitter. PS. Parking and traffic were an expensive pain in the ass. Duh.
On Location
The majority of the action happens on a particular strip of 6th St. — akin to Bourbon St. in New Orleans — where walking feels like a videogame of avoiding drunken zombies. It's where gutter-punks jam with tourists, buskers mingle with costumed wanderers, and spectacle spills out to street from all the bars.
Sonos Studio
It was hard to get into but there was free espresso patron, free doritos, and everything was pretty. Good enough.
Other Streets
Not all of Austin was invaded and colorful. There's certainly some parts of the city that struggle. No lie.
Treasure City Thrift
Not only is it collectively organized with a safer spaces policy and regular 25 cent sales, it hosted a queer POC music showcase in its parking lot. ULTIMATE WIN.
Pussy Palace
Bust Magazine had a daytime party that was super fucking far away in the backyard of the Pussy Palace. I promised I'd shoot it, and so I did, and didn't regret it (partially because I loved how sweet aka cute the bartenders were). I got to see Wampire, and there were copious amounts of Titos, a locally made Vodka. We may or may not have been gifted a few bottles that we transferred into water bottles to smuggle into all the nighttime parties. High school techniques can be surprisingly effective.
East Sixth
East 6th St is full of rad lighting, gay bars, hipster bars, punks, nicknack shops, and people on bikes. You should probably go there, even if it's just for Cheer Up Charlie's.
next: queer music and queer musicians and sxsw interactive
On Interactive
Interactive was the Tech/Geek section with lots of free drinks and app sponsored events and not as many skinny jeans.
On Music
HOLY SHIT SO MUCH GAY MUSIC. Unlike Art Basel, where my search for gay fizzled, SXSW was too queer to handle. There's more photos of Tegan & Sara because someone else from Autostraddle *cough* Taylor Hatmaker* got press access. Not that I'm jealous.
Music is like, what SXSW is famous for right? So here's a roundup of queer music I got to see, so you can feel like you were right there sweating it out with me. Except you'd probably remember your earplugs.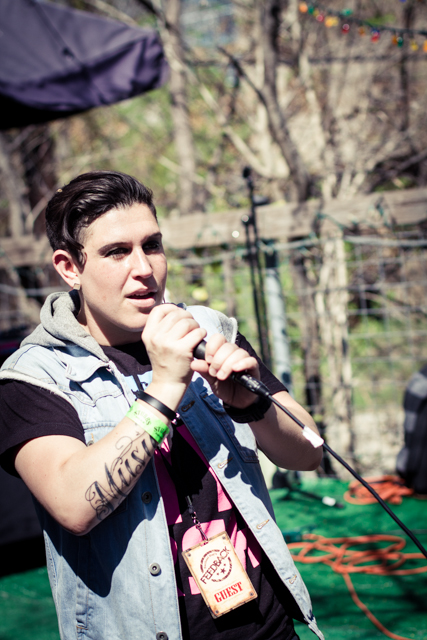 Queer Music Part II
Sissy Bounce, a call and response genre of New Orleans dance music with a gay emcee, gets it's own section because due to my pervy nature & an open bar, I OD-ed on photos. I am utterly mesmerized by asses bouncing. Performers included Katy Red, Nicky Da B's dancers, and DJ Rusty Lazer (who also closed out GayBiGayGay by inspiring the entire stage to jump on stage, bend over, and shake it.)
next: more music and the best day ever, aka gaybigaygay
Other Music
So yea, there were like, non-gay musicians too. I guess.
I was super-into these girls — Lucy Love and Linkoban — who I'm pretty sure aren't queer but I wish they were.
On Notable Folks
So SXSW is full of celebrities mingling with you in the muck (or kinda above the muck in penthouses or balconies or VIP sections) but there's tons of fancy people in one place at one time. Which means I got to meet some of them.
Buck Angel, Trans-man porn star, was premiering a documentary about him, Mr. Angel. He and I chatted for over an hour over tea and finally I had to take a few shots but goddamn that man has brawn and brain.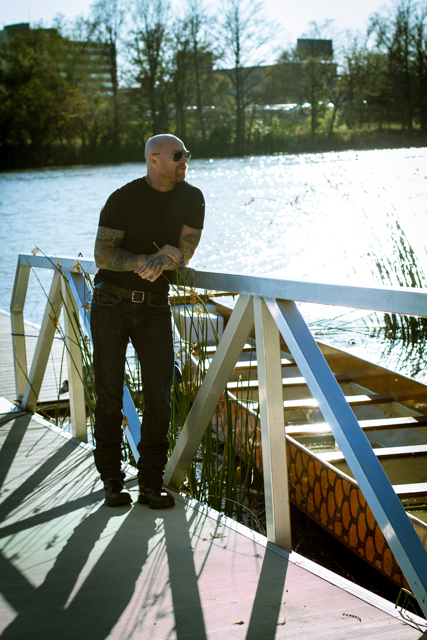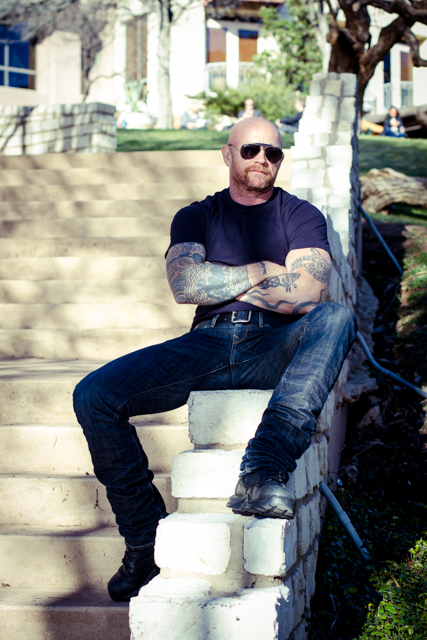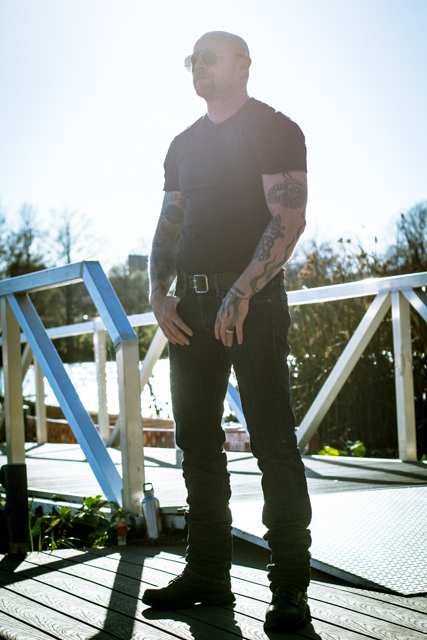 On GayBiGayGay
GayBiGayGay was the one day where everything was awesome. Seriously. I woke up and brunched, headed to a huge open lot full of good-lookin' & friendly gays in their dandiest finery, and listened to music, picnicked anddrank till midnight. No badges, no lines, free parking, and camera candy galore.
Most importantly, this pretty young thing found me in crowd. I think she's yours, Autostraddle. Ladies & germs, Taylor Hatmaker.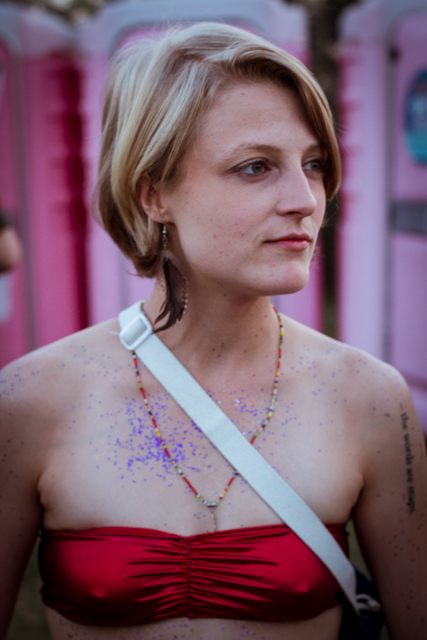 As for the rest of it, I'll let the pictures do the talking.
On GayBiGayBabes
Self-explanatory.
On the Last Hurrah
When the last song of GBGG was over, two carloads of queers headed home past a road full of bike punks (they had a huge event too, and I'm pretty sure they lit something on fire or exploded something, whatever. There were fire-trucks.) While I packed, everyone cooked up some kale tacos, and around 2 AM, three hours away from my airport deadline, we were invited to the neighbor's house.
The neighbor's house turned out to be a sprawling domain of merriment: it had a full-size hand-built movie theatre complete with antique concession stand, an emptied out school bus-turned-lounge with pristine vintage furniture, a mostly-built house using all antique parts from New Orleans, and… a hand-made hot tub big enough to fit 10 people. We all stripped down and slipped in (that sounds naughtier than it was) and I felt all the stress of the week (and the filth of the last few days, ew) melt into the water. I felt totally blissed out: just in time to face the crush of SXSW exit-ers at the airport while running for my 6AM flight.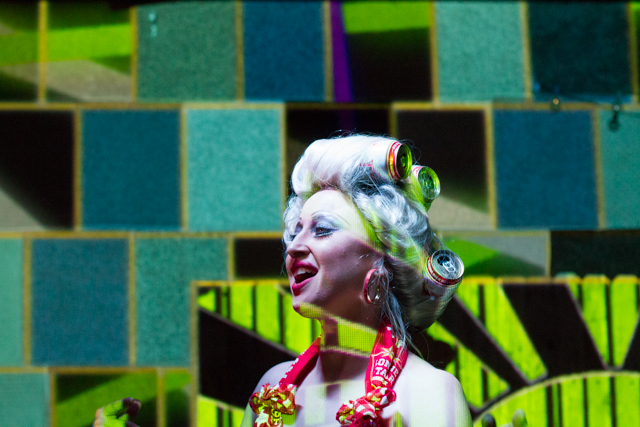 Pages: 1 2 3 4See entire article on one page