Tons of people go to Art Basel***, but I'm not the typical attendee: I'm not a Chelsea gallerist, a rich collector, an art handler, or even an art history major. I'm one of those queers who loves Gossip Girl and fancy things and glamour and glitter. Somehow the desire for celebrity run-ins, a tan, a visit with my bestie Monica, and the practical need for art world knowledge (I am an artist, after all) hit a breaking point and I gave in to my FOMO (Fear of Missing Out). Between airline miles, my friend Rob's couch, and press passes (thanks Autostraddle!) I realized I could actually make the trip sans trust fund. I packed up my costumes & wigs, color-coded a google doc of events I was obsessively RSVP-ing to, emptied my memory cards, and headed south to the great unknown in search of tits, truth, & tropical weather.
*** WTF IS THIS ART BASEL STUFF? Art Basel Miami Beach (not like the herb, pronounced bahhhzel) is, according to it's site "the most important art show in the United States." The sister site to the original fair in Basel, Switzerland, it takes place over a weekend in December every year and has tens of thousands of visitors. It's like, a really big deal. For art people. Or rich people. Or Miami businesses. But, you know, not a big deal for most people. Whatever. To some un-named Miami Natives it's the week when a wave of snobby people create traffic jams.
Monica and I prepared for Basel-war by over-hydrating, doing yoga, eating more vitamins than we could ever possibly need, and constantly refreshing our Gmail to see what events we could get invited to. To give a little insight: there are 22 satellite art fairs spread across the beach and mainland (a 20 minute drive apart, minimum) which do not include museums, outdoor installations, gallery opening, parties, open bars, cute girls I might want to chat up, or friends I might want to run into. I had no idea what I was in for.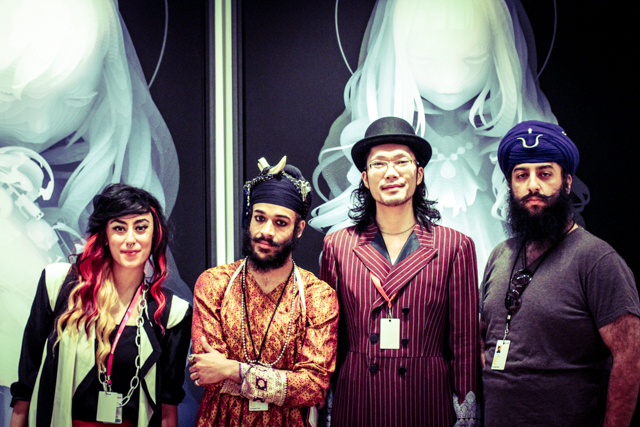 THE DRINKING
This alcohol was sugar free & lo carb & made locally. Obvi.
Since I'd be writing an Autostraddle queer guide to Art Basel I figured I should be eating at mouth-melting places and taking instagram photos of it. But honestly… with all the running around I completely forgot to eat the first day. After that I always had a cliff bar in my bag, although I did nibble at Wynwood Walls & Yardbird – which are both worth sitting down and shelling out a pretty penny or two.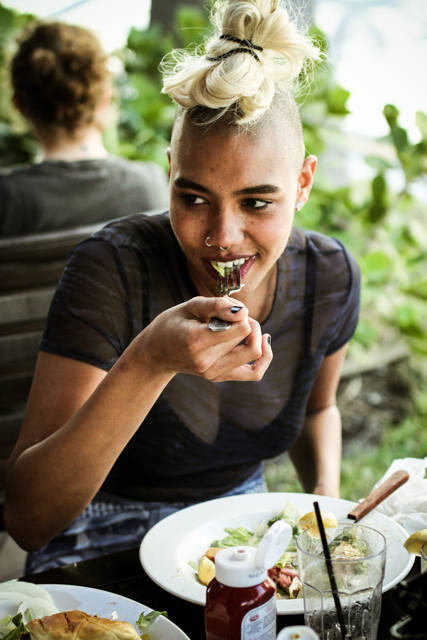 Truth is, I'm pretty sure Art Basel is synonymous for "champagne & cocktail IV drip". One group, Las Carpinteros, even built an installation on the beach that functioned as a bar. I was hesitant to visit it because I heard the drinks were expensive and I had gotten used to the whole "not paying for alcohol" thing. When I got there I found it was closed for a private event. Because of course at Basel, art-installation-bars are very exclusive. I finally hustled my way in, only to find out that the night featured an open bar, so that made it final: I never paid a dime for a drink all weekend & neither should you. (Unless you need to go to a dive bar to hide from the utter pretension of it all.)
In Sum: Survival of the lushest- drink lots of water or miss half a day of prime Basel-ing cursing the bright Miami sun in bed.
THE LINES

Get a bunch of rich people on an island with millions of dollars of product, and it's the perfect recipe for privilege overload (don't even get me started on the "design for dogs" store). The funny part is even the important people who have probably never ever waited for a goddamn thing had to wait in line here. Is art basel the great equalizer? Thank you Jeffery Campbell for inventing heels that make standing in line painless, because all the waiting was worth what lay beyond the velvet rope (except David Lynch's pop-up nightclub Silencio, which reportedly sucked.)
In Sum: don't feel bad if you're in line. Oh, and leave those shoes that "almost" fit you at home or be forced to buy some on the boardwalk at the last minute when your blister just can't take it anymore.
THE ADVENTURE
HOLY SHIT. You have no idea. It's totally possible to get to ride a boat to a mansion for a balls-to-the-chandelier vogue party (think "Paris is Burning", not the magazine), watch Metric play front row, dance the night away in a room full of your idols, end up at a 5AM warehouse party with a Gil Greene film installation, and see A$AP Rocky onstage at a Playboy party from the luxury of a cabana on the pool. These are things that happen at Art Basel. You talk to the woman in the corner and, of course, she writes for the New York Times or directs a major private international art collection.
In Sum: When someone invites you on a boat, just say yes. Obviously.
THE CELEBRITY
Fuck all the rest of the celebrities that I may or may not have spotted this week. All you need to know is that Susan Mikula was showing at Aqua Art Fair.
Why is she so important? Well, if you're as good of a stalker as I am, you'd know she makes super dreamy naked girl photographs, AND is Rachel Maddow's lady. In my duty to Autostraddle, I moved heaven & earth (or really, I overcame my heart attack) at the press opening to bring you this: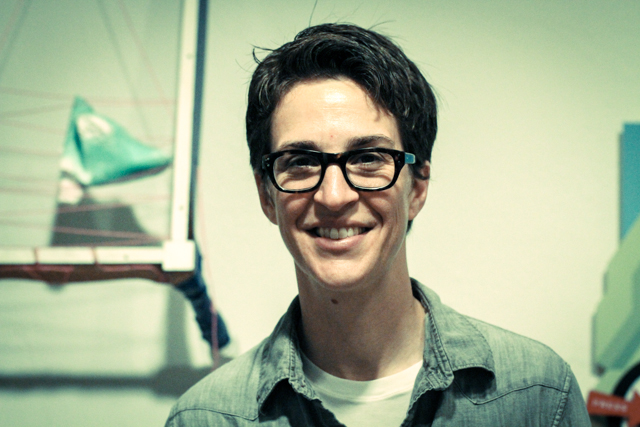 In Sum: Rachel Maddow is actually really sweet in person. Like, really really sweet.
Post Script: Walt Whitman was also at Scope Art Fair- hiding in a wooden box. There was a crowd of people hanging out while I used the phone to talk to Walt Whitman about his homo tendencies & poetic crushes on young men.
THE GAYS
You know what's ridiculous? If you ask the PR person at the fair about gay artists, they won't have any answers for you. Ask about just about anything else, and they'll give you a list of booths, but there's still an art "don't ask, don't tell" policy. Or at least, that's what it felt like. (Notable exception: San Franciscan based A&O PR bad-ass Lainya from Untitled Art Fair who pointed me to epic-ly dark Participant Gallery). What was I to do? Thankfully, the informal queer network is useful for something beyond dating, and I was able to find rad queer artists & curators to feature. Oh, and sometimes glitter rainbow shoes can be a giveaway. There's nothing like asking an artist if they're a homo to make a moment instantly awkward.
In Sum: You know all the queer artists you've slept with and broken up with because they're too dramatic but who are still fun so you still keep in touch with them? Ask them if any of their friends are showing at Basel. Then you'll know where the gay art is.
THE HARD FEMME
I can't tell you how much work took up the panty dropping combination of strength and femininity, and how pleased I was to document it. Not all of these artists are queer, but arguably, feral-knife-holster-stripper-shoes and needle filled pearl bonnets deserve honorary Q cards, no?
In Sum: Someone buy me a razor-bra, yesterday.
THE OTHER ART
So much of the art bored me. Call it Stendhal Syndrome, call it shitty overpriced emperor's new clothes, call it Najva is a raging judge-gy bitch – but here's the good news: every once in awhile, across the hall from the corner of overdone & crappy, I'd see a piece I'd walk up to and for just a minute, everything stopped. You'd think I'd like more considering how much rhinestones and glitter was used… but I kinda want the work around me to, I dunno, mean something? I want art that's funny, smart, interactive, worth a double take, or um – the giant Sugar & Gomorrah roller coaster. Really, there was a rollercoaster, with naked people making out inside instead of jumping out to scare you. Since you weren't there, here's some highlights:
In Sum: Much of the art sucks. Some doesn't. Don't pay full price for the actual convention. Just don't.
THE TITS
At some point at Scope Art Fair I was walking around with Ian, a Miami photographer charged with the difficult task of making a NSFW gallery of Basel, and in protest of the difficulty in finding gay art, I started shaking my glass of bubbly & screaming "show me the tits!" which was probably the closest Basel got to Bourbon Street. I found some though. However, I should note that I was sorely disappointed that most NSFW pieces were made by dudes. We need to step up our gay game. Here ya go:
In Sum: There should really just be a "naked chicks" section for all of us philistines.
THE BABES
THERE WERE SO MANY GOOD LOOKING TALENTED PEOPLE THERE- someone said it felt like an artsy-freak class field trip. That sounds about right. I mean, I was floored by the super-high ratio of Sure, I didn't get a chance to capture everyone because sometimes I was too busy dancing and passing a joint to snap a shot of photographer Io Tillet Wright or performance artist boychild – but that's part of it right?
In Sum: How come I didn't make out with any of these people? Next year I am fixing this. #Justkidding #Notreallytho
THE CONCLUSION
I left Basel with aching feet, piles of business cards, a mild tan, and some heavy inspiration. Monica & I skipped out Sunday night and went up to Ft. Lauderdale, home of the great gayborhood of Wilton Manors. When I finally passed out I slept straight through 'till Monday afternoon, dreaming of rhinestone studded knives, champagne baths, and a solo show at Basel 2013. You're invited.