Going Down (South) is a regular column about y'all being a gender neutral pronoun, how red states are actually more of a purplish color, boiled peanuts, and the trials and tribulations of being a rural homo — with an emphasis on the tribbing.

Header by Rosa Middleton
---
The first time someone told me to make use of my bootstraps, I was eight. Another player in my coed soccer league had deliberately punted his ball in my direction before the start of practice, aiming squarely at my stomach. He succeeded. My 80-pound frame was no match for his muscled 12 year-old abilities. I promptly found myself lying face-up on the pitch, the wind knocked out of me, and in way more pain than I was willing to admit.
The coach jogged over to me, slowing down to a walk once he realized that I was only bruised. He didn't ask me how I felt, or if I wanted to sit the practice out.
"C'mon, Sarah." He sighed. "You've just gotta pull yourself up by your bootstraps." It was one of those situations where I understood what he was saying without really understanding what he was saying. I just knew that it was expected that I get up and pretend that nothing had happened. According to my coach, the solution to defeat was one simple word; two syllables that, when combined, sounded like spitting followed by guttural throat clearing:
Bootstraps.
noun
1. loops of leather or cloth sewn at the top rear or sides of a boot to facilitate pulling it on.
2. a means of advancing oneself or accomplishing something by relying entirely on one's own efforts and resources; meritocracy.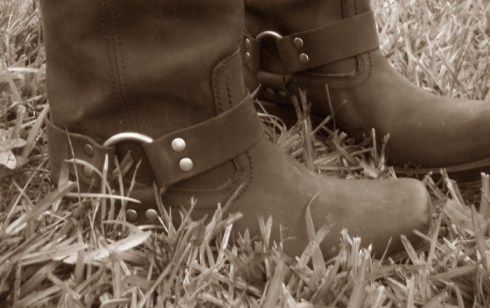 While the term bootstrapping actually originated from 18th century British lit, it's since become a very American ideal, one which is often referenced alongside the ever-elusive American Dream. It's intensely embraced in rural working class communities like the one I grew up in. While the South's complex relationships with race, gender roles, religion, and sexual morality must not go unacknowledged, so much of our regional identity is entrenched in the belief that independence and hard work will get you absolutely anywhere you want to go. The ideology is a spool of flaxen thread, and it's common belief that anyone who disagrees with it is probably holding a pair of scissors behind their back, waiting to steal a piece.
During adolescence, the roster of people who told me to yank myself up by my bootstraps grew to include pastors, neighbors, family friends, and even several teachers. It didn't matter what sort of event resulted in me being down on my luck, or if any injustices or trauma had occurred in the process. The phrase was always uttered with the tenderest sincerity. In their minds, they were taking it upon themselves to teach me two very important lessons: One, that any of my ailments — be they financial, physical, or emotional — could be remedied with my own gumption and elbow grease. Two, the opposite of hard work wasn't laziness; it was freeloading.  I have no doubt that these people had my best interests at heart. It's so difficult to wriggle away from my past. I struggle to cut myself out of the photos where my arms are interlinked with those who still believe in the things that I once did. When I look back, I experience more empathy for conservative Southerners than any queer bleeding heart liberal ever should.
Like so many other Southerners, the notion that I could somehow snatch myself out of poverty with my own two hands appealed to my teenaged self. Me, need help? Ha! I didn't need help. The only ones who needed handouts were those who didn't work hard enough; who lacked ambition. These sentiments were only cultivated by my educators, resulting in political confusion. I distinctly remember the day that my 8th grade history teacher explained the difference between the democratic and republican parties by simply saying, "Republicans like to do things for themselves and democrats believe in getting help from others."
Today, I fundamentally understand that meritocracy is bullshit, and I did a victory dance in July when the President said the very same thing, sans expletives. We've all benefited from public services of some sort, from the roads we use during our daily commutes to the fire fighters who've put out our deep-fried turkey fires on Thanksgiving. I have a decent understanding of socioeconomic privilege, and I get that one can't pull herself up by bootstraps if she don't have any damned boots to begin with. The social services that I was taught to scorn kept me fed during rough patches through childhood and, more recently, young adulthood. I'm uncertain of how I would've managed to attend college were it not for federal aid.
Even though I now believe that bootstraps are about as real as Thumbelina, I still struggle to ask for help and accept help because it once implied weakness. How do I, as a progressive Southerner, even begin to deconstruct this myth while acknowledging that my own unhealthy work ethic is a product of that very same environment? After all, I learned about bootstraps before I learned about strap-ons. Much to my chagrin, my Southern upbringing impacted my politics before my queerness did.
Bootstrapping was a huge part of who I once was, and is still a pretty big chunk of who I am today. For the most part, I love this about myself. I enjoy breaking a sweat while working outdoors, I still foolishly believe that all hard work pays off, I love competition, and I think most of my charm lies in my perpetual underdog status. At the same time, my residual bootstrap mentality has resulted in me being chronically unable to ask for help, be it from peers or professors.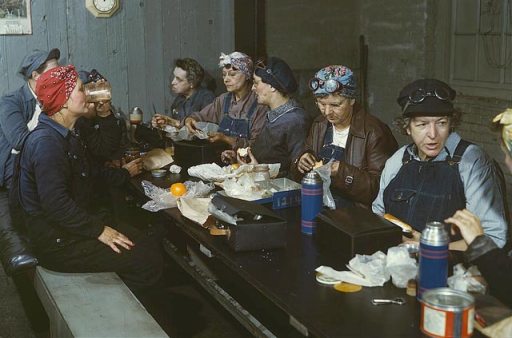 When Contributing Editor Malaika interviewed me for her article on Canadian perspectives of the US election, her outrage over the United States' lack of universal healthcare was not entirely mutual. Instead, as someone without insurance, I found myself becoming irrationally unnerved about the idea of actually becoming sick and needing medical care. I'd trained myself for so long to not think about these things that, when I do, I feel as if I'm falling head-first into a vat of self-pitying vulnerability. It's so easy for me to shove those thoughts under the rug, but navigating my own odd brand of internalized guilt is much more important.
I'm not alone in my self-flagellation. At a recent GSA meeting at my rural university, I asked the question, "Which one is a worse insult to you, being called 'lazy' or being called a homophobic or transphobic slur?" A majority agreed that "lazy" stung the most. As evidenced during the recent election season, words like "lazy" and "freeloader" take on a harsher connotation when the bootstrap mentality meets lingering racist sentiments:
This all being said, the most ironic thing about all this talk about problematic self-reliance is the origin of the phrase "pull yourself up by your bootstraps." Despite the lie we've all been told, it never meant "to become successful on your own."
It actually meant "to attempt an impossible feat" — an apt description of attempting to thrive without any sort of public services.
The next time someone tells me to make use of my bootstraps, I think I'm going to buy them a pair of boots.
Then, I'm going to say, "After you."