Today is a very important day for my country, Canada: America will vote for a president while we partake in our favourite national pastime – watching Americans. This morning I awoke to Jian Gomeshi speaking about the election on CBC radio's The Q. Last week I stayed up until two in the morning glued to the Canadian documentary program, The Passionate Eye's, series, "Anger in America." This Hour has 22 Minutes recently ran a skit in which Romney eats Big Bird for Thanksgiving Diner. And tonight,an impersonated Don Cherry, the infamous host of Hockey Night in Canada, will be only one of many Canadian T.V hosts covering the American election.
The world stares at the US election as smallcreatures stare at a boa constrictor into whose cage they've been dropped.

— Joyce Carol Oates (@JoyceCarolOates) November 6, 2012
Pierre Trudeau saw the U.S. as more of an elephant. He once said, "Living next to the United States is a little like sleeping with an elephant. You always wonder if they will roll over on you." But according to a recent National Post editorial board, we don't have much to fear: "regardless of whether [Mitt Romney] or Barack Obama is inaugurated on Jan. 20, 2013, no one is forecasting major disruptions in the U.S-Canada relationship." I wondered why it is that Canadians care so much about what happens in America tonight, so I decided to ask my friends and fellow Canadians how they felt about this election.
I had confirmation that not only do we care, but this election is making us anxious. My friend Christal tells me, "I'm too nervous to watch. I might go to the gym to distract myself." Diana, a host of the popular radio show Gaywire, might be coping in a different way: "I haven't had hard liquor in 2+ years. If Romney wins tonight (or is close to winning) I will be drinking one drink after another."
My friend Mike explained one of the reasons we'll all be closely watching this election: "To me one of the issues that should be front and centre of every voter is climate change. Internationally, the U.S. is a key constituent in making that change possible and hope this election doesn't move the U.S. backward."
Taryn, a political science student at the University of Alberta, and Christal both emphasized the connection between what happens in America and what happens here. When asked if she cares about this election, Christal said, "Of course I care. U.S. politics can (and do) majorly influence Canadian politics. It's no coincidence that Harper came into power while Bush was president."
Taryn explained, "I have witnessed what a more (neo-)conservative politician is capable of doing here in Canada. When it comes down to it, the legality of abortion is important to me based on principle, and Obama being a more socially progressive politician does make me root for him, especially based on his attempt at introducing health care. I also know that American politics will have a great affect on Canada and the rest of the world, and having an American president like Romney will only increase the speed at which Stephen Harper is able to turn Canada into something we don't recognize or want."
You only need to think of the proposed Keystone XL pipeline to know that we as Canadians have a lot to lose at the hands of the Americans; but the reason The National Post is able to say that our relationship with the U.S. is safe is because, compared to Canadians of previous decades, we don't have as much to lose. As The National Post says, "unlike in the 1980s, and even the early 1990s — there simply is no longer a serious constituency for across-the-board protectionism in the United States (or, for that matter, Canada)."
This, my dear Canadians, is because we have already sold out. The National Post makes it seem like we should be relieved; when really the lack of animosity between the Canadian government and the American one should be a cause for concern. In the 1987 anthology, If You Love this Country:Facts and Feelings on Free Trade, edited by Laurier Lapierre, Margaret Atwood writes:
Our national animal is the beaver, noted for its industry and its co-operative spirit. In medieval bestiaries it is also noted for its habit, when frightened, of biting off its own testicles and offering them to its pursuer. I hope we are not succumbing to some form of that impulse.
Today, not only does America have our oil and our water, it also has our undivided attention. When it comes to Canada, the key word in the Joyce Carol Oates tweet is dropped. We have allowed our government to drop us into this cage. While it may be easy to picture America as a big boa constrictor of a bully and see ourselves as small, victimized creatures, it seems like its varying degrees of privilege, rather than differences of citizenship, that define where we stand on these issues.
Low-income Americans don't care that Canada has been sold for its resources. They care about having resources.
As Autostraddle's very own Fonseca says, "My mom gets by on $1,000 USD monthly. She has to make it stretch. I don't think she cares where her gas, plastics, etc. come from, or if they can be recycled."
She further explained that when low-income Americans go to the polls, they're voting for the party that promises them prosperity – the American dream. Meanwhile, North of the border, rich and poor Canadians alike support Harper because he promises the Canadian equivalent of the American dream – a strong economy otherwise known as Canada's Economic Action Plan.
As my friend Taryn highlights, candidates haven't spoken about things like climate change, poverty, and racism on a societal or structural level: "The current American electoral system is broken, just as the Canadian one is – we do not have candidates representing the full breadth of options in terms of what will make our societies more just, equitable and sustainable."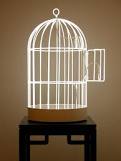 This evening as we watch the winner give his victory speech, we need to ask ourselves whom exactly the victory is for: low-income Americans? Canadians? Women? And then, we need to think about putting our beaver-industriousness to good-use and gnaw our way out of the damn cage.