Back in June, when the sun was high in the sky and birds frolicked in meadows and young maidens reveled in the beauty of their fleeting existences on this lush green earth, we conducted a riveting Audience Survey in which you — yes, you! — let us know how you feel about us. For example, 63% of you find us "sexy." I hope the remaining 37% of you at least think we have a good personality.
We garnered over 3,000 responses this year and now we know you better than we know ourselves. Or at least we know you better than we used to.
I'd like to thank Intern Geneva for the incredible infographics included in this incredible post.
The Basics
+
Sexual Orientation
Several months back, we posted a titilating listling which featured many of the ways in which y'all described your sexual orientation via the "other" write-in box, highlights including: "fuck labels in the ear with a banana," "i just really like butts," "bossy bottom boned by butch," "funsexual — i only date fun people," "Emma Watson," "one night stands with a side of straight-up trust issues" and "pussy 4 dinner." Many elected more traditional responses, however, as indicated:
Of the 55 survey-takers who identify as "straight"…
93% have queer friends of some kind
39 identify as "female"
12 identify as "male."
+
Whereas…
78% of readers between 45-54 identify as a "lesbian"
Only 61% of 18-24-year-olds do
+
And although…
53.4% of under-18s identify as "queer"
only 27% of 35-44-year-olds and 11% of 45+ readers do.
+
Gender Identity
Speaking of gender identity — much to absolutely nobody's surprise, only 1% of you identify as "male." That being said, of the 38 human beings who selected "male," 14 also selected "trans man," which is predictable, and four also selected "female," which is both special and less predictable.
+
Age
70% of our readers are over 21, and we've got equal numbers of readers over 35 and under 18. The numbers below strike fear in the 31-year-old hearts of your editors who sincerely hope you plan on sticking around well into your 40s and 50s, because we sure do! But once again we found most Autostraddlers concentrated in the 18-35 range: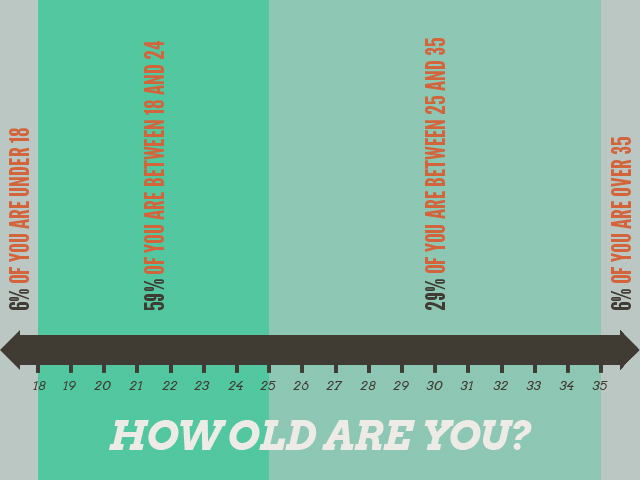 Coincidentally (including all our new interns!):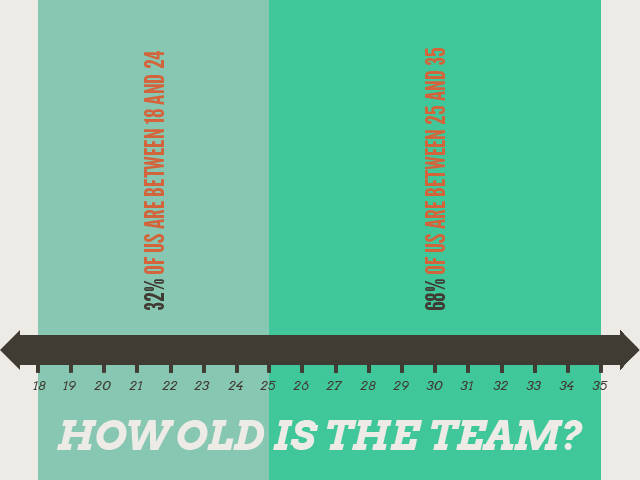 These numbers are pretty much exactly what they were last time, and like last time I was surprised that we didn't have more readers over 35. Also like last time, equal numbers of survey-takers requested "more content for younger people" and "more content for older people."
+
Working/Learning
Consistent with the rest of this fine country, we seem to be rocking an 8% unemployment rate around here. Fun fact: only 45% of 18-24 year-olds are presently full time students.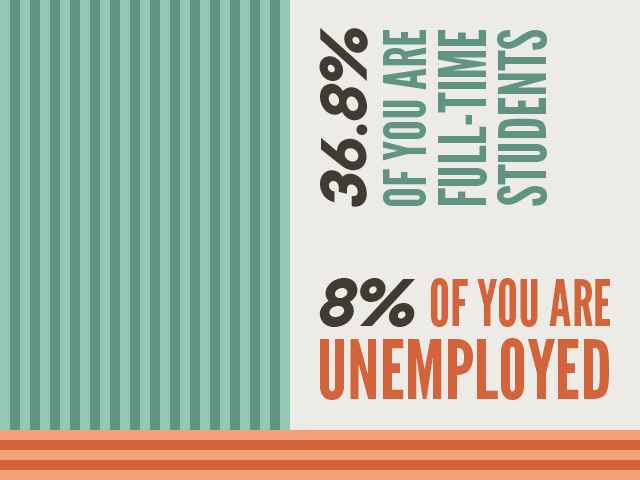 100% of our readers over 25 have graduated high school, which is crazy, good job you guys! (It's 87% nationally.) Furthermore, 97% of our 25+ readers have completed at least a little bit of post-secondary education, which again is really weird. (In America, about 56% of humans over 25 have completed at least some college.)
+
Where Are You From?
This was a write-in topic on the Reader Survey and therefore impossible for my little brain to tackle, but I've pulled data from Google Analytics to show you that we know where you live. Obviously most of our readers are in the U.S., but also, HELLO SINGAPORE!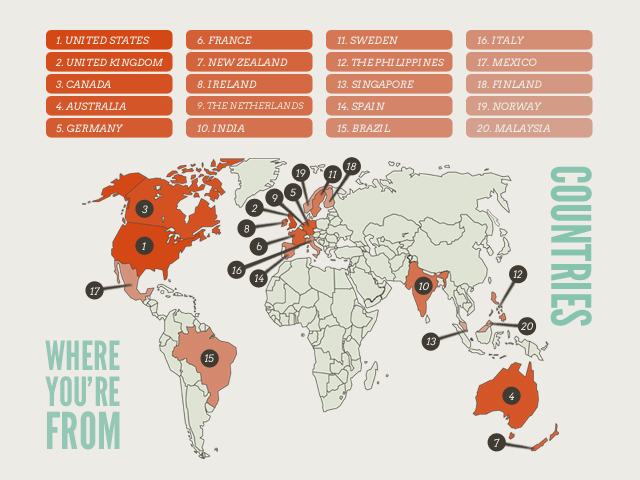 Let's get specific: which cities have the largest number of Autostraddle readers?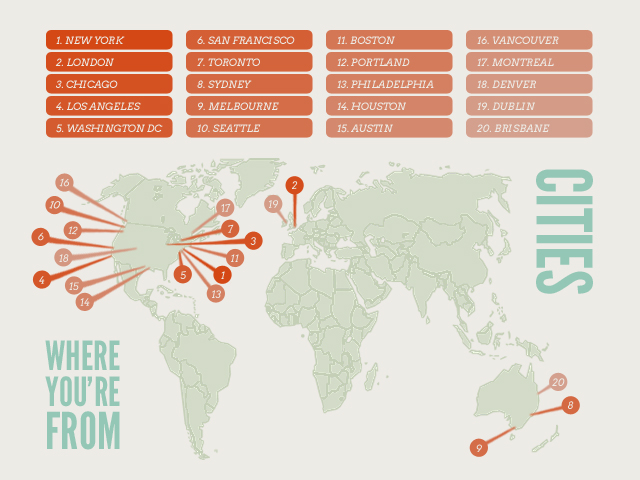 Deep Cuts
How Gay Is Your Life?
 95% of you are out to somebody, so that's good! 65% are out to your close friends. When age is parsed out as a factor, under-18s are more likely to be out to their close friends (71%) but less likely to be out to their families (45%) than the group overall. 43% of survey-takers over the age of 35 were out to everybody, compared to 25% of the overall group and 11% of under-18s.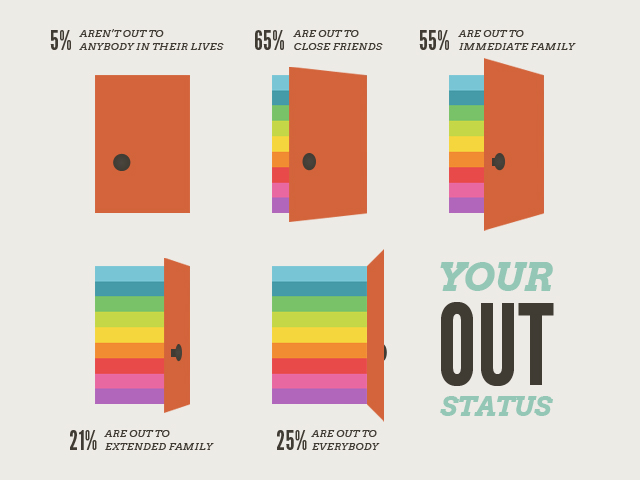 How many other gays do you have in your lives? 14% of you say most of your queer friends are online, but 62% of you have at least some queer friends in real life.
Also, most of you are single and ready to mingle and 37% of you have used or currently participate in online dating. Only 3% of y'all are married or in a civil union or domestically partnered, which's surprising because seriously every single person in my universe has gotten engaged or married in the last two years. Maybe when you're married you get really busy picking out babies and can't fill out a survey.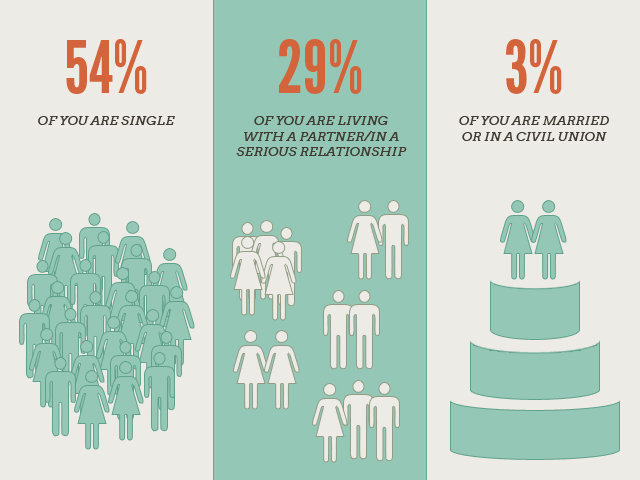 +
What the Hell Do You Do With Your Time?
On a scale of one to five thousand, you are busy little beavers. Also, when you're not cooking or exercising, 48% of you are hoping or planning to attend a future A-Camp and only 7% of you actually have! Furthermore, you're very community-minded and probably are planting an urban garden this afternoon. No but seriously, 20% of you walk/run for a cause! I just walk/glide while reading magazines, I don't know what to say for myself.
Drinking is a thing many of you enjoy doing. Not all of you, but many of you.
And when you drink, you drink beer! Hopefully this will inspire a beer company to give us lots of money. You should drink more whiskey though, just saying.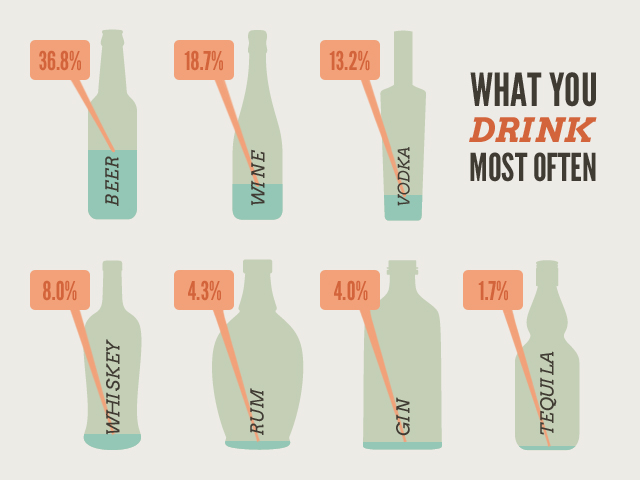 +
Now Back To Us
How Do You Use Autostraddle?
Two-thirds of human beings who read things on the internet will never comment on them, but only 48.6% of you haven't ever commented here, which makes you way more chatty than the average blog-reader. I think this is because y'all just have a lot of feelings. Also noteworthy — amongst daily commenters, 26% of you have been reading Autostraddle for a few months or less and 44% say Autostraddle is your first stop every day.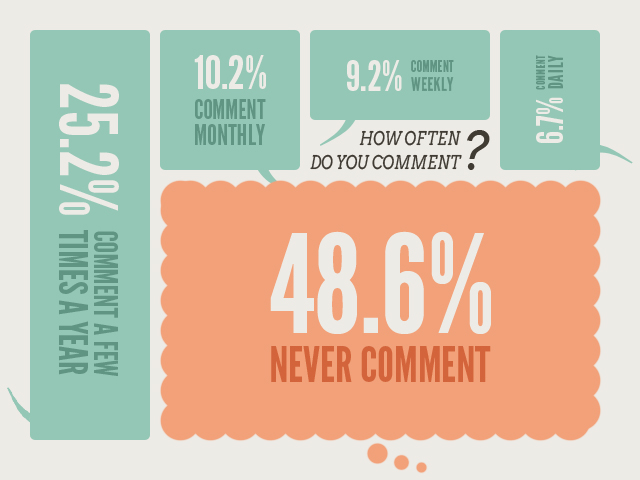 Obviously Autostraddle isn't the only website on the internet, but luckily we have more than one website on the internet — we've got a tumblr, a facebook, a twitter, and lots of formsprings! (for a complete link list to all our formsprings, check out our tumblr.) But seriously, you need to friend us on facebook, it makes us feel better about ourselves.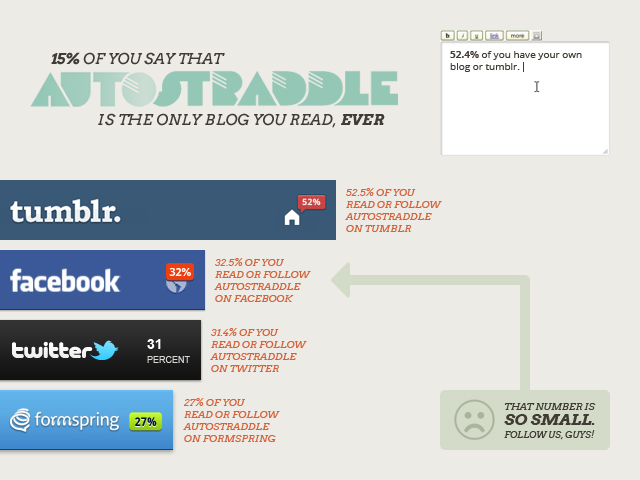 Other sites y'all like to read include Jezebel, AfterEllen, Gawker, The New York Times, Feministing, Bitch and everyoneisgay.
Statistics on internet usage always strike me as somewhat delusional, as it seems highly unlikely that most Americans really only spend two hours a day online. Don't y'all have email at work or watch porn or anything? In any event, it will not surprise you to learn that Autostraddlers spend way more time online than the average bear:
But how did you find us, anyhow?
35% of you got here via a link from another website or blog
16% took a friend's recommendations
12% via search engine
and 8% via Riese's blog/recaps
+
Common Pathways to Autostraddle Cited In The Write-In Section:
attending Smith College
googling "how to have lesbian sex"
Your Ex-Girlfriend
A link to that Taylor Swift post
When it comes to content, y'all are all over the map. We asked you to indicate how often you read/watched different types of Autostraddle content, allowing survey-takers to indicate what they Always, Sometimes, Usually or Never read. Overall, the most popular features are definitely NSFW Sunday and Lists/Listlings, and almost everybody at least sometimes checks out our Interviews, Lists, Galleries and You Need Helps.
But what type of content has the highest number of readers who say they "always" read that particular type of content? Ta-da: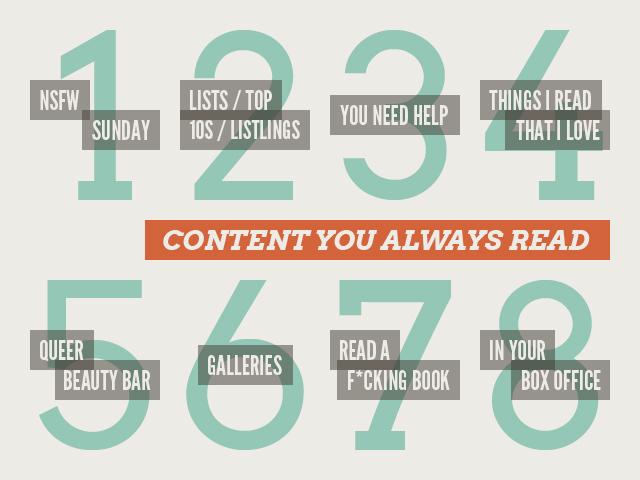 The topics most of you wanted to read even more of are Sex + Relationships, International News and Gender/Trans* Issues.
In conclusion: as of this survey, only 6.5% of you had been to an Autostraddle meet-up, 10.1% had made offline friends through Autostraddle and 5% had traveled to meet people you knew from Autostraddle. But times have changed, we've had another International Meet-Up Week and probably a lot of you have picked up new blazers, and blazers change lives!