Welcome to Almost Famous, a weekly segment where we ask up-and-coming queer musicians some hard-hitting questions about music and life and maybe even convince them to show us photos of their pets. Get to know intimate details about your new favorite artist or band before they hit the Big Time and become too famous for us to interview for real.
Header by Rory Midhani

---

Saucy Monky
Los Angeles, CA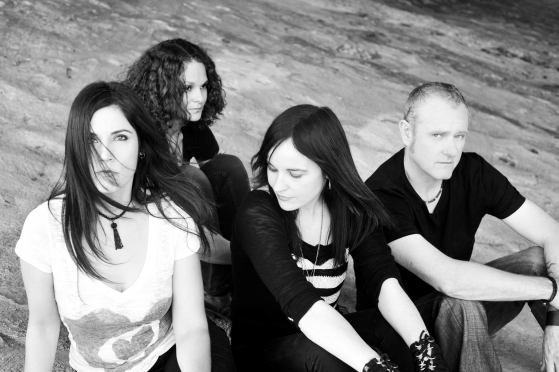 Saucy Monky is a Los Angeles-based alt-rock group formed by musicians from Ireland and the United States: dual front-women Annmarie Cullen and Cynthia Catania [vocals/guitar], Steve Giles [bass] and Megan Jane [drums]. Over the past ten years the band has conquered Europe via tour, soundtracked shows and movies such as iCarly and And Then Came Lola, and shared the stage with acts like PJ Harvey, The Black Eyed Peas, P!nk and Wilco. They've even survived an inter-band break up (Cullen/Catania) which is really just as impressive as all these other feats.
Right now Saucy Monky are riding high after the release of their rad new EP, Trophy Girl Part 1, which has produced the hooky single "Awkward" and a fairly queer music video that you can check out below. Part 2 and Part 3 will be coming to you in 2013.
In the Almost Famous hot seat this week is one of Saucy Monky's frontwomen, Cynthia.
How would you describe your music?
Cynthia: Indie rock with a touch of singer/songwriter panache.
What instrument/s do you play?
Piano (and the like) since I was 13. Guitar since my 20's and anything else I can get my hands on while recording.
Which song would you most like Autostraddle readers to hear?
Our single "Awkward."
What were the first and last records you bought?
Heart's Little Queen and Norah Jones' Little Broken Hearts.
What is your 'guilty pleasure' music?
I have an antique record player, with one crappy little speaker. I love to listen to Billie Holiday records. The latest guilty pleasure album was Cher.
What inspires you to write?
Heartbreak, misunderstanding, betrayal, embarrassment, lost love. Joy = writer's block. Ha!
How do you feel about dubstep?
I like it. A dream of mine is to make an electronic album. And a complete album of Saucy Monky remixes.
Would you ever date someone whose favorite artist/band was your least favorite?
I would. That being said, I would TRY to introduce them to better music!
What was the worst job you've ever held so that you could pursue your music career?
I worked for a radio promoter. I think I lasted three weeks. Call time was 7am, deep in the San Fernando valley. The days were twelve hours plus, and I had to talk on the phone all day, trying to charm and convince DJ's and program directors to play some awful A/C track. The office only had Maxwell House coffee, and fluorescent lighting. It was hell on earth.
If you could share a line-up with any two other artists, which ones would you choose?
Tegan & Sara and U2.
Saucy Monky's new EP, Trophy Girl Part 1, is available now via iTunes. It can also be streamed via the band's website.
Everything else you'd like to know about Saucy Monkey can be found here:
www.saucymonky.com
www.facebook.com/saucymonky
www.youtube.com/saucymonkymusic
www.twitter.com/saucymonky
If you are, or know of, a queer artist or band that should be featured in Almost Famous, drop me the details via crystal [at] autostraddle [dot] com. Please write 'Almost Famous' in the subject line!