After the excitement of the last few weeks on Grey's Anatomy, this week's episode was basically just big wads of iceberg lettuce being shoved in our gaping mouths, one fistful right after the other. Little Ruby was darling, of course, and I'm glad she didn't kill her mom when Owen had her skewer her in the chest with a s'mores kabob, but I'd have probably given more fucks if the tiny human whisperer Arizona had been the one on the job. This episode felt a little like filler, and there wasn't any queer stuff happening on-screen, so I've decided to run the storylines through the Give-A-Fucks-O-Meter to let you know if they're worth your love.
---
Maggie gets asked out by a boy.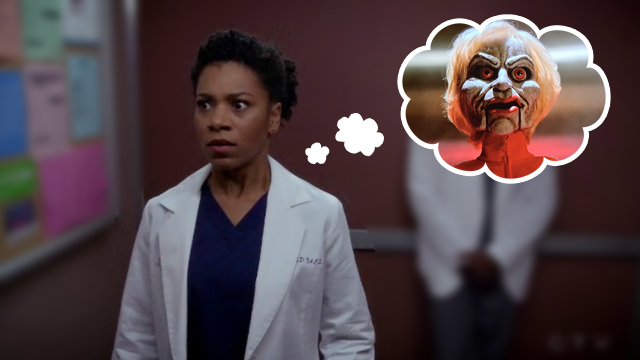 I'm sure Maggie is a lovely person. She's awkward and adorable, and I assume she took care of good care of Meredith's invisible children while Meredith was away on her solo weekend of sleeping all the sleeps and drinking all the drinks. But I'm not invested in her at all. I thought maybe she might want to try making out with Arizona, just to see how it felt, but instead she's agreed to go out on a date with this guy she got trapped with in an elevator.

---
Jo makes this face at Meredith. A lot.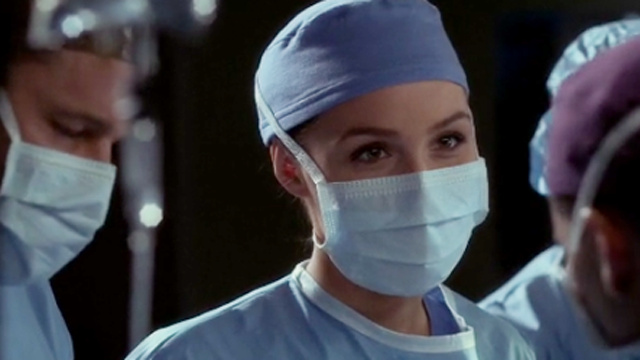 Meredith hasn't lost a single patient since Derek left to spread his manpain to the east coast, and Jo has got feelings in her pants w/r/t that. Or so she says. She made that face at Amelia a couple of weeks ago, and now she's making it at Meredith, and I for one have never seen her make that face at Alex, if you know what I'm saying AND I THINK YOU DO. Maybe Jo should just put her face on another girl's and see what happens.

---
Amelia kisses Owen with her actual mouth.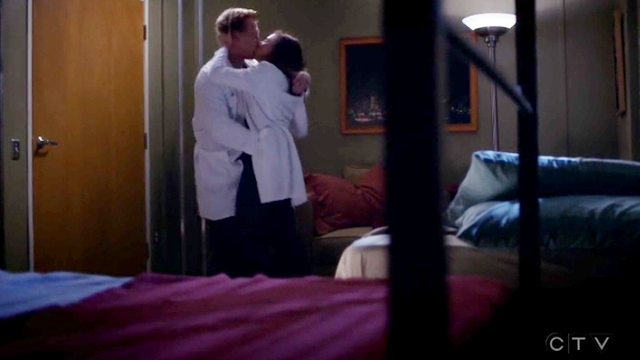 ---
Derek is a cheater cheater pumpkin eater.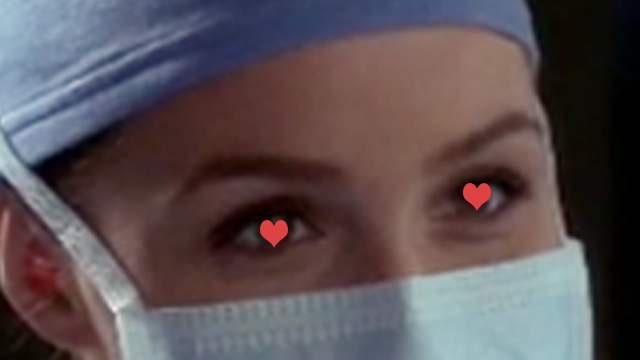 Meredith finally puzzles out that sleek bit of technology in her pocket and decides to ring up her husband. A lady answers. Meredith remembers when she was the girl who was getting screwed while getting screwed, and she is tres unpleased. Maybe she should take Addison Montgomery out for a drink and see where the night leads. I don't know, I've heard that's a thing some people enjoy.

---
Callie smiles.
My tiny, perfect daffodil. It's like staring into the face of God. Like walking barefoot through a field of dew-covered wild flowers. Why is she like this? No one knows, and knowing wouldn't lessen the pain.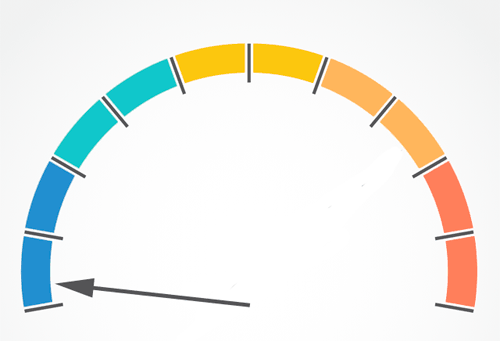 ---
Benjamin Warren! Calls his sister (by her correct gender)!
I'm still super mad at this guy for being such a jerk to her in the first place, and my hand still hurts from the hole I punched in the crust of the earth over it, but I'm really glad that he's coming around and super duper most glad that this storyline isn't falling off the face of the earth. Bailey tells Ben to call in and check on his sister after the small earthquake, and Ben tells Bailey to mind her own besswax. (All besswax is Bailey's besswax, Ben.) Later, Jackson pleads with Ben to understand that this patient he just operated on, she got the body she's been wanting since she was six years old. "It's not a choice, it's a chance," he says. "And you can't know that without talking, and listening." And so Ben does call his sister, and when he tells Bailey about it he says "SISTER" and "SHE" in all caps like that, and Bailey ignores the fact that he's acting like he deserves a prize for the very basic thing of not violently misgendering his own sister, and tells him to apologize for being a jerk to her, also, and to make some dinner.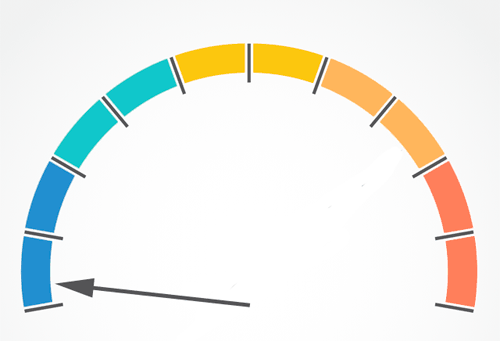 ---
I don't know, my little rutabagas. Are there extraneous fucks that I've missed? Did you enjoy the episode? Did you punch any faces this week?