Learning to feed yourself can be one of the most terrifying things. Am I about to give myself food poisoning? If I eat this too often will I end up with scurvy? How can I get the most nutritional bang for my buck? Why does this still taste like ass?
With Ode to My Pantry, learn to navigate a grocery store without having a meltdown in aisle three. Give a man a fish and feed him for a day, teach a queer to cook and stave off malnutrition for another semester.
When it comes to birthday dinners, I never know what to bring. Do you bring a dessert? Do you bring a dish? Well why not just give up on decision making and do both with a meat cake instead. Sure, it sounds scary, but meat cakes are nothing more than glorified cottage pies! Just a warning, meat cakes aren't for the faint of heart or stomach. I churned out a batch of meat cupcakes for a Christmas party two years ago and realized that the combination of beef, milk-containing mashed potatoes and bread crumbs turns it into the most un-shareable dish imaginable. (Not exactly potluck friendly.)
Beyond buying the meat (3 lbs of ground beef in my case), meat cakes aren't
that
scary. Your plan: make two round meat loaves, ice them with mashed potatoes and do some fancy-ass piping. It combines the ridiculousness of meat-gifting with a smidgen of childhood nostalgia with just a
soupçon 
of what the fuck. And really now, isn't that what birthdays 
should
 be made of? 
Just remember a few baking and cooking tips and this cake will be easy as pie.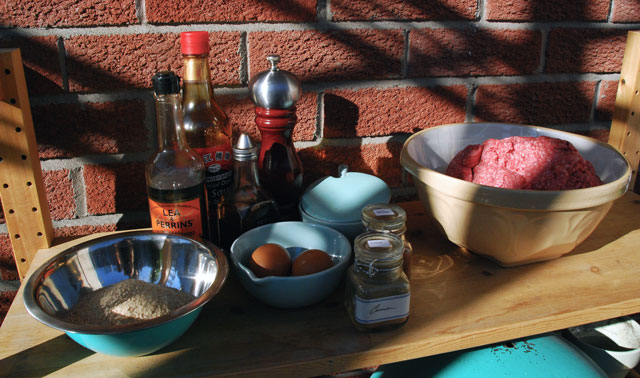 Season it well.
 There's nothing worse than a boring blob of meat. You can rely on 
onion soup mix
 to do all of the flavour work, but you already have a bunch of pantry pals that will make for a tastier treat. Dark soy sauce (3 Tbsp), light soy sauce (1 tsp), Worcestershire sauce (3 Tbsp) and oyster sauce (1 Tbsp) each contain their own caramel colouring and glutamate to promote browning and make your cake taste even meatier. Take a cue from Tex-mex and add chili powder (1/2 tsp) and cumin (1 tsp) to the mix. And as usual salt (2 tsp) and as many grinds of fresh ground pepper as your arm will allow.
Eat your veg. Start by chopping up your aromatics into a good ol' fashioned mirepoix. Even though the trio of carrots (2), onions (2) and celery (2) is normally known for bringing flavour to your food, the mix will keep the inside moist as it cooks and gives off its own liquids. Make sure to add more garlic than humanly advisable.
Undermix. Use your hands to fold your seasonings and veg into your meat. Add enough eggs (2) to bring it all together and counteract that with just enough breadcrumbs (2/3 cup) to keep it manageable. Think folding, not mixing as you want to preserve the meat fiber. The longer you have to cook it, the tougher, drier and smaller your layers will get. Just bring it all together and let it be.
Freehand it. Even though meatloaves are supposed to be shaped like loaves, baking your cake in a pan will cause it to simmer in its own juices. Self-basting seems kind of great, but the added liquid gets in the way of browning and leave your cake bland and pallid. Split your beef batter into two layers and try to make them as round and even as possible. Freeform your 'cake' on a tray to allow extra fat and juices to drain away and let your layers come out golden, brown and delicious.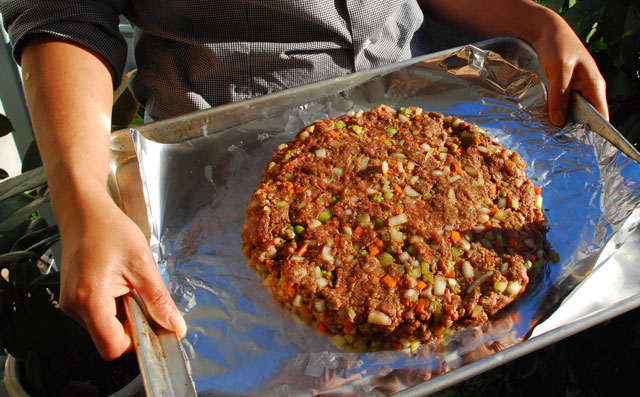 Dance around the oven. Bake your beef at 350 for about half an hour, making sure to swap your layers around. Even though you built them relatively thin, you'll want them to dance around so they bake and brown evenly. If your meat was on the fattier side of things, now would be a good time to drain off the extra.
Make your frosting. When it comes to icing, I cheat. Homemade mashed potatoes are delicious, but instant mashed potatoes (12 servings) just make sense. Actual potatoes can be lumpy or gluey whereas the magical frankenmash will stay smooth and set into a touchable layer. What normally get a yuck at Thanksgiving is clearly a yum for the already eyebrow-raising meat cake.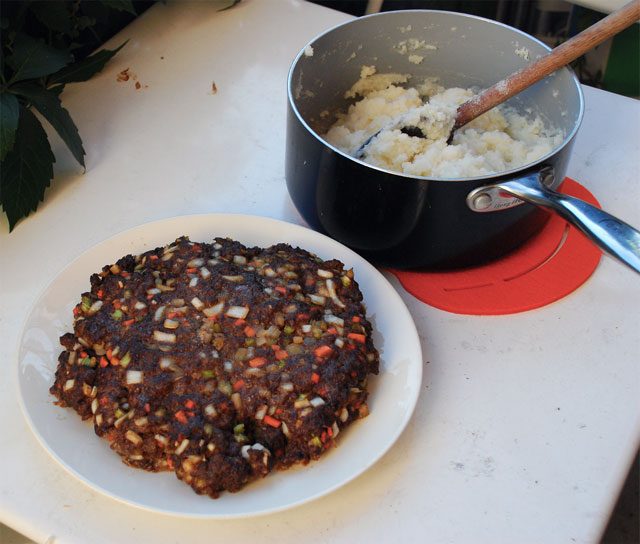 Magical knife skills. Given that meat will shrink when cooked, take the time to trim the layers back into a round shape.
Fill. Add a scoop of mashed potatoes to your first layer and smooth it out with a spatula. Add your second layer and jiggle it around until it sits evenly.
Do a primer. The first layer of frosting is meant to trap all of the cake crumbs from running amok on your pristine frosting. When it comes to meat cakes, that isn't really a problem, but the sheer amount of meat juices are. Load the mashed potatoes onto the centre of the cake and use your spatula to coax it out and over the cake sides. Try not to double back while you're icing, otherwise you risk pulling up potato and tainting your pristine frosting with meat swirls. Gently pat the potato down and it should trap and insulate the cake and all of its meaty goodness.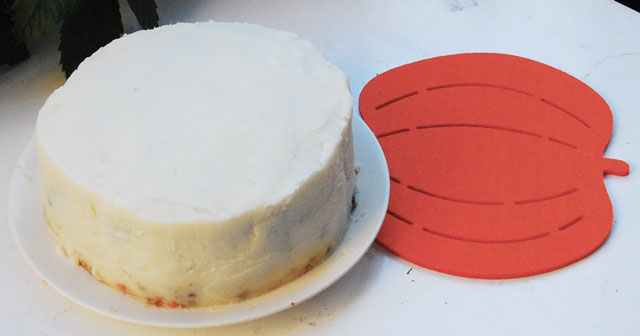 Smooth it out. Once the potato sets, it'll be easier to build up a smooth, meat-free layer. If you're using frankenmash, you can use a clean finger to pat all of the creases and cracks back into place.
Let it run. When it comes to piping, thin your mash out with additional milk or water. The additional moisture will let it flow more easily and prevent the potato from cracking as you write. Seal it up in a ziptop bag, cut off a corner, twist out the extra air and pipe with consistent pressure.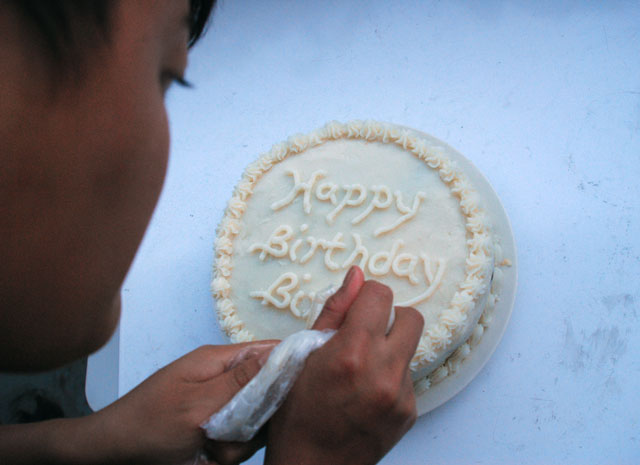 You can also use some piping tips and 
lessons from Wilton
 to cover your cake in swirls, flowers and other shapes. If you happen to figure out how to pull off a
mashed potato rose
, send me a message.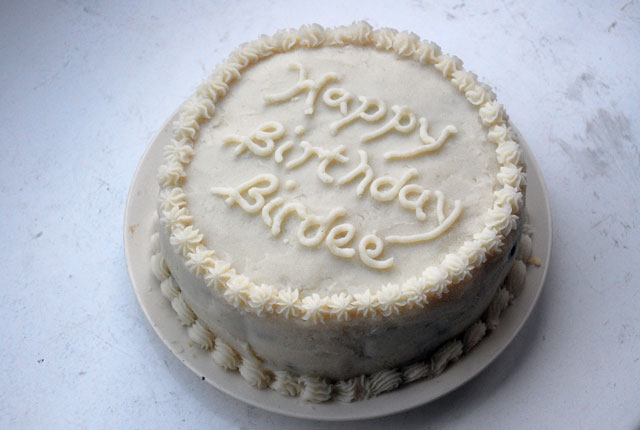 Happy fucking cake day.