Hi crush monsters, this is Straddler On The Street, a feature where I celebrate all of you incredible Autostraddle readers by hunting you down, demanding you chat with me, and then writing about you on the Internet so we can all crush on you. Get excited, because butterflies in your stomach 24/7 is a fantastic way to live.
Header by Rory Midhani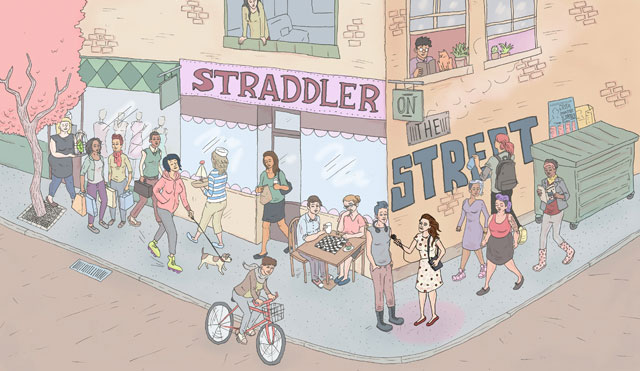 ---
Straddler On The Street: Monique, 24
Monique is from Arizona but recently drove across many states to get to Washington DC, where she is embarking on the journey of getting her master's degree at Georgetown University! She majored in painting for undergrad, but is now going into research and teaching for sex education, which makes me want to give her a high five and ask her nine million questions all at once.
Monique has attended two A-Camps (September 2012 and May 2013), has been involved with marching band for about ten years ("Band people are really really queer, yo!"), and used to work in the beer department at Total Wine + More. Basically she is super interesting and knows a lot of stuff about a lot of things. Here's Monique!
Congratulations on your move to DC! As someone who has just moved, do you have any useful moving tips to offer?
Yes! Planning! Have a plan A, B, C, D… I just had an idea of how it would go and nothing really worked out the way I wanted it to… I had everything packed and then realized on the day we were leaving that not everything fit into my car.
Oh gosh! What did you do once you realized not everything fit?
I left behind a few things, but my friends and I managed to get all the important stuff to squeeze in. We also had to think about my dog, Elliot, traveling with us.
Aw, was he well behaved?
Yeah I was actually very proud of him! I was born in Phoenix and lived in Tucson for the past six years and had only ever driven him between the two cities. He gets really excited for car rides, but you could tell after a while he was definitely wondering where the hell we were going because it was taking so long. We stopped in Murfreesboro, Tennessee where another friend of mine lived and stayed the night and he was so happy to be on solid ground, he just lay on the floor for about a half hour.
Awwwww. Well, I'm glad the ride turned out okay despite the lack of plan! But hopefully others will heed your advice and learn from your experience! Planning is key, people. So how do you like DC so far?
I like it a lot! I got in last Sunday night, and I've pretty much done all the touristy things the past week. Marco, [my friend who drove here with me from Arizona], is a poli sci major and wanted to see everything, obviously. I'd been here my senior year of high school, but not since. I managed to go see Laura Jane Grace at the Rock and Roll Hotel, which was amazing. I like that it is not as hot as Tucson and that I don't need to drive everywhere.
And you moved to DC for school, right?
Yes, I'm going to Georgetown to get my Master's in Liberal Studies.
You mentioned that you are going into research and teaching for sex education?
Right. My future goal is to teach sex ed. I'm also interested in teaching history, but mostly [sex ed].
What made you want to teach that?
I have to credit Autostraddle and A-Camp for bringing that out in me! Before going to camp I'd never been comfortable having those kinds of conversations but now I geek out over sex and sexuality related things all the time!
That makes me so happy! Can you talk about how Autostraddle and A-Camp specifically made you more comfortable?
It [used to be] tough to articulate what I was feeling – I've never been a big talker, especially about my feelings. But once I discovered the website about three years ago, everything that was buzzing around in my head was just laid out on page after page, you know? And as for camp, that was one of the most spontaneous things I've ever done, but it was so worth it! And I had a cabin full of introverts the first time in September which made it a nice introduction to the whole experience. But the second time around I drove with the Arizona crew and I knew people and actively participated in discussions and everything.
I'm so glad Autostraddle could help lead you to the path you're currently on! A secret dream of mine is teaching sex ed, because I think it's such an important topic and we do such a bad job of covering it in most of the country!
I know! It frustrates me so much! Like not only is it not taught well enough on its own, but you can't even touch intersectionality, which is what I would want to do. Figuring out how I feel comfortable in my gender and presentation was just as important as figuring out my sexuality I would say. And being Mexican, and all that! You know? I know you know.
Haha, I do know! It's still good to hear people say it though – we all need to keep hearing it. Can you speak a little bit about your different identities and how they all fit together?
Well, being Mexican in Southern Arizona… was a treat. I didn't really have any issues with family, although I do know people who have and even a cousin of mine who did. My mom as a Catholic was more concerned that I was an atheist. Being more masculine presenting was a bit awkward, trying to get comfortable with it, mostly because I hadn't encountered anyone else at that point who looked like how I wanted to look. I saw the white dapperness, you know, and that's cool and everything but it didn't fit totally well. I had a male coworker, also Mexican, who after I told him I was gay started doing a whole macho routine with me. Like puffing out his chest and stupid stuff like that. I played along but it was weird.
Oh ugh. Why do guys do that? No one wants to objectify women with you, bro.
They feel threatened I suppose. It was always my coworkers too… I was a cashier at a liquor store, and the straight boys always wanted me to check out girls with them.
Sigh. Dudes. So how did you eventually become more comfortable in your own gender expression?
Eventually I just said "fuck itwp_postsand went with it. As a kid I was a major tomboy but around high school I realized that was like "weird" so I grew my hair out and wore "girl clothes.wp_postsBut a few years ago, I just cut all my hair off again, and started wearing men's clothes and I just felt so much better and much more confident in myself.
That's so awesome. Going back to your job at the liquor store – you told me you taught beer classes. Can you tell me what that entails?
Well I was the "beer expert" at my store and they let me start doing the beer classes after a while, and I was excited about being able to wear a tie! Basically there's a theme for every class, like Belgian or IPAs or Winter Seasonals, and I pick 12 beers from a list and go down the line pouring a 1 ounce sample for all the people there, and I just talk about it! Like the style, country/state/region, and the brewery. It was a lot of fun! I just like teaching in general. If it's a subject I feel I know enough about I enjoy that a lot.
That sounds so fun. What are some of your favorite beers?
Most of the Stone beers are awesome. I love their Imperial Russian Stout. Also we tried a 2009 Alaskan Barley Wine in one of my classes and that was delicious.
Yum, I'll have to try those. Can we talk a bit about your art? Your undergrad degree is in painting, right?
Yes! I went to the University of Arizona (go Cats!). Art is another thing I geek out over. I enjoyed painting so much. I was fairly decent at it, but learning about contemporary art was probably my favorite part… We went to the Smithsonian this week and the 3rd floor was overwhelming. I just loved every second of it.
Do you still paint now?
I don't, mostly because I don't have the resources. I favored oil and that's expensive and time consuming. I do have a sketchbook though, and drawing was the other half of my major.
Art is such a fantastic outlet. Who are your favorite artists?
Maurizio Cattelan and Vik Muniz are probably the top. They add a lot of humor into what they do and my favorite is when you can laugh at someone's piece. Also Jenny Holzer who has a piece in the Smithsonian that I recognized right away. And I follow her Twitter which I think is great.
I LOVE JENNY HOLZER. Sorry I am so predictable, but like ugh, Jenny Holzer. Yes.
Haha no it's cool! Also I have to give a shout out to Nam June Paik, who is also in the Smithsonian. My jaw literally dropped when I walked into the room and saw Megatron/Matrix for the first time. It was one of the coolest things I've ever seen.
Do you have any celeb crushes?
I'm on an Alicia Keys kick right now! Also Paula Patton. Laura Jane Grace, obviously. And of course the whole Autostraddle staff!
Awwww you guys all say that, it's super sweet. Laura Jane Grace is so epic.
Against Me! is my favorite band so witnessing the whole thing has been insane. I've met her and she's so cool. And hearing the whole crowd the other night at the show sing all the words to the Transgender Dysphoria Blues songs (which haven't even come out yet!) was amazing. The first time I saw them live after she came out everyone was incredibly supportive and loving. It was great.
That is so great! What are some of your favorite books?
Well other than Harry Potter, I rarely reread so my favorites are just ones that stick with me. The Fixer by Bernard Malamud and West of Kabul, East of New York by Tamim Ansary are ones I read for school that I thought were great. I've been reading a lot of non-fiction lately. I read Rachel Maddow's Drift – she's another celebrity crush! I can't believe I left her out!
As an educator, what are some books you think everyone should read?
Why Are Faggots So Afraid Of Faggots? was so good, especially the essay by Nick Clarkson about being a gay trans man. I would also recommend Lies My Teacher Told Me and Beyond (Straight and Gay) Marriage. And I just started The New Jim Crow by Michelle Alexander about mass incarceration.
Those all sound super good, and I'm about to have a lot of free time on my hands so I will be checking them out of my library! Do you have anything else you'd like to say to the Autostraddle community?
Just, thank you for existing!
---
If you would like to be featured as a future Straddler on the Street, please email vanessa [at] autostraddle [dot] com. Include a few photos, 3-5 sentences about yourself and put "Straddler Submission" in your subject line. Approximately a million people have submitted so far, so please be patient as Vanessa goes through her inbox — you're all sexy with really smart brains, and don't you forget it!