Welcome to the MTV VMAs! The only music award show where fame matters more than talent. Just kidding! That's all of them! MTV is just much more upfront about it.
It all starts at 9pm EST.
Thoughts/Feelings from the Preshow (8pm EST-9pm EST):
+I'm so happy Sway is still hosting the red carpet, because I know who he is. I feel so calm and comforted that he's here for me.
+Lady Gaga is dresses suspiciously normal
+How old is Ariana Grande? She can really sing. I feel threatened and like I haven't done anything with my life.
+Who is the little girl wearing the "Ain't No Wifey" hat. Because I find that she might be changing her tune by the time she's 25. Just a thought.
+I used to wear my hair just like Miley Cyrus in middle school.
+Naya Rivera looks so hot. Then again Naya Rivera would always look hot.
+Austin Mahone doesn't do anything for me. I feel like he's the poor man's Justin Bieber.
+I was just informed that apparently One Direction was formed because the guys weren't good enough individually so they made them a group. Harsh.
+Taylor Swift isn't wearing a white dress and a pony tail! This is revolutionary.
The Show
9pm EST: First thoughts: Is Lady Gaga a marshmallow?
9:02pm EST: Nope! Just a stunt for her new song! Followed by a swim cap!
Followed by a dramatic New Anchor costume!
Followed by a bikini!
IDK how I feel about Lady Gaga or her new song Applause yet. We'll see. 
9:05pm EST: I feel like I should be upfront with you guys about the fact that I've already consumed some red wine. There's a box of it. More is coming. And Chinese food. I'm eating some lo mein right now. As of right now it'll be the best part of the night.
9:07pm EST: Look!  First award is being given out by One Direction! SO many lesbian hair cuts. Also every time the screen pans to Selena Gomez my chick on the side says "Aria?"
Best Pop Video goes to Selena Gomez for Come & Get It
Chick on the side: Wait. So that one is Aria right? Aria?
Yay for Selena Gomez! I like her dress, but I feel like it makes her look older than she really is. Also, for the purpose of the VMAs I won't be speculating on whether or not people "deserve" awards or not because we all know this shit is totally random.
9:10pm EST: I forgot the VMAs have sooo many commercials.
9:16pm EST: So they just announced all the "professional awards" aka the awards for direction, cinematography and other such things that actually make video good. I wont' repeat them because they didn't even announce the names of the people who won them. Just the videos that won.
9:17pm EST: Okay so a Miley Cyrus impersonator just introduced Miley Cyrus. I'm both confused and aroused.
9:20pm EST: Holy shit. Miley Cyrus is wearing Chuck E Cheese on her body.
And dancing with stuffed bears.
And I think faux masturbating? Slash playing air guitar on her vagina?
9:23pm EST: Okay so now that Robin Thicke has joined Miley Cyrus on stage she's stripped down into skin colored plasticy underwear. I'm okay with this development.
I am, however, confused by the simulated heterosexual sex going on between them.
Hey remember when Robin Thicke looked like this: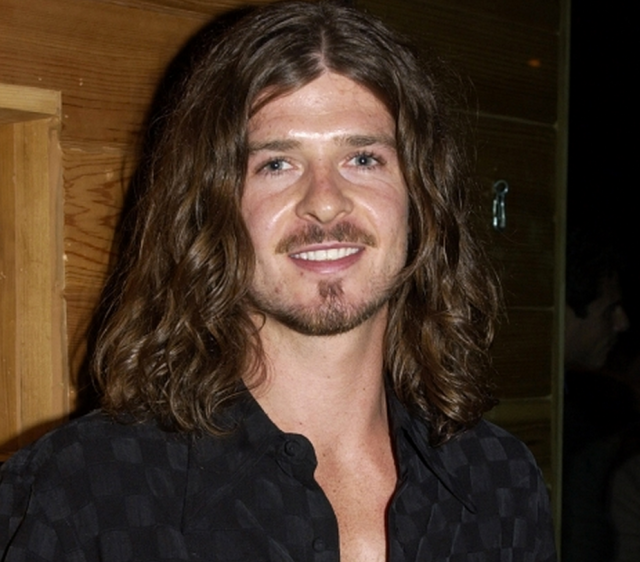 And Miley Cyrus looked like this:

Now they look like this:
9:26pm EST: Now that I've picked my jaw up off the floor and changed my underwear, there are apparently more awards going on.
Macklemore wins for Best Hip-Hop Video for Can't Hold Us
9:31pm EST:  So I know that Taylor Swift is like the anti-feminist, but I can't help fan-girling out when she and Selena Gomez hang out. Can someone please write that slash fic?
9:35pm EST:  I'd like to comment on Kevin Hart's stand-up moment, but my friends and I are too immersed in a conversation about whether or not Hart is actually only like 5'2″.
9:38pm EST:  It's time for Kanye! None of us have heard his new album because: Med school. That's right. Cat is out of the bag, this liveblog is being brought to you by three med student and one very cute chick on the side.
9:40pm EST: Why is Kanye rapping in the dark? Is this a metaphor?
Friend: I don't want to make a preemptive judgement call, but I hate this.
Chick on the side: Maybe he's just super hungover. Like he's just like "Guys, I can't."
9:43pm EST:  Shout out to Wasteunit for this comment:


9:46pm EST:  Is Pharrell happening live on my TV or is this prerecorded?
9:47pm EST:  Nope, it was prerecorded. But now we get to see a bunch of Rick James impersonators. Even though I said I wouldn't say who "should" win best female video, I sort of wish Miley Cyrus would win.
Taylor Swift wins Best Female Video for Trouble
I can't watch this video without thinking of this:
In case you missed it, Taylor just thanked the dick who inspired the song. Nice work Taylor.
9:52pm EST:  It's time for the Best Song With a Social Message. Hmm wonder who could possible be winning this one? I think we know….
Macklemore and Mary Lambert win for Same Love
Shocker.
Me: I think my ex has that haircut.
Chick on the side: Which one?
Me: All of them.
I have mixed feelings because we should be letting queers tell their own stories. Are you gonna let the lesbian speak? Nope. Don't let the queer speak about her experiences or give her thanks on the goddamn fucking gay song. Only straight cis men get to sing on this one.
10:00pm EST:  It's finally time for Justin Timberlake!! Yay! I hope 'N Sync reunites!
10:02pm EST:  I wish I didn't hate his new album. But I don't hate JT's dope shoes or the fact that his backup dancing girls don't seem to be wearing pants.
10:03pm EST:  Wait. Was that prerecorded? I feel hoodwinked.
That bald backup dancer directly behind JT to the right is totally having his moment. He's like, "This is it. My hair is never growing back so I better take this opportunity to outshine Justin."
10:04pm EST:  I totally forgot JT can totally totally totally dance. This is the best thing I ever remembered in my life.
10:05pm EST:  I can't even handle this medley. It's ever song I ever loved.
10:06pm EST:  There is a large group dance party of med students going on in Providence Rhode Island right now.
Did anyone else just see that girl n the audience hold JT's hand for waaaay too long?
10:07pm EST:  Is 'NSYNC coming?! OMG guys. Remember when music was good? That's what's going on.
Is it time for 'NSYNC yet?

10:08pm EST:  There was just a great shot of Lady Gaga in the audience. She's dressed like Ariel from The Little Mermaid. I'm jealous.
10:09pm EST:  I wonder how long this took to choreograph. Just kidding, I'm sure this isn't choreographed– JT is just dancing and everyone else is following along.
10:10pm EST:  OH MY FUCKING GOD THERE THEY ARE. IT'S 'NSYNC! And Justin is in the middle. Because he's still the most important.
10:11pm EST: Oh my god boy bands. Joey, trying so hard. Does not have the stamina he used to have. Sit down One Direction, you don't have shit going on.
Me: Ugh it's time for Suit and Tie. I hate this song.
Everyone else in the room: Shut up and sing along
10:15pm EST: This is the longest moment of continuous music ever to air on MTV. Also is Taylor Swift the only celebrity who bothered to show up? Because the camera hasn't panned to anyone else yet this show.
Justin Timberlake Accepts the Michael Jackson Vanguard Award for Dick in a Box

10:20pm EST: So sweet that JT dedicated his award to 'NSYNC! What a mensch!
10:24pm EST: Still recovering. If only Britney had joined JT on the stage.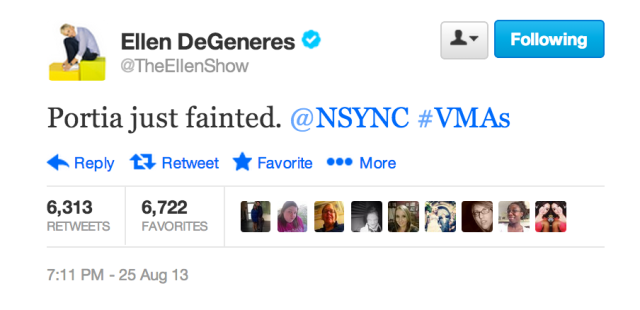 10:27pm EST: Um. Kevin Hart you are not funny. What did you drink before this started? Your comments about 'NSYNC's weight and Lady Gaga's butt are unwelcome. Please see yourself out.
10:30pm EST: I've now had enough wine to have strong opinions about who should win awards. Best Song of the Summer should sooo go to Selena Gomez. Blurred Lines is a fucked up song.
One Direction wins Best Song of the Summer for Best Song Ever
Ew. You can't just name a song best Song Ever. Tenacious D basically already did that and it was so much better. Also I think there are people booing in the crowd.
10:30pm EST: What up Jason Collins! I don't know who your small friend is, but his emphasis on "homosexuality" was hilarious.
10:34pm EST: All of the previous statements about queer people making their own music. All of them. Also I had no idea you can say "faggot" on TV.
10:36pm EST: Please someone put the fucking spotlight on fucking Mary Lambert. She's the goddamn queer person in the song. Come on MTV, this doesn't need to be the Macklemore song.
10:37pm EST: Holy shit. Is Jennifer Hudson, the straight chick, singing over the queer woman's contribution to the song? Is that really going on? Also once they start singing together they have the weirdest mugs on looking at each other.
10:40pm EST: What's up with these hamster commercials? Are hamsters in style now that Miley came out as a furry earlier tonight?
10:43pm EST: Emeli Sande looks so gay. So does Adam Lambert, but like, yeah.
Austin Mahone wins the Taco Bell Artist to Watch Award
I'm over it with Austin Mahone. Bro, you'll never be the second coming of Aaron Carter. Because no one is waiting for that.
10:45pm EST: Damn. 2/3 of TLC. I love that Chili still wears those outfits. Like it's still 1991.
10:47pm EST:  What up Drake! I know Carmen loves Drake but I'll always think of him as the guy from Degrassi.
More importantly, the camera has to stop panning to Rihanna. She's just so sleepy. Pretty soon they're gonna bust her fast asleep.
10:50pm EST: I'm so confused about Jaden Smith. Why does he always look so pensive? He's the least excited kid under 30 to be attending the VMAs. I'm just waiting for his thoughtful tweet about how we're all just humans trying to live in this world and make beautiful music to connect people.
10:50pm EST: What is going on with Taylor Swifts walk? I have watched too many seasons of America's Next Top Model to be forced to witness that poor of a cat walk.
Bruno Mars wins Male Video of the Year
10:55pm EST: I like this song but everyone else in the room disagrees. The general consensus in the room is that any other song ever should have won, including any other song by Bruno Mars. I'm just glad Blurred Lines didn't win because it's so problematic.
11:00pm EST: How are we still on commercials? When does this go until? If I'm going to watch this until midnight someone better come out as a homosexual.
11:05pm EST: Why is Selena Gomez on my TV announcing more Bruno Mars instead of singing herself. I just want to see her sing! Instead I'm being subjected to Bruno Mars dressed in a bad Halloween costume rendition of the Crocodile Dundee. I love my mother, but I think she has that blouse.
11:06pm EST: No one in the audience is enjoying Bruno Mars as much as Will Smith. No one
11:14pm EST:The best part of the last 15 min has been the Pepsi Beyonce commercial. You know you feel the same way.
11:16pm EST: So it's time for Video of the Year as given by Joseph Gordon Levitt. I don't much care about Joseph Gordon Levitt and I don't know why he's doing this weird voice. But The man can sure dress.
Video of the Year goes to JT for Mirror
I think Mirror is kind of not an awesome song. And also I don't know anything about the video. Because music videos are over. But I appreciate that he dedicated it to his grandma. Unfortunately someone should tell him that it's almost 11:30pm in Florida and his granny is definitely asleep.
11:20pm EST: I need everyone to stop telling me that Katy Perry's biggest hit yet is Roar. We all know her biggest hit was I Kissed A Girl, if only because of how many girls it got me. Yup, I'm coming out to you as someone who like I Kissed A Girl.
What I'm saying is that this song sucks, and not just because of this weird boxing stage performance.
11:22pm EST: Girl just roar already. If you're gonna talk about roaring so much you really need to do it. Shit, this really is just like I Kissed A Girl. Like, do it or it doesn't count.
11:23pm EST: Wait. I'm confused. The VMAs just cycled back to the beginning. Does that mean it's over? Is this the west coast feed now? Am I done? Did this shit seriously just end with Katy Perry singing some shitty song?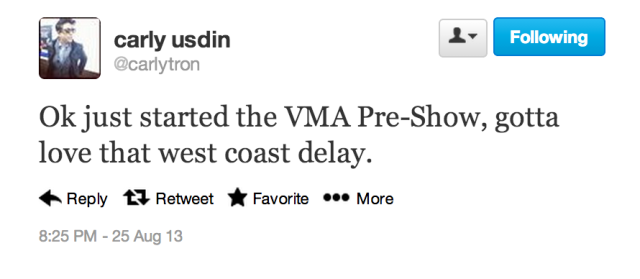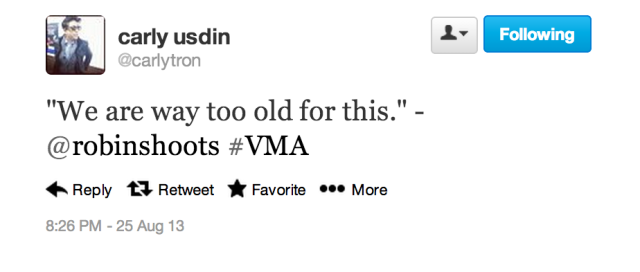 I guess in conclusion this:
And also this: