Welcome to the latest installment of Style Thief, where I steal the clothes off queer style icons' backs. Metaphorically, that is. I'll try figure out just exactly what makes queer style icons tick by breaking down their look into itty bitty bite size pieces. I get a lot of questions about how to look like different celebrities/characters, so I'm finally tackling the question "How the hell do I dress like that?"
Header by Rory Midhani
Hello style stealers! Lizz and I traded columns this week because we're gettin' crazy over here. Did you see her washi tape boxes? Wait until next week. Just you wait.
Because we're getting crazy, I don't have to abide by the rules. You know what that means? We're stealing the clothes off of a man this week. No, not just any man. This specific man was requested by a girl whose style I can't get enough of, and I fully agree with her. Yep, it's Joseph Gordon-Levitt.
Hear me out. For our purposes here today, Joseph Gordon-Levitt is basically a queer style icon because he pulls off the casual button-down, the well-tailored suit, and the t-shirt and jeans combo perfectly, which are of paramount importance to queer ladies. He always looks purposeful in his clothing choices, which just screams "I have super good style." The best part of stealing JGL's style is the fact that it translates perfectly into queer fashion. These are simple, cornerstone looks for so many styles from tomboy femme to Brittney Griner. Let's break these down, because if you can master the translation of this man's style into something wearable on your own body, you're golden.
Suits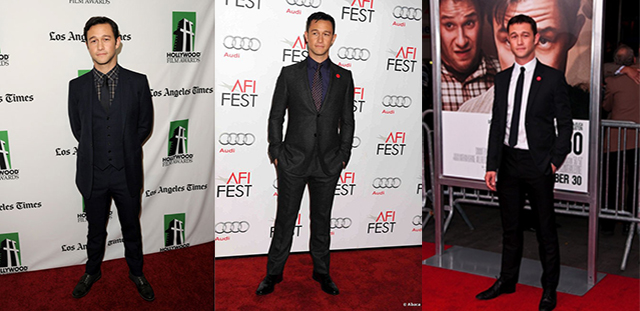 There are very few things that Joseph Gordon-Levitt does as well as the suit, especially the three-piece suit, and especially especially the slim fit three-piece suit. Tailoring! You need it! I recommend shelling out a bit of money for a really nice suit that looks like perfection on your body. It's an investment. You can always switch out waistcoat/suit vest to change up the look of the entire suit or skip that part altogether. Wearing an ill-fitting suit makes you look like you're wearing your father's prom outfit. This isn't the look Joseph Gordon-Levitt is rocking. Another staple of JGL's style is the skinny tie. You already know how I feel about the skinny tie, of course, but let me just repeat myself: you should probably only be wearing a skinny tie.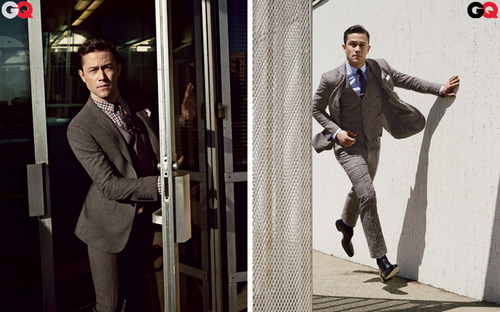 Wearing a lighter color suit is a bit difficult to pull off without looking like you're Don Draper. Unless that's what you're going for! I like how Joseph Gordon-Levitt pairs a lighter suit with a patterned shirt to really pull the look together to make it look purposeful.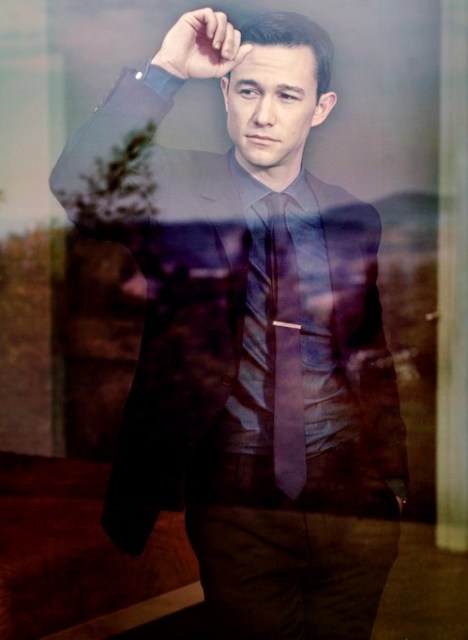 I also recommend really snazzy tie bar. Look at how nice JGL's suit looks with that tie bar. It breaks up the similar tones of his suit, tie and shirt. Plus, tie bars take you from dapper to perfection. Pro tip: wear your tie bar between your third and fourth button on your shirt and never let it be wider than your tie.
Casual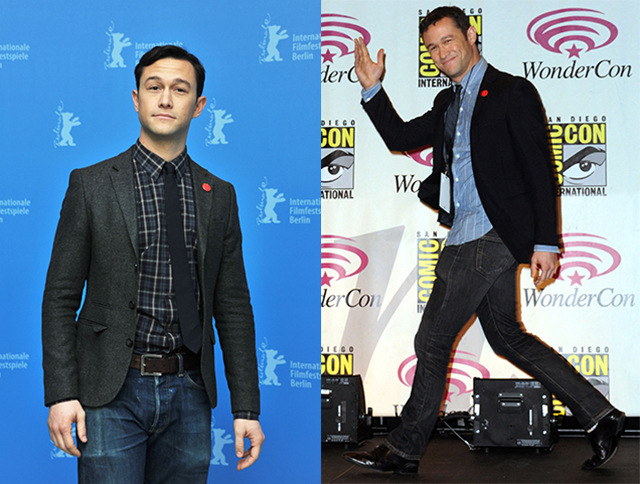 Oftentimes Joseph Gordon-Levitt rocks a sweet blazer, button down, tie, and jeans combo. I love this combination, but there's a fine line between pulling this off and looking like you just couldn't figure out what to do with your pants. I recommend doing a dark skinny jean with this look, especially with dress shoes. I also prefer the untucked button down with jeans, it makes you look a little less like you're in the third grade. Avoid sneakers with this look for that very same reason. A warmer weather option for a similar look is to pair your dark or gray jeans with a suit vest instead of a blazer or sportcoat. It ties the top and bottom half together in the same way a blazer would without adding weight.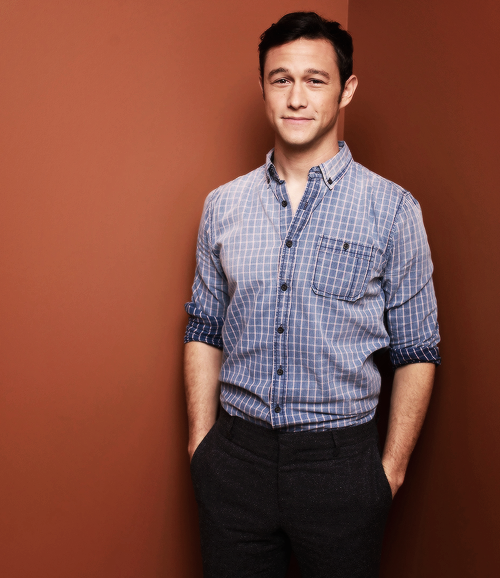 Trousers and a worn-in, casual chambray button down is also a look that JGL wears really well. Take a note from Joseph and pair dark trousers with a lighter top (or vice versa) to make sure your look balances. Avoid matching tones or you'll look like you're just too lazy to put on the jacket. A few buttons undone on top, lack of a belt, and unevenly rolled up sleeves make sure it has the perfect effortless feel.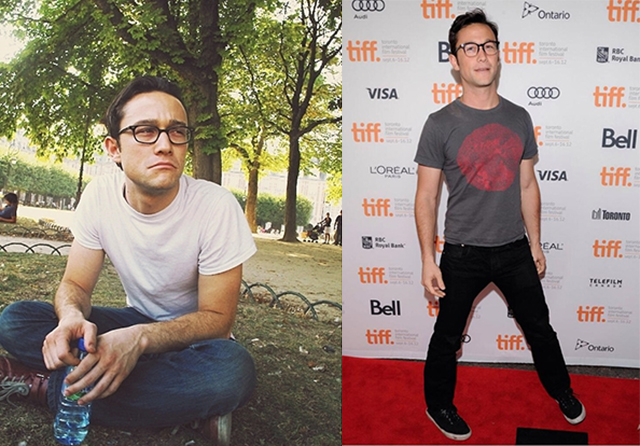 Even a t-shirt and jeans look classy on Joseph. You know why? He keeps his t-shirts from being too loose, so they never look sloppy. Also, of course he's wearing hipster glasses, but they're working, aren't they? Glasses pull a casual look together. Plus, glasses are really hot. JGL pairs a simple white t-shirt and jeans (which is the most classic and sexy look on everyone ever) with fun kicks, which we also have really really really strong feelings about here at Autostraddle. This keeps his look playful and casual but still stylish.
Most importantly, Joseph Gordon-Levitt looks like he wears his clothes for a reason and manages to always look effortless and purposeful. Small accessories like a tie bar add interest and a lack of accessories like no belt add a casual feel to his outfits. He looks effortless in his choices, even with a three piece suit, because they're tailored so well they require almost no thought. Take a note from Joseph Gordon-Levitt and invest in good tailoring and classic style choices.
---
If there's a queer style icon you'd like to see stripped down in Style Thief, send Lizz an ASS message, ask on Lizz's tumblr, or tweet Lizz @Ohheyitslizz