Our first Sneaker Feature was an overview on the importance of kicks in hip hop and queer culture, a look at how I've connected to sneakers and a top ten of  basic but fashionable kicks to get you going on the road to fly footwear. Hopefully, you enjoyed it and are ready for a deeper look into the elements that make up kick culture and ways for you to dive into the world all on your own.
---
When I don't know a lot about something (I'm not in any way a sneaker expert, aka a "sneakerhead," nor am I professing to know all of the history and nuances of sneaker culture. I'm just a chick that likes kicks and wants to share what I've learned with all of you.), which is like everyday of my life, I go to the library. Seriously, Google-ing might be the first instinct, but if I respect a topic enough, off to the Bronx Library Center I go. So like all good sexy nerdy queers, let's start with some books on sneakers.
+
Kick Books Not Rocks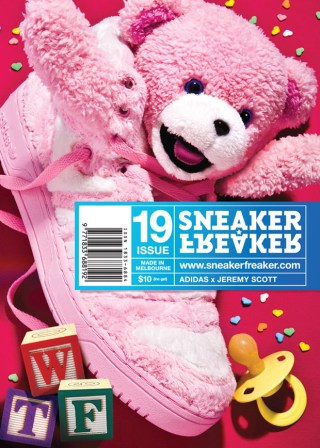 1) Sneaker Freaker: The Book (written and edited by Simon Wood) is a compilation of articles featured in Sneaker Freaker magazine. SF was created by Australian Sneakerhead, Simon Wood in 2002 as a way to pay homage to the growing international interest in sneaker culture and also "to get free kicks." The collection as a whole is just so sick. Interviews with hip hop artists, the creators of the SB Dunks and pages of custom kicks featuring everything from graphics of SpongeBob's face to rainbow stars fill its pages. You can also check out sneakerfreaker.com for the most up to date sneaker shit. And by shit, I mean awesomeness.
2) Art & Sole: Contemporary Sneaker Art & Design (created by Intercity) is where construction meets the artistry of customization and the community created through collaboration. From Art & Sole:
Permanently associated with creative subcultures such as hip hop and skateboarding, the sneaker scene has always been connected with creativity and this book sets out to document the current state of this relationship.
With the super-detailed blueprints of sneaker design in this book, you might be able to create your very own custom kick. DIY, baby.
3) Kicks Japan (ed. Okazaki, Manami and Johnson, Geoff). The sneaker culture in Japan is probably the most creative, dynamic, and fucking brilliant space in the world. This book captures all that  along with in-depth interviews featuring Japan's hottest customizers and solid pages of everyday high-fashion sneakerheads running around in kicks people like me only dream of. Cop this shit.
+
Documentary Status
Need a documentary to back up your feelings about sneakers with facts? Check out Air Force 1: Anatomy of An Urban Legend by French director Thibaut de Longeville. It's super official, pulling you into the world of Rucker Park, Old school Philly sneaker customizers and the warp speed spread of love in the hood for the Air Force 1. This was also one of my first gigs as a PA and I got to work/tagalong while the entire East Coast segment was filmed!
Also by Thibaut de Longeville: Just fot Kicks: A Documentary about Sneakers, Hip Hop and the Corporate Game. It's available on Netflix.
+
Customize to Taste
Ya'll are savvy as hell and I dig that, but let's just assume no one here has ever heard of sneaker customizing. See, that's an easy way for all people to start at the same level of something and now we can all learn together.
Sneaker customizing is a highly-respected urban art form, like graffiti murals, street art and breakdancing. Customizing for sneakers is like tattooing for skin. It enhances what is naturally dope and fits it to your individual aesthetic. It begins with a plain white pair of sneakers, adds on a carefully thought-out design that gets placed into the hands of some of the most gifted artists in the scene and ends with a pair of kicks owned by no one else in the world. THAT is the golden rule of sneakerhead culture: exclusivity trumps rock, paper and scissors.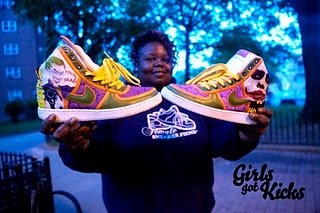 Fetti D'Biasi is one of the top sneaker artists in the world. Also, much love to her because she's a Bronx native like me! Hey, girl, heyyyy. Anyone can get their kicks customized, long as you don't mind the wait and have some cash to blow. Hit up Fetti via FB or her website, sneakerfairy.com, and get yers.
The world of customizing is the perfect combination of dedicated sneaker artists, an insatiable international kick community and you doing you in one fucking pair of shoes. Here are some other highly recommended customizers (Shouts to graphic artist, Amor Killz, for the recs.)
Female Sneaker Fiend dot com has a badass list of the best female customizers in all the land. Seriously, start there…
Still not satisfied? Then try The Flight Crew courtesy of Proof Culture or Michael Miller's New Ground Customs.
+
Kick. Push. Tumblr.
1) Chicksandkicks dot tumblr dot com for pics like the one below.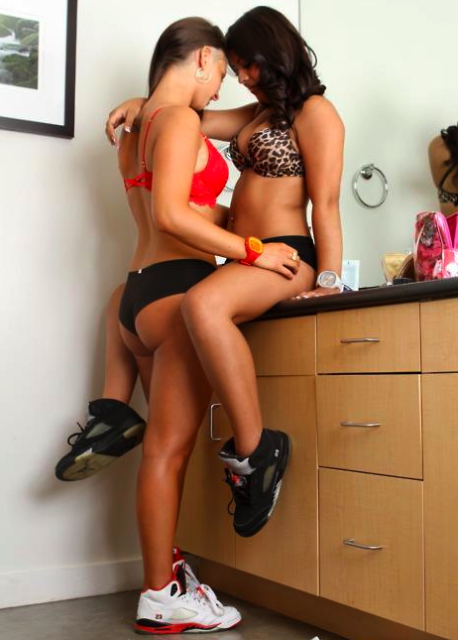 2) Sneaky dot tumblr dot com is the place where "sneakers are an obsession" (Aaaand the site is constantly being updated.)
3) Hot Girls In Sneakers dot tumblr dot com
4) And of course, the obligatory fuck yeah sneakers tumblr
+
Oh You Fancy, Huh?
This post wouldn't be complete without showcasing the ridiculous lengths shoe companies and artists go to create top-of-the-line, hyper-exclusive kicks targeted towards the obsessed sneakerhead. Now the following trainers may induce feelings of awe, distortion of reality and high levels of insecurity brewing from the shoes you have on your feet. Don't be alarmed; that shit is totally normal. Alternatively, you might suck your teeth really hard and wonder why the f*ck anyone would spend money on these overpriced shoes when there are children and puppies that need saving. That is also normal, especially for Autostraddle readers. Onward ho.
1) The 35th Anniversary Limited Edition ADIDAS Superstar – Constructed from Premium Leather, the ADIDAS 35 rests inside a white leather lockbox and comes fully loaded with a gold shoe horn, Sandalwood Last and a cleaning kit. Released in 2008 for about $5,000, this set is almost non-existent; if you find it though, send me pics of them on your feet.
2) The Reebok Top Down Basquiat – I've been in love with this kick since it dropped and have exhausted my resources on finding it for purchase online. If you find it, holy crap send me the link! Again, so so amazing. I love Basquiat and there's a whole entire line of Basquiat-inspired sneakers.
3) The Nike Galaxy Foamposites – All I'm gonna say is these kicks allegedly fetched $70,000 at an NBA All-Star auction…
4) The Adidas Shackle/Handcuff Sneakers – These kicks win the WTF award from me and from the New York Times.
---
Holy crap, sneaker overload. Burns so good, doesn't it? Watch out for the final installment of the AS Sneaker Feature Series where we proceed to give you what you need to help you keep the kicks you have in the crispiest of conditions. We'll also highlight the best of the best of the sneakers you shared with us in the comments section, so keep them coming along with any books, tumblrs, collectibles and other useful kick-related links below. Also, would you wear any of these limited edition sneakers? Discuss. Tell me the things.