My first love was melted cheese on bread.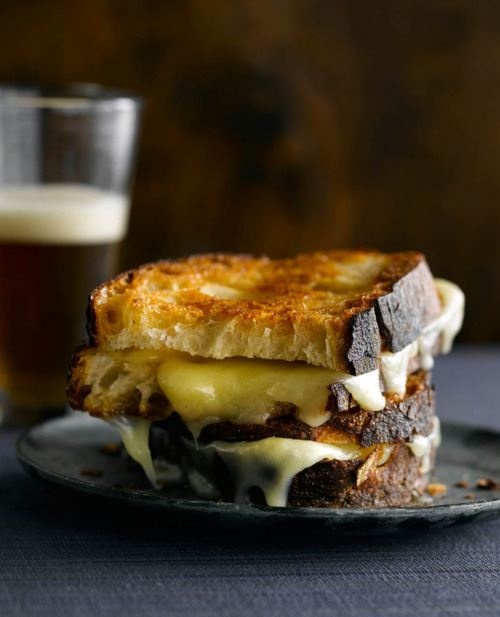 This love broke my heart when I discovered a mild lactose allergy in college.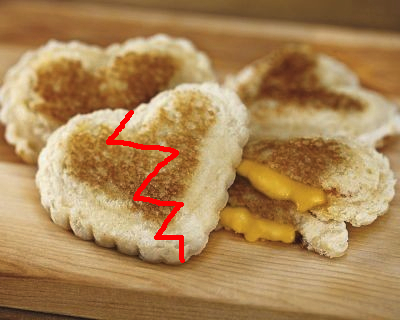 I continue to ignore it to this day, despite the raging pains in my tummy. I don't care — I'm alive, and I will eat cheese til' the death!
Growing up I had an obsession with Thomas's Everything Bagels with Muenster cheese heated in the microwave until the cheese falls through the hole in the bagel and onto my plate and gets kind of crispy. In middle school I upped the ante (meaning Hawaiian rolls + cheese in the microwave).
I eventually got my grilled cheese act together and concocted a list of rules to ensure that every four hours spent in the bathroom after eating one is worth it (TMI? Woops.)
Grilled Cheese Rules and Regulations
1) Contrary to what my adolescence led me to believe, the microwave is not the best way to go. Use a pan or the oven method I will later mention (or an iron à la Benny & Joon, if you're my hero).
2) Grate your cheese! It ensures even gooeyness and who wouldn't want that, honestly?
3) Butter the bread not the pan-. Yes you need butter, don't try to work around it. You're already eating a grilled cheese, might as well do it right. Be fancy if you want! Chop some herbs to mix into the butter before spreading. I like to mix a wee bit of mustard into butter and spread that on the bread because I'm gross (or a genius).
4) Okay so one of my worst nightmares (even more than a burnt crust because I kinda like that) is biting into a grilled cheese to find a section of cold non- melted cheese. THE HORROR. I have learned 2 foolproof methods to make sure this never happens to you: First, if you cover the pan with a lid when you are cooking the first side- maximum cheese melting will occur.
This second maneuver is my favorite: butter one side of each bread slice and toast them both in the pan. Then transfer them to a wire rack, put the toppings on the untoasted side, and finish it in the oven (open face style). Once the cheese is perfectly melted, take it out and smash those two babies together and experience nirvana.
5) Condiments or bust. If you read my bio, this a no brainer. Same goes for pickles. They make everything better. For delicious quick pickled onions, soak a thinly sliced red onion in ½ cup apple cider vinegar, tablespoon of sugar, big pinch of salt for an hour!
Gabi's Favorite Grilled Cheese Situation
The time has now come for me to share a little piece of myself with all of you in the form of my favorite grilled cheese concoction. Pause while I debate if this is a socially acceptable recipe. Here goes nothin'…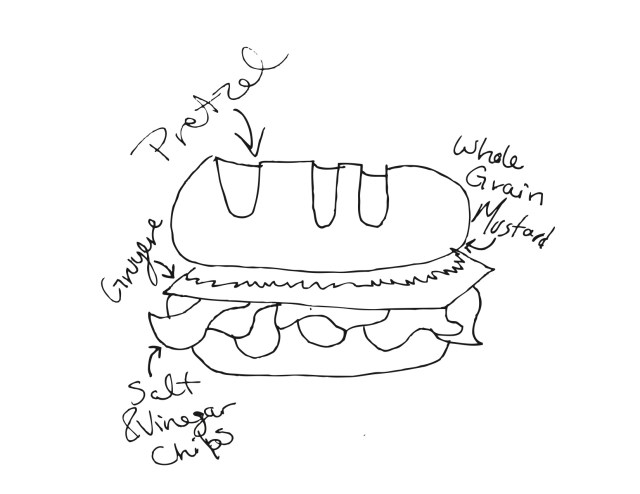 The bread: I like to use multigrain breads because it makes me feel better about all the shit I'm about to put inside. But when I don't care about such petty things: PRETZEL ROLL.
The cheese: Whatever you like. For me, it's gruyere for the win.
Other stuff: Potato chips (salt and vin is my preference), bread and butter pickles AND quick pickled onions that I mentioned above (obviously can't get enough vinegar), a good grainy mustard.
Microwave until you have reached gooey perfection. Jokes! I like the aforementioned oven method for this one. I add the chips and pickles after I take it out of the oven before I smash the two slices together.
There you have it! Who wants to have a grilled cheese party? Be right there, gotta go buy some Lactaid.
Recommended Reading
Ode To: Grilled Cheese
Top 10 Ways To Eat Melted Cheese