Lunchtime: unequivocally the best part of the day. But could it be better? Yes sir, it can. You don't have to spend gobs of money going out, but you also shouldn't be packing the same peanut butter sandwich year in and year out; there is a middle way. The path to becoming a lunch box buddha isn't so hard. All you need is a good balance of inspiration and  improvisation. Every week, we'll make one or two packable recipes so that you have something new to fill your lunch box and your stomach. 
---
I never used to understand why people let the weather affect their feelings so much. I mean, it's just rain/snow/sleet/sub-0 temperatures/sweltering/wickedly sunny, right? Then I moved to a city and I discovered that the only reason bad weather had never made me cranky before was because my entire life pre-18-years-old was spent travelling from building to garage to car to garage etc. When you have no choice to experience the weather, it can wreck havoc with your emotions.
And that's why (to be completely honestly), I was less than thrilled when I found out I'd be moving to Galicia. The only thing I knew about this corner of Spain is that it rains a lot. And it does, let me tell you. During the first 3 months of 2013, it rained 70% of the days. Every year, Pontevedra – that's my city – gets 67 inches of rain. To put that in perspective, Seattle gets only 38 inches annually. And just for an added dash of fun, Fornelos de Montes – the town where my job is – is actually the rainiest municipality in the entire country.
Rain can do a lot of things to the people and places who put up with it. It can make it harder to get to know strangers because so much time is spent huddled under umbrellas and cuddled into sofas. It can create unbelievably green landscapes dotted with plants you've never seen anywhere else. It can help keep an ancient language alive in tiny pockets in the mountains, even when it continues disappearing from the cities. And it can bring everyone out on the says it stays away because sunny days are so much sweeter here. After months and months of endless downpour, it looks like next week is going to be good.
Today, we're making a quiche because there's really nothing springier to eat. Actually, we're making quiche-s because we're making them lunchbox-sized. All you need is a cupcake pan and you can make your very own flock of immortal (really, they can be frozen forever!) quiches.
Pie Crust
via: my grandma
Ingredients:
3/4 cup of crisco
1/4 cup of boiling water
2 cups of flour
a pinch of salt
Instructions:
1. Add the water to the crisco and beat it until the two are mixed.
2. Add the flour and salt and mix them until they're juuuust combined. Any more will make it hard and weird.
3. Roll out the pie crust very thinly (we're talking 1/4 of an inch or less) between two pieces of wax paper. Using a large cup or a small bowl with approximately a 6″ diameter, cut out 12 circles.
4. Place each circle into a cupcake cup or pan.
5. If all this sounds like too much, do what I did and use empanadilla wrappers.
Quiche Cupcakes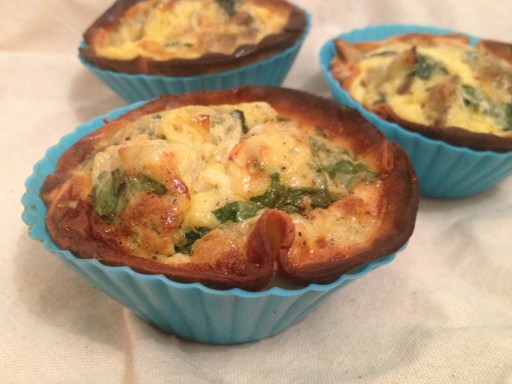 via: my mom
Ingredients:
4 eggs
3/4 cups of milk
1 T of fresh parsley, chopped
3 cloves of garlic, minced, chopped or grated
1/2 t of salt
1/2 t of pepper
1/4 t of nutmeg
10 ounces of fresh spinach, chopped
8 ounces of mushrooms, chopped
1/2 of a white or yellow onion, diced
4 ounces of swiss cheese, grated
2 ounces of feta cheese
Instructions:
1. Preheat the oven to 350°F/170°C.
2. Whisk the eggs, milk, parsley, garlic, salt, black pepper and nutmeg together.
3. Sauté the mushrooms and onion until the onions are clear, then add spinach and stir until it just begins to wilt.
4. Divide the mushroom, onion and spinach mixture among each already-filled cup. Cover it with some cheese.
5. Pour the egg mixture over the filling and top each quiche with a bit of cheese.
6. Bake for 10-15 minutes, making sure not to accidentally bump the knob and burn your quiches like I did.
+Storage and eating: After letting it cool, quiche will keep in a fridge for three, maybe four days but will last almost forever in a freezer. I stored Monday, Tuesday and Wednesday's lunch in the fridge and froze Thursdays and Friday's until Wednesday. While they don't taste great directly out of the fridge, the time between leaving your house and lunch should give them plenty of time to get to room temperature. And hey, if you're lucky enough to have a microwave, they taste even better after 30 seconds on high.