By Riese and also Laneia
My top two Food Situations are as follows:
1. peanut butter
2. melted cheese
This weekend as I was making myself a quesadilla and thinking about my life, I realized that melted cheese is one of my favorite things about being alive. Unlike the economy, lesbian reality television, hair wax and your shower's water pressure; melted cheese never disappoints and can do no wrong. I mean, sometimes I refer to my microwave as my "cheese melter."
Bonus: Melting cheese on top of an otherwise unsavory meal may not produce a result you'd eat in front of anyone besides your cat, but it's almost always a great way to make food better. Melted cheese is the puffy coat of food — it may not always be pretty, but it gets the job done.
My Top Ten Favorite Ways to Eat Melted Cheese
+
10. Cheeseburgers
Cheeseburgers are cannon.
+
9. Macaroni & Cheese
We recently found a recipe for Macaroni & Cheese that claims to be "healthy," which has really changed my life. I may cite Easy Mac as one of the twenty-first century's best inventions, but nothing beats a giant casserole dish of homemade macaroni and cheese. Unless you're eight years old, in which case you probably love Kraft Dinner and shouldn't be reading this website, it's for adults.
+
8. English Muffins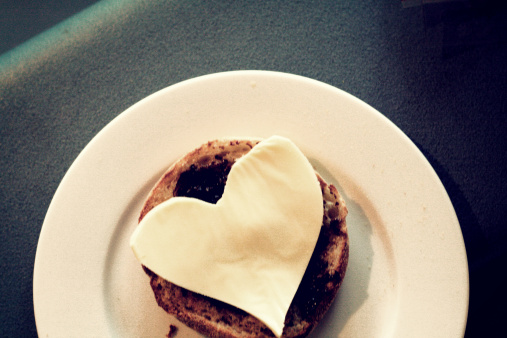 When I'm too busy to think about food, I melt cheese on something, usually an english muffin. I butter and toast the muffin, and then I microwave it with cheese on top for about 20 seconds.  It keeps me full for about ~30 minutes, at which point I must find something else to melt cheese upon, such as triscuts or a bagel.
+
7. Brie With Rosemary Bread & Red Wine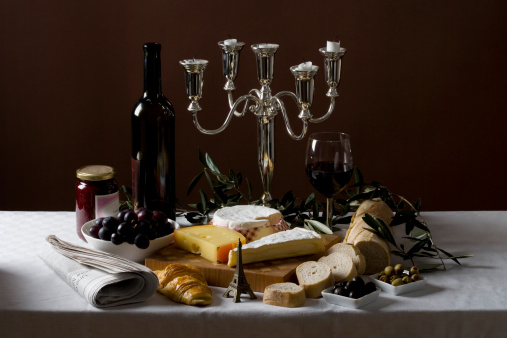 You take a pretty big chunk of brie, put it in a ramekin and cover it with some foil maybe then warm it in IDEALLY a toaster oven but you can use a giant oven, whatever. When it's melty and gooey, get it out, put apricot/raspberry/fig jam on top of it and then EAT IT by scooping it into your face with a piece of rosemary bread. Take a drink of red wine and then take another bite and then keep doing this until you forget what sucked about your day.
+
6. Nachos
As long as you have chips and cheese, you can put anything else in between them and it's NACHOS. You could probably put tofu under the cheese, or broccoli. But don't, that's gross.
+
5. Arby's Beef & Cheddar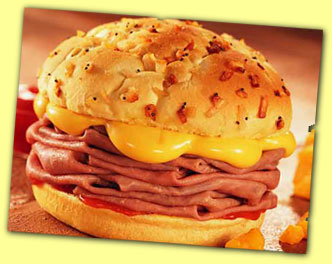 So terrible, yet so delicious. Hands down totes Arby's, y'all!
+
4. Quesadillias
Usually I eat quesadillas when I'm really drunk. Pancheros make the perfect quesadillas for a drunk college student; so gooey and warm in their tin-foil homes. Rumor has it most people enjoy quesadillas with more than just cheese– things like meats and vegetables. Sounds fun!
+
3. Omelettes
For me, egg white omelettes are the best food to order at breakfast. Pancakes induce coma, and omelettes include vegetables. Yesterday Marni made me a delicious omelette. (That's an example of me using "omelette" in a sentence)
+
2. Pizza
Many companies will deliver pizza right to your doorstep for free!  If you win anything at school or in life, you get to have a pizza party. That's the rules.
+
1. Grilled Cheese
Grilled cheese can be fancy or simple, depending on your mood, which makes it the most versatile sandwich of all sandwiches, actually. Do you feel 8 yrs old? Kraft Singles. Are you watching The Devil Wears Prada? Jarlsberg. Is it raining? Pepper jack, shredded sharp cheddar and bacon. Do you want to feel very special? Fresh mozzarella, strips of basil, sliced tomatoes. grated parmesan.
As I mentioned here; it is a truth universally acknowledged that preparing a grilled cheese for your significant other is a Key Relationship Moment, with pancakes coming in at a close second.

Which melted cheese items on this list are your favorite? What melted cheese delights are missing from the list? Do you vehemently disagree with our assertion about making grilled cheese for your sleepover buddies? Are you concerned about Vegan Erasure? Do you find this post tired and annoying, and if so, would you feel differently if you knew about the Content Crisis we are having today? I think you would. Anyhow, please share your feelings in the comments! We recommend that you respond to us very aggressively and loudly to communicate the full extent of your disappointment. This is very important work, after all. Please employ all caps and excessive punctuation!!!!!!