If you thought Cameron Esposito showing up as Rosa Diaz's girlfriend on Brooklyn Nine-Nine was the most shocking gay thing to happen thing on TV last Thursday night, wait'll you get a load of this:
I guess you're wondering how we got here.
Allow me, your lesbian elder, to explain. It all started in 1998, in the wake of Ellen's coming out, when Will & Grace debuted on NBC. It was a revolutionary comedy with two gay guys, one straight gal, and Karen Walker, who joked, repeatedly, about being bisexual. Oh, she hit on Grace (in fact, they shared a kiss that Sarah Warn, founder and editor-in-chief of the largest lesbian website in the early aughts, clocked at 14 seconds, making it the longest kiss between two women on network television at the time). She hit on the only woman Will ever slept with. She hit on Candice Bergen. She claimed to have converted Martina Navratilova. But it was mostly just a running gag. Karen never, ever, ever, ever had a relationship with a woman on-screen. She did, however, have several longterm relationships with super wealthy, super shitty men.
She got a divorce from one of those men, Stan, this season (the second season since the show rebooted in 2017) — then immediately got into a relationship with another jackass dude.
And along came Samira Wiley.
In last week's "Conscious Coupling," Karen finds herself snowed in at the office, unable to take a private plane to see this new boyfriend, who couldn't care less either way. The power's out, the elevator's not working, and so Samira Wiley's Nikki wanders in from an office upstairs. Karen whips her up a martini, which Nikki laughs about because upstairs they thought the people in this office were constantly just playing some maracas. Then Nikki charms Karen (and that live studio audience) so fast she doesn't realize what's happening. Karen talks about her dumb boyfriend and asks Nikki if she has boy problems, but Nikki says she only ever has girl problems.
Karen: Question. Are you permanently parked in the lesbian zone — or, do you move your car to alternate sides of the street from time-to-time for plowing?
Nikki: This car is parked, up on blocks, with a hundred tickets on the windshield.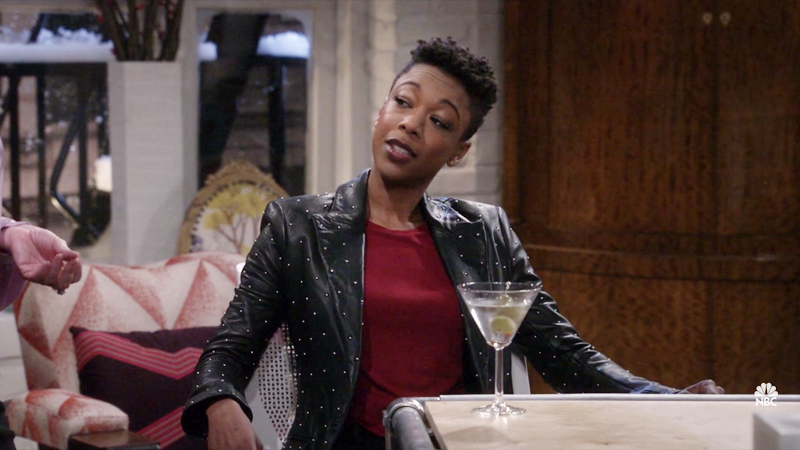 They talk and laugh and get to know each other and something super weird happens to Karen: She catches feelings. Actual feelings. She tells Nikki she always dates and marries men who assume she can take care of herself. Nikki says she should be with someone who wants to take care of her. The snow stops. Karen should leave to go see her new stupid boyfriend, but she doesn't. She says, in that moment, she actually is being taken care of. And Nikki leans right down and kisses her. It's so sweet and — stunningly, for Karen — real.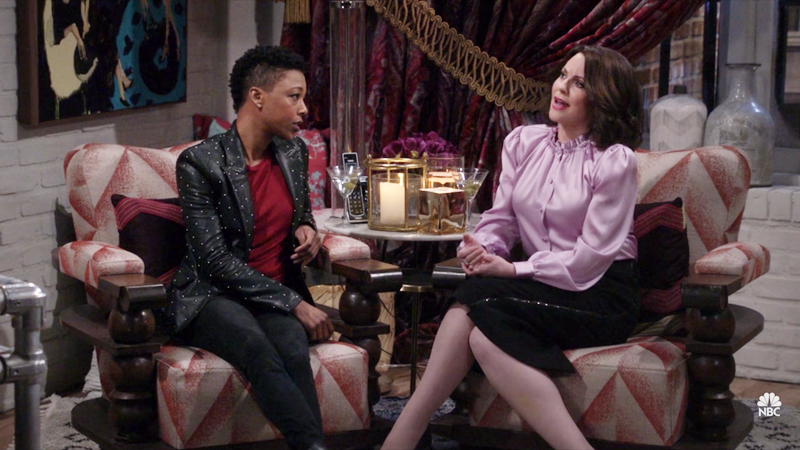 There are two episodes left this season and Samira will be back for both of them. It seems like she's really going to have an on-screen thing with Karen. I'll be tuning in no matter what. Seeing Karen Walker's bisexuality go from running one-liner gag to resonant storyline is a TV event 20 years in the making. Plus, Samira Wiley finally has a role where she trades getting tortured for getting to light up the screen with her smile, and I've been waiting for that for what feels like decades, too.