Last night's Brooklyn-Nine finally introduced Rosa's season-long off-screen girlfriend, and in doing so, paid off the set up for probably the best inside gay joke I have ever seen on television in my entire life. It started back in January in "The Tattler" when Rosa confessed to Charles that she and Alicia (Gina Rodriguez) had broken up and she was dating two people, which wasn't working out for her, and she needed to just pick. Charles hung her upside down like a bat and made her read Sophie's Choice ("Ugh! Just choose the daughter!") and ultimately she landed on a woman named Jocelyn. The next thing we knew about Jocelyn was that she's a hairstylist, which we found out in "The Crime Scene," when Rosa kept showing up to investigate the same murder at the same apartment with different hair every day.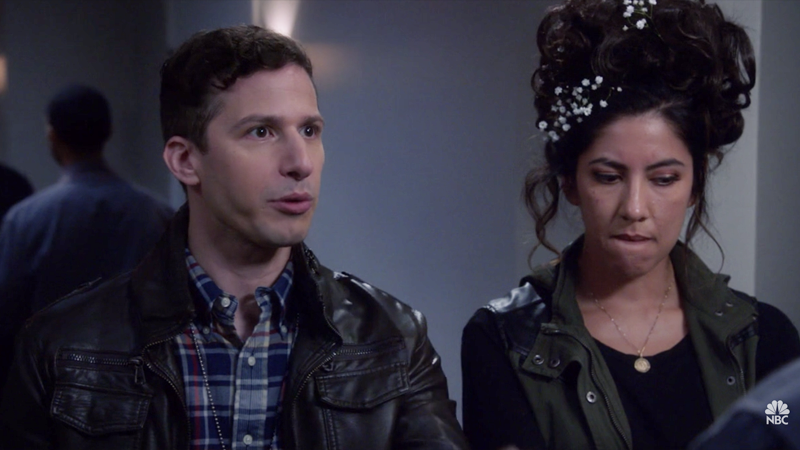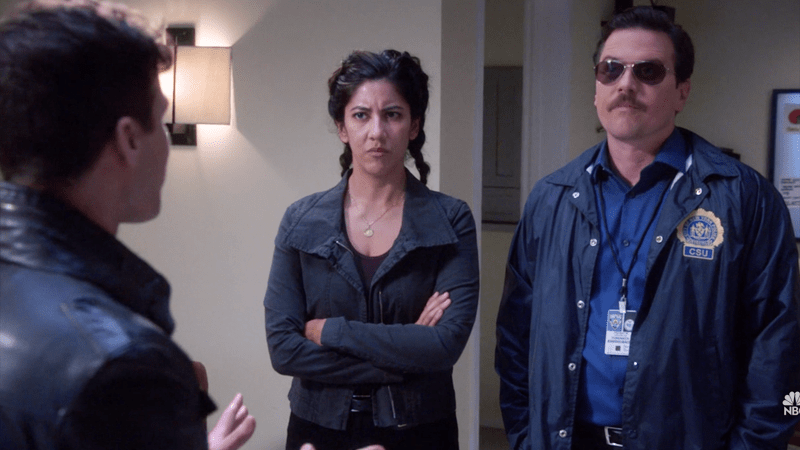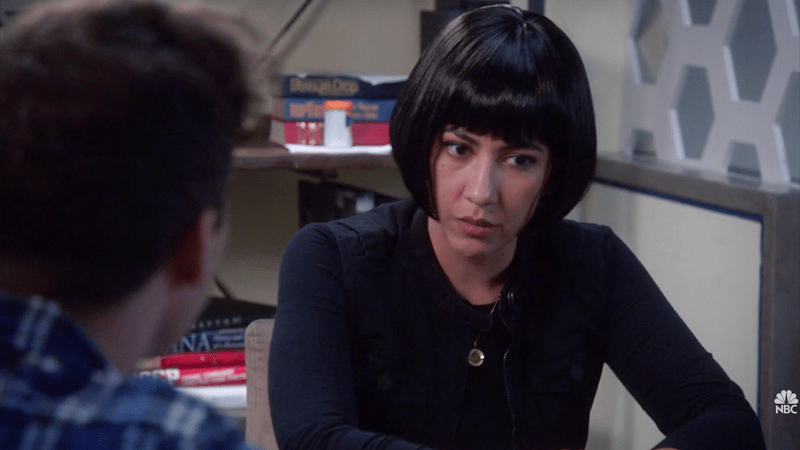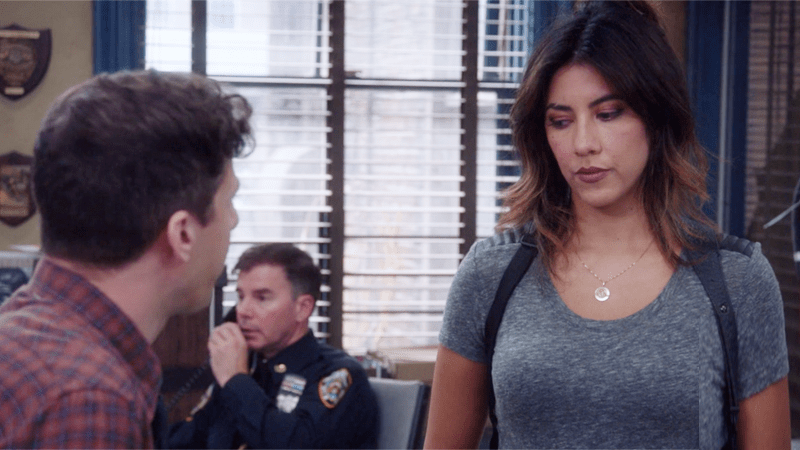 Well, "The Therapist" asks you to remember that Jocelyn is a hairstylist and then reveals her to be the literal Queen of the Lesbian Mane, the gay woman with the most famous gay hair in Hollywood, the originator of the Alternative Lifestyle Haircut — Cameron Esposito! Reader, I fell out of my chair!
Rosa's storyline is wonderful, even outside of that excellent reveal. Captain Holt finds out that everyone else at the Nine-Nine has met Jocelyn so he invites her and Rosa over to have a nice dinner of rice with him and Kevin. Rose declines, which hurts Holt's feelings and leaves him with two extra servings of rice on his hands. Rosa says he doesn't want them to meet because Holt is too judgmental, but it means so much to him that she hires an actress to play Jocelyn for a drinks date that inevitably blows up. Finally, Holt runs into a leather jacket-wearing lesbian at the vending machine in the break room; she asks him for a less crinkly dollar, which of course he has because he steams his dollars to keep them crisp. He compliments her on her choice of almonds; she says they're for her girlfriend, Detective Diaz.
Holt: Oh! You must be Jocelyn?
Jocelyn: What? No. I'm Denise. Is Rosa cheating on me?
Holt: Oh… my… um…
Jocelyn: No, I'm sorry. That was a joke. I thought it would be funny. I am Jocelyn.
Holt: That was actually very funny. I didn't know what was happening, and then I thought I knew what was happening, but what I thought I knew was happening wasn't what was happening.
Jocelyn: You must be Captain Holt.
Rosa comes in and calls her "babe" and they smooch RIGHT ON THEIR MOUTHS while wearing their LEATHER JACKETS like some kind of SOFT BUTCH FEVER DREAM. I was actually a little drugged up from a doctor's appointment last night and had to go to Twitter to verify that I was not hallucinating. I was not! It was real! Turns out Rosa didn't keep Jocelyn from Holt because she thinks he's too judgmental; she thinks he's hilarious when he's judgmental. She just really likes Jocelyn and she cares very much that Holt likes her too. They agree to have that rice date, after all.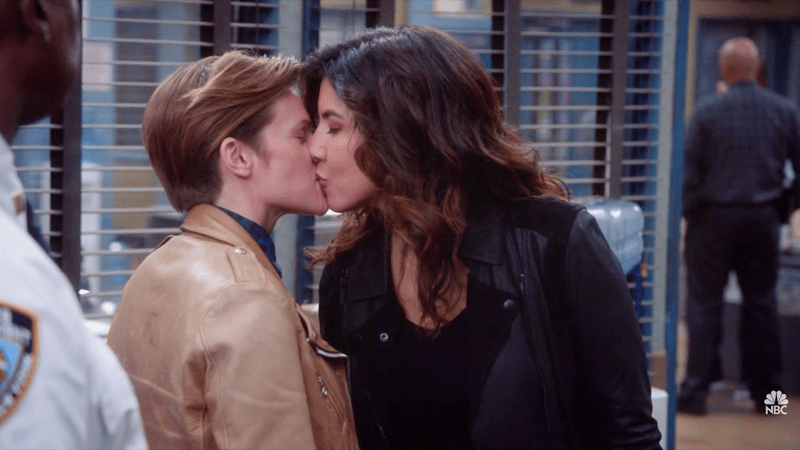 Because it seems like Brooklyn Nine-Nine is super interested in making my tender butch dreams come true, next up I would like to request: Jake and Amy to go on a double date with Rosa and Jocelyn and we get to watch what happens when Jake's trapped in the presence of someone who is funnier than him.
In the meantime, I'll just be looking into ways to send this kissing gif back to 1997 for my younger self to behold with wide-eyed wonder.