As you're hopefully aware, Autostraddle dot com consistently positions its very long lesbian fingers directly on the pulse of the Alternative Lifestyle Haircut beat, keeping you abreast of important haircut news like when Kristen Stewart got a haircut, when Jennifer Lawrence got a haircut, when Sara Ramirez got a haircut and when Miley Cyrus got a haircut. But while those events were certainly important, they were not nearly as important as the haircut news I bring you today.
Yesterday evening I was shocked to receive a text message from my activity partner informing me that Cameron Esposito had gotten a haircut. I immediately spun around in my chair three times and checked Cameron's twitter feed. It was true.
I have something to tell u pic.twitter.com/2WpXAj03xv

— Cameron Esposito (@cameronesposito) September 7, 2017
The most iconic lesbian comedian haircut since Ellen Degeneres's 1987 mullet is now on the chopping room floor:
Post-haircut hours were a virtual whirlwind for Ms. Esposito, who reported via social media that she "almost fell down" due to a loss of side-mullet-related balance. "THIS IS NOT HYPERBOLE THIS IS REAL," she further noted. Mere moments later, Cameron mused, "haven't seen my right ear in 8 years," while sporting a true "come hither" facial expression towards aforementioned ear.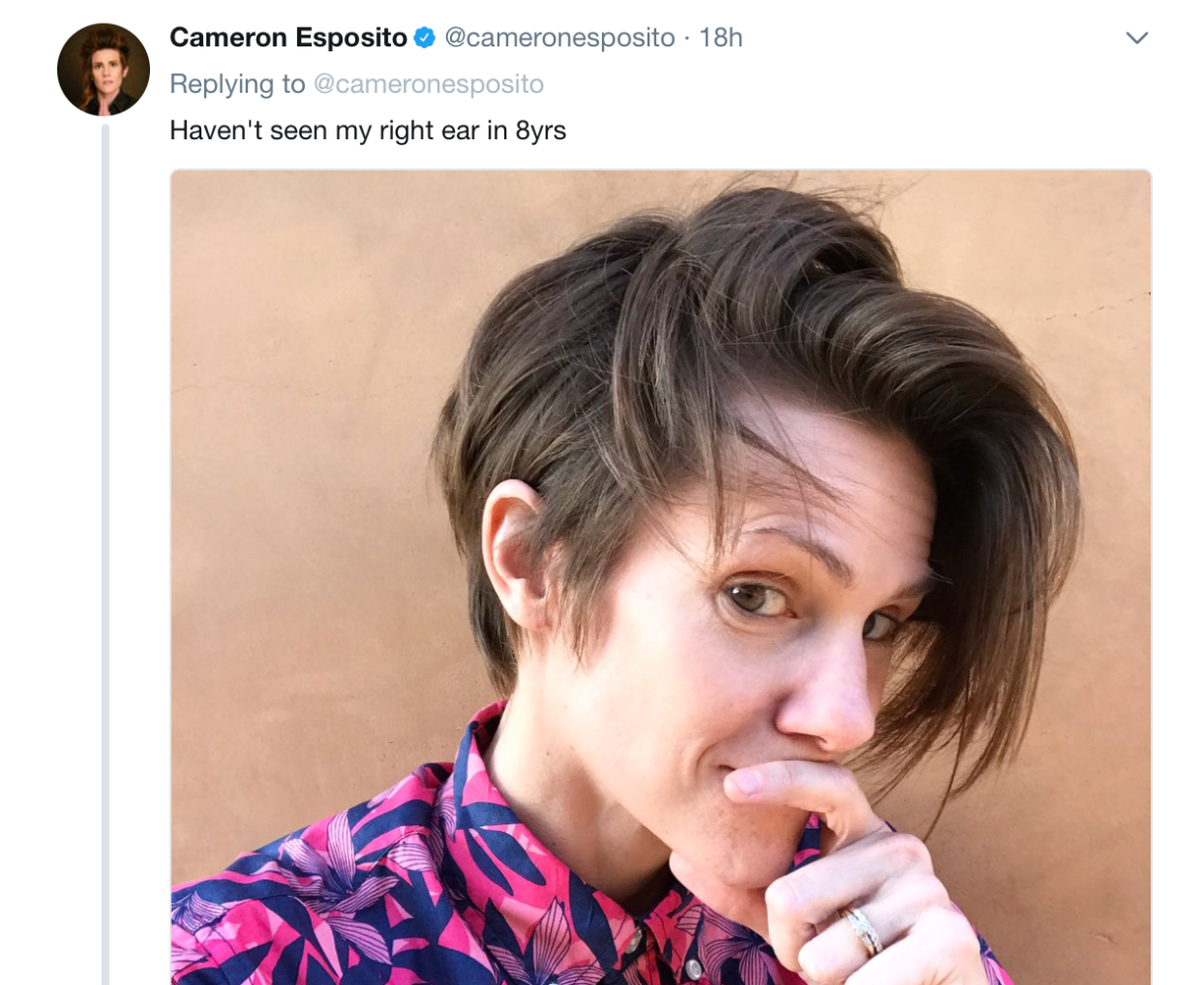 In an exclusive interview with Autostraddle.com, Esposito disclosed, "I actually think my right ear is my gayer ear. Delighted to see it. Terrified of sunburn."
Regarding how this 'do will impact her relationship with the Thundercats, Esposito further disclosed "They are DEVASTATED. It's fine tho. I've joined the Rescue Rangers." So, does this make Esposito feel more like a ThunderCAT or a Thunderkitten? Neither, it turns out: "A Leonardo DiCATrio." Totally legal.
Meanwhile, Esposito's fans were starstruck into a trance state of monosyllabic awe:
When asked if she feared her hair was the source of her power, like Samson in the bible, and therefore without it, she would have less power, Esposito said, "Yes! But I went to the gym today and lifted weights and was fine. Now I just need to make sure I'm still marketable as a standup comic/actor/writer/SOCIAL JUSTICE WARRIOR."
Apparently, Esposito had maintained her haircut longer than she necessarily wanted to for her incredible television program, Take My Wife, whose second season was recently was left adrift in the ocean of quality television programs following the shuttering of its network, Seeso. I didn't ask if this means Season Two of "Take My Wife" has yet to find a new home, because psychologically I cannot handle that right now.
One kind twitter follower noted, "Big day for lesbiankind as Cameron Esposito gets a new 'do and becomes literally the last one of us to get over the asymmetrical haircut trend." Harsh, but true.
Esposito indicated that if the Lesbian Herstory Archives were interested in receiving her side mullet in the postal mail, she would absolutely send it to them. As you may / may not know, "Herstory" rhymes with "Hairstory," and ladies, that is NOT a coincidence.
Does Esposito feel more or less butch than she did with her former haircut? "Same amount," she told me. "Which is like if Luke Skywalker was also Leila Organa Skywalker."
We had one last question for Cameron Esposito — "what's it like to be a woman with unilaterally short hair in comedy?"
"Short haired women aren't funny, as you know," Esposito verified. "Neither are long haired women or no-haired women. Frankly, being totally unfunny, it's astounding that I fully make my living and name and have this big adorable fan base because I'm funny."
In conclusion, you can see this haircut for yourself with your very own eyeballs by catching Cameron Esposito and her wife, Rhea Butcher (who already had short hair), on tour this fall. As the old lesbian proverb goes, "the quickest way to a woman's heart is through her haircut."