So, up until a few months ago, I identified as a lesbian. Cut-and-dry into-women-and-exclusively-women lesbian. But then I met this guy and we got to know each other, had lots of fun, flirted a bit and now we're dating. It's pretty casual but I'm really enjoying myself and I don't really have a problem with the idea that my sexuality might have changed or that I've just met a great human who I really enjoy dating and their gender doesn't matter. The real issue comes when telling my friends that I'm dating a guy. Some of them are great about it, but some respond with 'oh, so you were straight all along?' and others ask 'why did you come out as gay if you were actually bisexual?'. It's especially difficult because I haven't found a new label that really resonates with me and am just sticking with 'queer' for now, so I can't even really *come out* as anything. So, any advice on (re) coming out to people, or just how to politely tell people to mind their own business regarding my sexuality?
Congratulations on being with a person you enjoy! I'm glad some of your friends are great about it — that's how all of your friends should be, because they're supposed to be your friends.
Unfortunately, the friends who aren't great about it are turds. I get that some people just can't fathom a world where others are free to change and grow and shift around without it having a single thing to do with them, but damn. Who you're dating has shit to do with your friends and their lives, unless they're like, allergic to his fabric softener or something? In which case, fine. But this itching scratching burning desire to organize every personal thing about you — their friend — into a shape and form they can easily 'define' and 'understand' is some tedious bullshit. There's no need to clarify anything to these amoebas. What and who you were "all along" was YOU. The decisions you made, including the sexuality you declared to them, were yours to make, and you fucking made them. Now here you are, INCONCEIVABLY, I GUESS?, making EVEN MORE DECISIONS about yourself! End of story!
This would be like if you always ordered waffles for brunch and one day you ordered an omelette and these friends flipped a table and demanded that explain yourself. Your brunch order has nothing to do with them. Neither does this.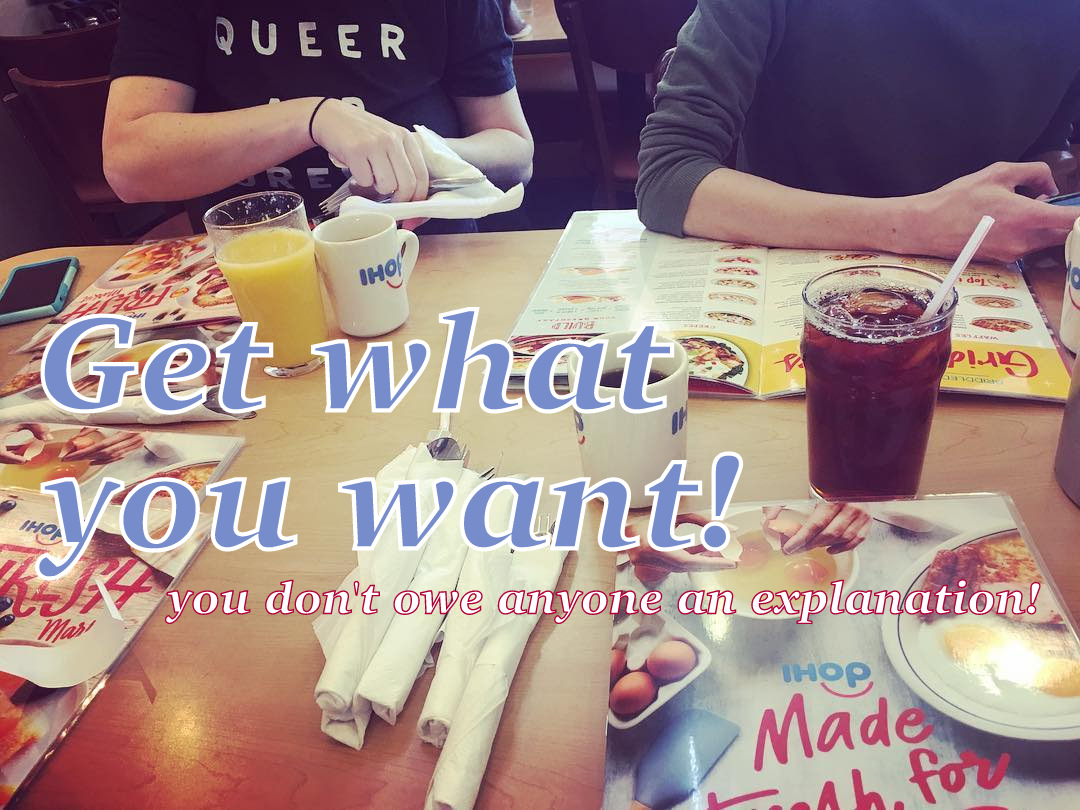 As far as how you label now, labels should only be used when they're useful! Being queer is a thing, so it can be a thing to come out as, but not if you don't want to. If trying to pin a label to yourself is causing more harm than good, that probably means you don't need one right now. Maybe there isn't a perfect one for the specific shape of you today. That's cool. You're still you! You're still a person who's done all the things you've done, and who'll go on to do all the other things you'll do. Still you!
In conclusion, do what you want! Be who you want to be! Floss twice daily! You're doing great!
---
It's been nine years since I've been in a relationship. During that time I've slept around, dated a couple people casually, fallen in unrequited love with a friend, come out as bisexual, and activated and deleted my okcupid/tinder/etc accounts more times than I can count. I'm educated, employed, independent, have lots of good friends, go out frequently, and am working on a master's degree! I genuinely love my life, I just wish I had a significant other to share it with. I'm not sure why it is so hard for me to find a person that I click with who is also attracted to me. Dates are either your typical online dating horror stories, or else I like the person okay and then one of us loses interest after a few weeks. I've only been dating women for 2 years, so maybe these are just growing pains? I turned 30 this year and I'm still repeating the same tired story of getting ghosted by girls after 2 weeks or having my flirting mistaken for "let's be friends."
My question is this: When do I stop trying? When do I quit talking to cute people or scrolling through the depressing abyss of gay okcupid? Is this it? Nine years is a long time to be single. Is it usually this hard?
I think you know what I'm gonna say but GUESS WHAT, I'm gonna say it anyway! If you want something for your life, you don't stop trying to get it. That includes finding a person you love who also loves you. Boom the end. But let's dive on down there, into the weird pond where nothing you're trying seems to be working, and maybe try to figure out why.
A of all, if gay OkCupid is a depressing abyss, get the whole hell out of there. Just stop scrolling as soon as you start. In fact, look around you. What else can you identify as a depressing abyss? Detach from those things, too.* No More Depressing Abysses Than Absolutely Necessary 2017.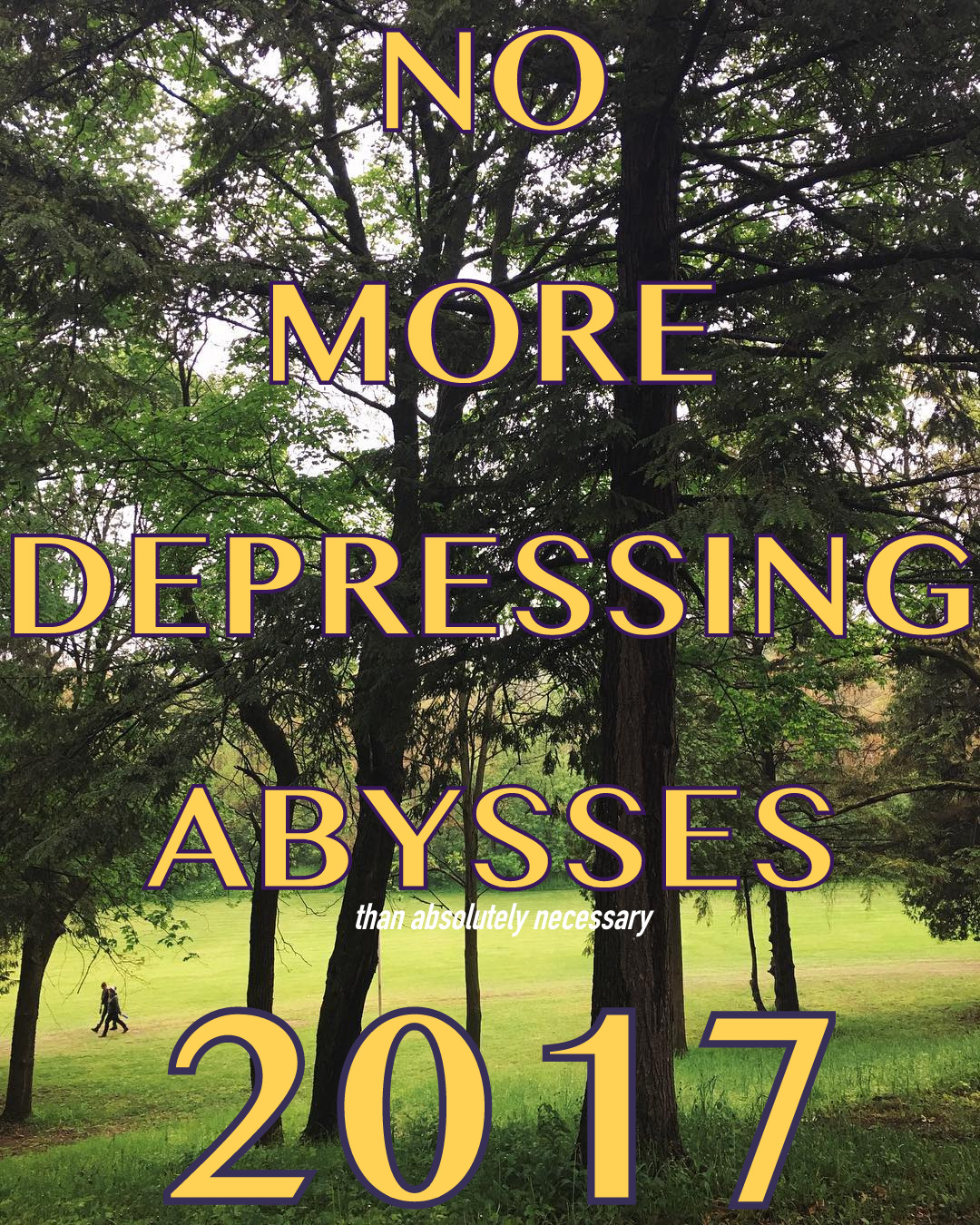 Second of all, I forced everyone on Autostraddle's staff to tell me the longest they'd gone without being in a serious/committed relationship and here's a smattering of their responses:
5 years
6 years
8 years
2.5 years
5 years
4 years
"I stopped keeping track"
4 years
3.5 years "and counting"
6 years
3.5 weeks (self-identified as Team Slutty Go-Getter)
1 month (see above)
3.5 years "it's going great" (I believe this was sarcasm based on the respondent, but still)
Maybe this doesn't make you feel any better, but I found it interesting because I'm nosey. But also! I do think it shows that we're all in this together and there's no set amount of time that's more acceptable or normal than another amount of time when it comes to being single.
Another thing that is universally true and real is that really great opportunities present themselves when you're busy focusing on pretty much anything else. This is especially true if your focus is on enriching your life and being a good person. It sounds like you're enriching the living daylights out of your life already, so that is cool and great. Is there anything else you've been interested in but have put off getting into for whatever reason? Maybe get into it. Maybe that's a step in the direction of a path that includes a place to find something or someone else you'll love. I mean, don't do it for that reason, but do it! Do it because you want to.
Can I make another suggestion? (I can.) What if you swung on by a therapist's office to just sort of check in with yourself, shake off some of the pond weirdness and see what you see? I feel like it can't hurt!
*This is said with the understanding that not ALL depressing abysses can be immediately evacuated, but by all means please do try.
---
Hi! I'm a relatively baby gay that's still trying to find their community. I'm at the point where I'm out of school and finding out people in high school/college are also queer. Question: is it okay to talk about these people I knew that came out, to other people that may/may not know these people are out? By talk about, I don't mean maliciously, simply mention their existence as fellow LGBTQ+ people. (Of note: I am also not fully out at this point.)
It's my understanding that if you're finding out certain people are queer because they're out, somehow or another, that means you can discuss them as being part of the worldwide LGBTQ+ community with impunity. Obviously use your best judgment in each situation, but yeah I think it's ok to include them in your non-malicious conversations!
Coming out is usually a lifelong process, in that you'll come out to this group of people and they'll tell some friends and wow so many people know now, but then here's this other group of people you're also involved in, so you come out to one or a few of them, too. Then they tell some friends. Then you go somewhere else — maybe the dressing room at Nordstrom Rack — with your butchy wife and the attendant tries to stop you both from going into the women's dressing rooms, so you have to turn on your heels and look her right in the eyes while she shouts SIR! to your wife over and over again, and you say, over her shouting, (so you shout), "SHE'S A WOMAN. WE'RE WIVES. TWO WOMEN." and turn back around and keep walking to your dressing room where you'll try on the stupidest dress you've ever seen and it'll have all been a big waste of time anyway but LOOK you still had to come out to another person today!
Which is to say that in these cases, you would be one of the friends who told a friend who told a friend. And that's how it goes.
I think unless you were specifically told that X person is expressly NOT out and that this knowledge is confidential, you can assume it's not confidential. Some people won't agree with me on this, so you should hear their arguments, too (they'll be here in the comments, or maybe on Twitter if we're very lucky), and then make your own call!
---
Y'All Need Help is a now-biweekly advice column in which I pluck out a couple of questions from the You Need Help inbox and answer them right here, round-up style, quick and dirty! (Except sometimes it's not quick, but that's my prerogative, OK?) You can chime in with your own advice in the comments and submit your own quick and dirty questions any time.