Goodness gracious, that The Bold Type finale. Also, did you see The Carmilla Movie trailer is here? Riese is recapping American Horror Story: Cult for you; her review of the first episode is right here. Our writers weighed in on their favorite queer shows this summer in a quick roundtable. And here's what else is happening as summer TV winds down.
---
The Fosters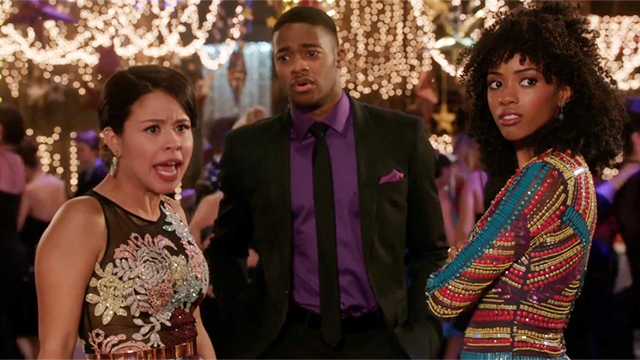 The MVP of The Fosters is consistently Cierra Ramirez. She can do anything. But my favorite thing is when she does comedy. For example, shouting, "MY OWN DAMN BROTHER?! THIS IS THE WORST PROM EVER!" when she sees Jesus kissing Emma who, only moments before, had been pretending to be Mariana's girlfriend to put Logan's girlfriend at ease because she (rightly) thinks Mariana is into him. I know I should be over girls kissing for fake reasons on TV, but unlike shows in the past that have used it to satisfy the male gaze and drum up publicity, this kiss came out of nowhere and was played for laughs, but not at the expense of queer women. Emma was just trying to be a good friend, and also she was drunk, and Mariana doesn't think anything's weird at all about being queer because her moms are lesbians. Also, you know I've been shipping Mariana and Emma since day one.
Also, honestly, Mariana deserves a good time at her own prom! She saved it from being cancelled by their supervillain principal by planning it from the ground up and executing it in the roller derby warehouse. Like in a day she throws a whole beautiful prom.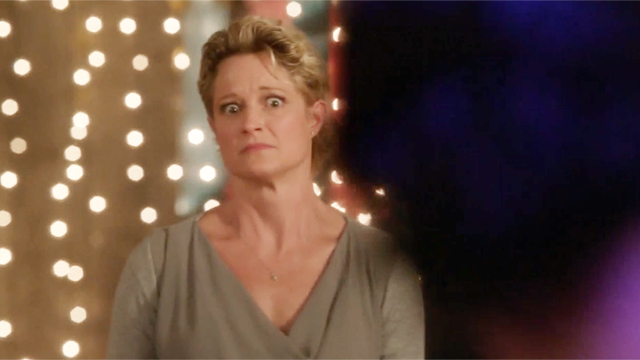 That wasn't even the gayest thing that happened in The Fosters finale. The gayest thing that happened was Stef's high school best friend and now-neighbor Tess admitting she was into Stef in high school, in a gay way, and wondering if maybe he marriage sucks because she's gay. It was an inevitable confession and Stef handles it like a champ, especially considering the fact that the coming out is sandwiched between seeing her straight kid make out with her son's ex-girlfriend and another one of her kids telling her that ICE has shown up at prom to Ximena.
The episode opens with Ximena giving an impassioned speech at an immigration rally talking about how Trump's America is not the America she believes in, but outing herself as undocumented in the process. Stef's idea is to arrest Ximena for something minor because she has jurisdiction over ICE, but Callie and AJ don't wait for that to happen. While Stef is pushing back against ICE, she and AJ get in the car and go on the run with Ximena. She does let Stef know what's happening as it happens, though, which means she's learned something since last season's finale. Stef tells them to go to a church and get Noah's pastor mom to meet them there, so Ximena can declare sanctuary. It's harrowing and heartbreaking and it aired the very same night Trump announced he was ending DACA.
Sometimes (a lot of times) The Fosters tries to do too much, but some of that too much is some of the best storytelling about current issues we have on TV. The episode ends with the ICE agents chasing Ximena, Callie, and AJ into a church, and then the three of them standing in the sanctuary with police lights flashing outside and turning the whole place red.
---
Killjoys
Written by Valerie Anne
I cannot tell you how thrilled I am to finally get to write about Killjoys. For three seasons, I've been enjoying this fierce, funny, feminist show about a badass bounty hunter in space (Dutch) and her team (John and D'avin). The show has been shades of queer before — the bartender, Pree, is a staple in the bar that serves as a hub for the team; Delle Seyah Kendry was not shy about her affections for Dutch and Dutch hate-flirted right back. (My favorite exchange of those was when Delle Seyah said, "I snap and you come," and Dutch quipped back, "You must be one hell of a snapper.") but there wasn't any real queer lady storyline to write home about…UNTIL NOW.
Okay, fast forward to Season 3, Dutch has learned that there's a woman named Aneela who looks exactly like her running around, and she's trying to figure out who exactly she is. She's basically a meaner, slightly creepier version of Dutch, so when Delle Seyah finds herself face-to-face with this familiar but unfamiliar face, and that face wants to kiss her the way Delle Seyah always wanted Dutch to, she finds it hard to resist.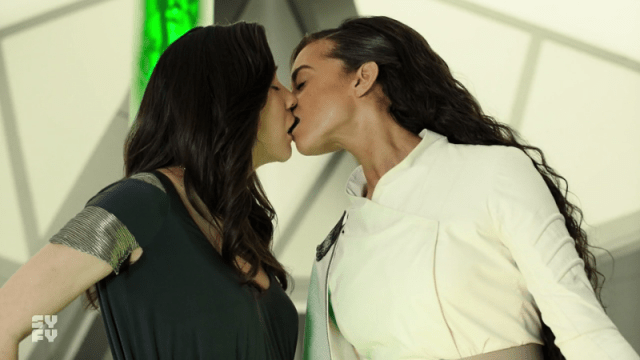 Maybe for Delle Seyah Kendry, it's one part attraction, one part survival instinct, but all parts sexy and you can't gal pal this relationship because they woke up together and very specifically talked about how great the sex was.
And even if it's partly a power move on Kendry's part, Aneela's feelings are as real as her feelings get, because when she can't find Kendry, she collapses in sadness. Gander, the grouchiest of the Hullen, shows Kendry that Aneela isn't really as in charge as they let her thin and sends her off to get a "treatment," he thinks he's won. But he underestimated two things: How powerful Aneela is and how much she values the few she does care about.
So even though Aneela is taking a goo bath, Kendry's screams cut through to the land of memories the goo transported her to, and Aneela's connection to Delle Seyah ground her in reality. With the help of her handmaid, Brynn, and her feelings for Kendry, Aneela fully emerges from Gooville and she. is. PISSED.
Realizing her girl is in danger, she goes on a damn murder spree to find her. It's beautiful. The women end up rescuing each other and they ask each other on the classic second date of torture and ice cream.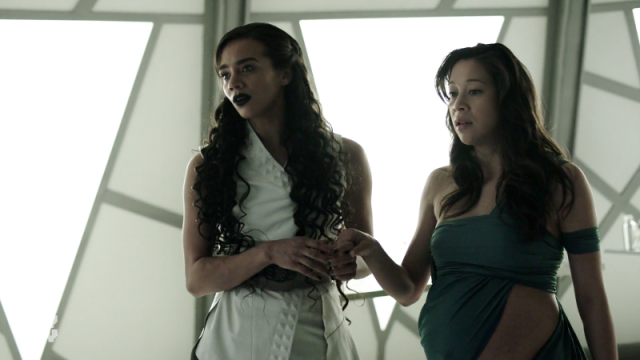 Aneela calls Kendry her tether, and the two start formulating a plot to end all plots.
Okay so while she was kidnapped, Kendry had been impregnated by a baby made from Aneela and D'avin's DNA, which wasn't what Aneela had intended (she was the one who developed the science to make it possible for Hullen to reproduce) but it doesn't change the hungry way she looks at Delle Seyah, so it's fine.
In the finale, Delle Seyah infiltrates Dutch's ship, speaking of parlay, and telling Dutch something I thought was interesting: "Every proper villain is someone else's hero. I guess she's mine." Delle Seyah had been almost murdered and left for dead, stripped of her power and her humanity, but Aneela gave her all of that back. Plus with bonus kisses. So Delle Seyah and Aneela work together to bring their plans to fruition and I won't give too many details away in case you haven't seen it yet but it's a really great finale.
I will tell you my favorite exchange, because I think it encapsulates why my favorite Twitter nickname for them is Murder Girlfriends. At one point, amidst the chaos, Kendry sees Aneela, and before they part ways they share a mid-war/this-could-be-the-last kiss and Kendry says, "Be careful," and Aneela responds simply: "Be brutal."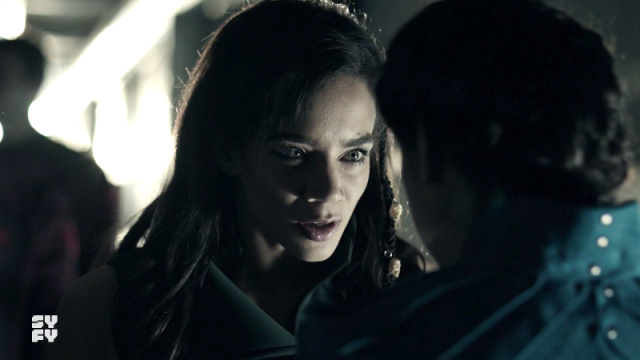 Killjoys is set in that fun type of space world where sexuality seems fluid across the board, but it was nice have a canon queer relationship build and be pivotal to the main plot of the back half of the season, especially with a regular character who had been the most obviously into women to date (or at least into Dutch/Dutch-faced humanoids). The show overall has been just a delight every summer, with little things I love in it, like a sassy spaceship, really killer fight scenes, quips galore, a totally always-platonic friendship between a man who likes women and a woman who likes men, and of course, my favorite always, themes of found family.
---
Odd Mom Out
Written by Valerie Anne
Hey, Odd Mom Out had a queer storyline last night! The main character, Jill, finds out one of her fellow moms had a lesbians-until-Labor-Day affair with another mom and that one left her husband but the other didn't, and after Jill encourages the one mom to follow her heart, she uses a boom box app to play their spin class workout song and they get together, living happily ever after (for the rest of the night) in the beaver exhibit at the Natural History Museum