It's been a summer, huh? Everywhere we turn, the horrors of a Trump administration and a Republican-controlled Congress just keep coming at us. A lot of you and a lot of our writers found a couple of hours a reprieve in the warm embrace of queer TV. There were some real surprises this season! In fact, it was one of the best seasons for really solid writing for lesbian and bisexual TV characters in recent memory. Here are our favorite shows. We'd love to hear yours in the comments.
---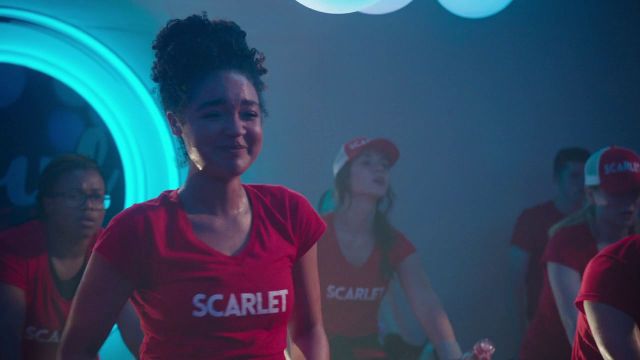 I really loved this second season of Wynonna Earp. I love how sweet Waverly and Nicole are with each other. I've never seen an on-screen pregnancy handled with such care and badassery as Melanie Scrofano's. Waverly and Wynonna, they just get me right in my heart parts every time because I love my sister like that too. (I wish it were a little less gross but that's because I have a child's tolerance for blood and gore.) I also thought The Fosters got mostly back on track. Introducing Stef's former high school best friend/crush was a dynamic I didn't expect and it played out in a really satisfying way. The show is still too frenetic and overstuffed, but this summer was much better than the last few. Queen Sugar, and especially Carmen Phillips' writing about Queen Sugar really, really moved me.
My heart, however, belongs to The Bold Type. Never in all my life have I been as surprised by a TV show as I was by this one. And never, with the exception of goddamn motherfucking Skins, has a show had such an impact on me. The problem for me in the beginning was the way Freeform promoted it like "If you love Pretty Little Liars, you're gonna super love The Bold Type!" Because friends, by the time those commercials started airing, I hated Pretty Little Liars — and the myriad ways I felt betrayed by that show filled me up with so much cynicism and frustration I was prepared to never give my heart to another TV series again. Not only is The Bold Type not like Pretty Little Liars; it hurdles the queer and feminist bar I set for Pretty Little Liars like … it wasn't a hurdle at all. Like it was the bare minimum. A little twig on the ground and who's gonna trip over a little twig?
The Bold Type was relentless in dragging Donald Trump. No tip-toeing. The writers clearly and rightly hate him; Jacqueline wouldn't even say his name. "That man," she hissed when talking about him. But the criticism didn't stop at in-episode swipes and jokes. The entire first season grounds its romantic emotion in a storyline between two queer women of color, one of whom is a Muslim immigrant. It's one thing to write cheeky political dialogue into your show. It is entirely another to build a season-long narrative that defies the stereotypes that build the propaganda that's used to persecute and oppress the minorities being targeted by a political party. Kat and Adena's narrative is a clear and conscious decision to to use story — the most powerful thing in the world — to provide hope to those who need it and to fight back against those whose fears inform their bigotry. How often do we even get to see a woman of color in a relationship with another woman of color on TV? They are not an accident. They were made, on purpose, for this exact moment in time.
And that would be enough, but they were more than the idea of a good thing. Aisha Dee made Kat's journey transcendent. By the time she was pedaling that SoulCycle bike and crying about being really truly in love for the first time in her life and trying to summon the courage to go after her girl I was so head over heels for her and Adena I sobbed like a little baby. But in a good way! Every week this show made me cry in a good way! It made me feel hope in a time when hope is the hardest thing to come by.
I could go on and on about this. The Bold Type is why I love stories. I needed it this summer. I actually needed it. It sustained my soul. And Jacqueline: Oh, I want to be her and drink whiskey with her.
---
Kayla, Staff Writer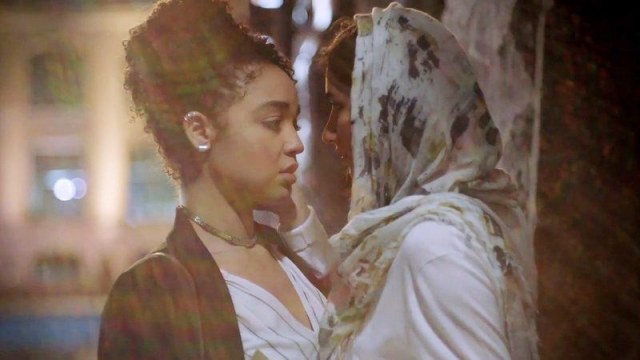 I sort of have a feeling this whole roundtable will just turn into a lot of screaming about The Bold Type in, ahem, bold type. This summer has offered a lot of gems, like Wynonna Earp and Insecure. But The Bold Type stands out as one of the most surprising shows of the summer. It's fun and sexy on the surface but complex and dark just underneath, and the finale is centered on one of the best executed sexual assault storylines I've ever seen on television. I'm sadder about the first season of The Bold Type ending than I am about the actual season of summer ending.
---
Dufrau, Contributor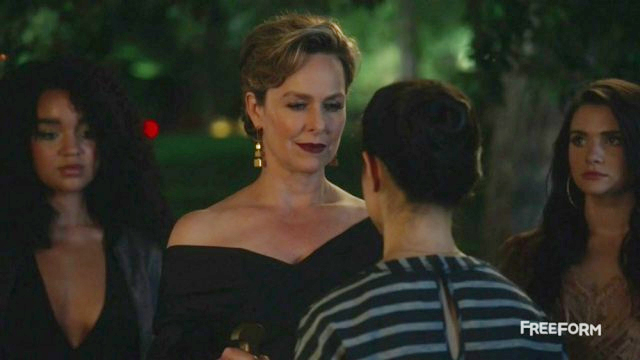 I flinched away from The Bold Type so hard for the first few episodes. There has always been this beautiful foundation, obviously, in the friendship of the main characters. And a continuously startling steadiness in the way Jacqueline pushes and pulls them all, professionally. They all look so ready to be tropes in the promos, but they never are. But every week the show tackles something so timely and on the nose that I get Glee flashbacks and I find myself checking behind the curtains for a Will Schuester trying to bust a rhyme and burst the bubble of hope I feel when I look at these young women doing so well at existing.
But then every week it proves me wrong in my cynicism, and that's never been more true than in the season finale. They addressed sexual assault in a way I have never seen it handled before on television. It wasn't used as an explanation or excuse for behavior, it wasn't used to make a character more sympathetic or to challenge our perception of their "strength." It was, like everything on this show, about chosen family and creating safe spaces for each other. It was Jacqueline trusting Jane to tell her story (and even when she was nitpicking it, she still trusted her enough to assign it to her in the first place.) It was Jacqueline trusting Jane, Kat and Sutton with even knowing her story at all. It was Jacqueline giving Jane's story the personal touch she always demands from others, even knowing Jane had one foot out the door. It was the contrast, unspoken, of a workplace where Jacqueline had not been safe, to this empire she's built where these young women can take risks and fail and succeed and hopefully pull the next generation up behind them.
I am infinitely aware of the fact that almost every professional opportunity or advancement I've been lucky enough to find has come, often in large part but always at least with help, from women who have wanted to see me succeed. Women who have found some measure of success for themselves and have gone out of their way to give me a boost. And that's what I saw in this episode, and in this season. I saw women using what power they had to elevate each other. And it snuck right up on me and made me cry.
---
Nora, Fashion & Beauty Editor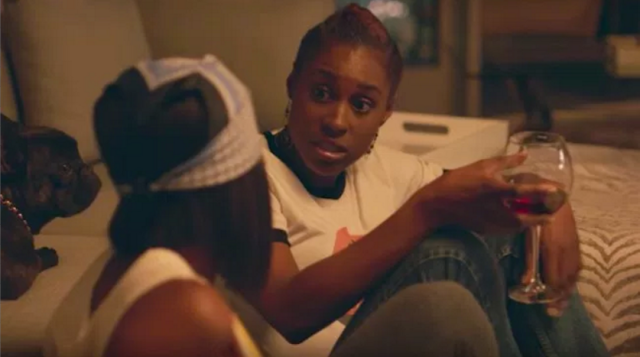 I've stood by my assertion late last year that Insecure was the one thing that could possibly redeem 2016, and the show's second season has vindicated me so far. Insecure has it all— fully formed, fallible, sometimes forgiving, actual human-like characters; a focus on female friendships (Issa Rae and Yvonne Orji's is real); an incredible soundtrack; and all the fashion a girl could ask for (costume designer Ayanna James uses the show as a platform for boosting black-owned brands). It's tough to choose a single favorite character (I alternately adore and can't stand a number of them, which I think is a sign of skillful writing) but I was really glad to see more of Natasha Rothwell as Kelli this season, also. Hopefully next one, in addition to her continued performance as a plus-size woman aware of her sexual power and unafraid to ask for what she wants, she'll get a career/family/other type of storyline, too. And, you know, more queer characters would obviously be a good thing.
---
Riese, Editor-in-Chief
I am a dark soul and therefore I must select The Handmaid's Tale, a visually stunning dystopia that did not provide me with as much Samira Wiley as OITNB has provided for the past few summers, but it was absolutely better than nothing. However I realize it's more of a Spring show than a Summer show, so I guess I could also fall in line and pick The Bold Type. Furthermore, the first half of the first season of Daytime Divas was pretty kickass.
---
Valerie Anne, Social Media Co-Editor and TV Writer
I feel like I SHOULD talk about The Bold Type because I do love it and I've never seen friendship between adult women portrayed so beautifully and realistically on my TV and Kat is perfect and Sutton makes me guffaw and Jacqueline is mommi, and it's definitely no secret that I'm borderline obsessed with Wynonna Earp, but I still have to pick Wynonna Earp if we're going favorite of the summer. Stronger somehow in its second season, Wynonna Earp takes all the feminist badassery of the sci-fi I grew up loving and adds a modern and unique twist. It's hilarious and smart and emotional and it has a queer couple right at the heart of it. I swear I did watch and love other shows this summer (Killjoys! Stitchers! Insecure! The Night Shift! Heck I even mostly liked The Defenders!) but Wynonna Earp truly stood out to me this year. (Though Orphan Black's finale was the best series finale of a show I've seen in a good long time… I LOVE A LOT OF TV OKAY?!)
---
Carmen, Contributor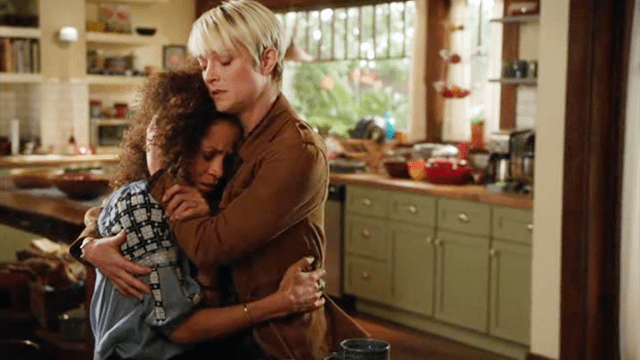 Oh c'mon! This summer had some of the most positive TV watching experiences that I can remember in a long time. Focusing on one show would almost be unfair. So, with that in mind, and in honor of Back To School season which is already upon us- Here are some high school style superlatives to take us out:
Class Favorite: The Bold Type
Ok, let's get this out of the way first. I don't think ANY of us truly saw The Bold Type coming. It swept in like a brush fire and walked away- as far as I'm concerned- the sleeper hit of summer.
The Bold Type came into my life right when I'm in a lot of scary professional transition and trying to figure my out shit after my original life plan didn't quite work as expected. I've drawn so much from Jane, Kat, and Sutton's bravery ("I'm Nora Ephron, Bitch!"). The show's light, but definitely not without levity, take on feminism and community and the workplace has tunneled deep into my heart.
After watching the first episode, I thought to myself: "OMG. It's like The Devil Wears Prada and The Babysitter's Club Movie had a baby." And in that moment I knew, I was already in love.
Most Improved Player: The Fosters
If you walked away from The Fosters in the past few years, I absolutely do not blame you.
But, I also want to inform you that the show you originally fell in love with is desperately trying to find itself again. After some tough talking to from her mothers, Callie is finally starting to value and care for herself. The Moms got MULTIPLE main storyline episodes! Add to that, Mariana joining a Teen Latina Roller Derby league, an incredibly timely storyline about campus protests against white supremacy, and an intimate look at a family affected by DACA immigration policy— it's safe to sayThe Fosters is back where it belongs.
Most Likely to Stay With You Long After You Watch It: Queen Sugar
Queen Sugar continues to be one of the most important pieces of feminist art on television. I don't just mean that in relationship to the phenomenal, detailed acting portrayals in front of the camera. The show's 100% directed by women, with a focus on hiring queer women and women of color. The writing staff is majority women, and women of color, as well. When we talk about the importance of having representation, Queen Sugar is a model of what that reality can look like.
I still miss Nova's girlfriend, but in her absence Queen Sugar's second season has gifted us with one of the best Black Lives Matters storylines I've seen thus far, incredibly important conversations about women's mental health, and one of the strongest depictions of the adult sibling relationships on television.
Best Dressed: Insecure
Nora has already covered this particular aspect of Issa Rae's breakout HBO hit in much better detail than I could, but I absolutely had to give my co-sign.
There is not an outfit or hairstyle worn by Issa this season that I haven't immediately lusted after for my own wardrobe. I have, more than once this summer, paused the tv to google what she was wearing as it was happening. Insecure's costume, hair, and make-up departments must be the hardest working people in show business. It's off the charts.
Most Likely to Cheer You Up: Younger
Yes, there are times when Younger definitely veers towards corny, and sometimes the self-effacing "Oh jeez, millennials!" jokes can be a bit much. But, it's also earnest and loving and centers female friendships in all of the best ways.
The best "bad day cure" that I have found this summer involves pouring the biggest glass of rosé that I can find and binging two or three episodes in a row. If you swap the rosé for a crisp glass of red, I think this self-care strategy should be able to carry you right through fall as well.
---
Rachel, Managing Editor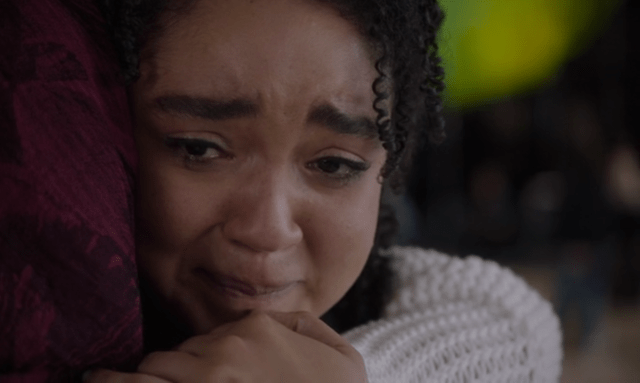 It would not really be exaggerating to say The Bold Type has been my entire summer. It's been a weird and transitional season, and I started it not caring much about this show I kept reading mentions of and that Heather had told us about. It sounded a little young for me and watching stuff about media sometimes drives me crazy because, as Riese put it, "I cannot control my jealousy for their extravagant magazine life." I had heard something about two girls people were shipping, but I assumed it was a subtext thing that would just be frustrating because of course, right?
But a friend convinced me to try catching up on it and when I did I watched the first four episodes all in one night. All the magazine stuff I had thought would drive me crazy was, in fact, ridiculous; some characters (*cough* JANE SLOAN) I could just never really warm up to. But honestly watching the Kadena arc healed my heart and then broke it again in the best way, in ways I hadn't expected. There were things that weren't perfect, for sure — the writing on Kat definitely had her falling into the tiresome trope of "I'm not really queer; it's just this one person," which was frustrating for me. But something about Kat and the way her world got turned upside down resonated with me in a way nothing had before.
On paper her storyline looks a little stock, a little eye-rolling; girl meets girl and feels something she hasn't before, and goes through self-discovery while freaking out internally and leaving the other girl in the lurch more than once in a pretty shitty way. In my humble opinion, though, it was more than that in execution. In part that was because Aisha Dee's perfect face and genuine acting chops could make a high school production of South Pacific Tony-worthy. (I'm obsessed with her now; it's fine I'm fine.) But it also works because Kat's freakouts aren't really about her sexual orientation or Adena's gender; they're about how terrified she is of how strongly she feels, how unprepared she was to want someone that much. She isn't having a crisis over being queer; she's queer and having a crisis over how scary it is to be genuinely all in on someone. I'm so, so over storylines about girls who toy with other women's hearts because there are no stakes for them or they decide "this just isn't me," but this didn't feel that way to me. Instead, it was clear the stakes were enormously high; it felt like genuine terror, the fear of not being sure if you can rise to the challenge of what you're feeling.
Even though our lives don't look all that similar, Kat and her fears and her choices felt like a kind of representation I hadn't had before; I saw me at 17, me at 23, and in some ways me now. Kat's arc is absolutely about coming out to yourself and others, but builds on that to be a larger arc about being brave enough to be vulnerable and to risk trying to have what and who you really want — something I hadn't known I really needed to see a queer girl figuring out.
---
Yvonne, Senior Editor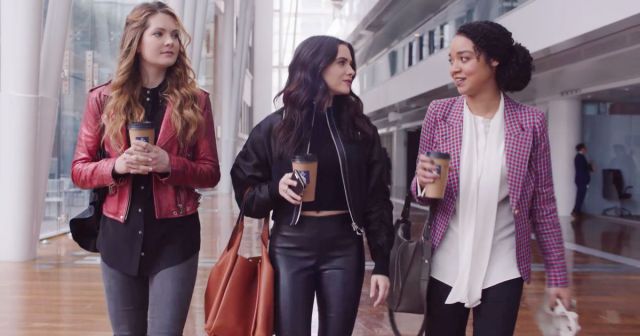 I read a blurb about The Bold Type in Cosmo before it premiered and decided I would watch it because it was about women who worked at a magazine. I'm a sucker for TV shows and movies centered around journalists and set in newsrooms or at magazines. The noble depictions of the media industry are usually dramas about men working tirelessly on a grueling investigation to find out the truth while the not-so noble depictions are usually rom-coms starring women who work at women's magazines and writing vapid fluff. Tbh I thought the Bold Type was gonna be like the latter but I was fully surprised when I watched the first episode earlier this summer and it delivered far more complex storylines and characters than any silly rom-com ever has. It was fresh, it was funny, it was feminist and it was very in the now. Also there was gay stuff in it!
The Bold Type quickly became such a relief to watch over the course of my summer. This summer has been really weird and transitional for me. I've been thinking about my career goals, what I want out of life, and what I'm gonna do to achieve it — all while this goddamn country feels like it's about to burn down to the ground any minute now. It's thrown me off balance and has made me feel like I have no idea what I'm doing but also like I'm about to jump off a cliff and do a bunch of cool shit. I hope.
As much as I think Jane is annoying af and the least likeable character on the show, I think I cringe more when I watch her because I see myself in her. I feel uncomfortable because she exemplifies my worst qualities. She's uptight and a perfectionist and her insecurities get in the way of her potential as a great reporter. I just want to shake her and be like OMG, SHUT UP!
Much like a really on point horoscope, every episode of The Bold Type was exactly what I needed to hear each week. Whether it came directly from Jacqueline, or was a life lesson via a SoulCycle class, I totally needed to hear it too. I was learning alongside Jane, Sutton and Kat. The show somehow always had really great advice for me while I questioned myself and my journey. I enjoyed every last minute of The Bold Type and hope it delivers more fun, more gay stuff and more advice in the second season.
---
Editor's note: Insecure is not a queer show, which we know, but we talk about it all the time amongst ourselves and so it somehow seemed normal for it to be on this list. We realize it's not a queer show, even though it should be.