Lots of AlsoAlsoAlso this week because so many things are happening!
+Did you watch House this week? I hope so, because it had Olivia Wilde making her final appearance as Thirteen. She even got a happy ending: She rode off into the sunset with her silent girlfriend! How great is that!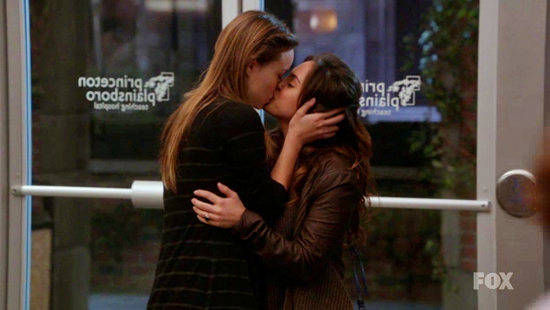 +It's Ally Week! Started by GLSEN, the movement is largely student-run, cropping up in more than 2,000 schools and in all 50 states. The purpose of the week (five days, really) is "for students to organize events that serve to identify, support and celebrate Allies against anti-LGBT language, bullying and harassment in America's schools," which is timely and important and everything it needs to be. The GLSEN website is full of resources, including an ally pledge: "I believe all students, regardless of sexual orientation or gender identity/expression, deserve to feel safe and supported." Ally love is truly the greatest love of all.
+The New York Times held a written debate about whether single-sex education is really fair or worthwhile, and the participants were all over the place. One contributor writes, "When it comes to our kids' educations, stick to what works, like smaller class sizes, more teacher training and greater attention to curriculum," while another argues, "Boys and girls, taken as groups, have much in common but also have different interests, propensities and needs. No sensible person thinks of the Camp Fire Girls or Boy Scouts as gender apartheid." It's fun!
+The Baby Boomer generation might not understand the Occupy Wall Street movement because they had all of the advantages that the young generation is fighting to obtain, one columnist theorizes. He says that they older generation is too far removed from the younger, saying, "What the Clueless Generation finds difficult to comprehend is that literally millions of highly educated and hardworking young Americans—people who followed all the rules and did everything we told them to do—are either severely underemployed or have no jobs of any kind."
+Lemony Snicket has some pithy feelings about Occupy Wall Street, which he has observed from a distance. "Money is like a child—rarely unaccompanied. When it disappears, look to those who were supposed to be keeping an eye on it while you were at the grocery store. You might also look for someone who has a lot of extra children sitting around, with long, suspicious explanations for how they got there."I love him.
+Paula Dean is selling butter-flavored lip balm, y'all.
+International Fisting Day is October 21! We talked about it a little in NSFW Sunday that one time, but you need to be reminded of these things. Started by queer porn stars Jiz Lee and Courtney Trouble, Fisting Day is touted as "an online blogging event … with the intent to celebrate sex positive dialogue about one of our favorite sex acts." That being said, the overall driving force behind the day is a little deeper (heh). "Mainstream porn companies rarely shoot fisting because adult industry lawyers have advised them not to. Fisting appeared on a list of potential triggers for obscenity lawsuits," said Courtney Trouble.
+Identical mailboxes are interesting because they're only identical when they're first installed. As people start to use them, they change, but they always seem to change in the same way. Look, someone made a video about it.
+Women are being told that they have to ride in the back of a public bus in Brooklyn or face harassment from Orthodox Jewish men. According to Jezebel, "The B110 … has a route number, and goes to city bus stops. However, the line is run by a private company under a decades-old agreement with the city, and since the bus is designed to serve the Hasidic community in the area, a board of rabbis sets the rules. They've decreed that women should sit in the back and men should sit in the front to avoid contact between members of the opposite sex." Even so, it's not actually a private bus, so discrimination laws still apply.
+Look, a Google-powered vibrator. Huh. (NSFW, obvs)
+The "Raman King of Hong Kong" did an interview, is amazing and successfully summed up my life in one sentence:  "Always think about ramen. Every waking moment I just contemplate ramen." Amen.
+A menagerie of exotic and dangerous animals escaped (or were released) from a private zoo in Zanseville, Ohio, and law enforcement are working under a shoot-to-kill order, which is sad but necessary, at this point. This series of events will undoubtedly be followed by a series of PSAs telling parents not to buy their children Jumanji games.
+Tegan and Sara Quin are doing a live Q&A session on Twitter starting today at 3 p.m. PST. I know, I know, I know you're just dying to ask them to marry you, so.
+A group of Connecticut high school students walked out of a production of the musical Zanna, Don't, a musical about gay equality and anti-bullying, when two male characters shared an onstage kiss. Also, because the student body was "informed of the gay kiss … ahead of time," some parents pulled their children from school to avoid the show entirely. There may even be an official protest of the production on Friday. This is one of those cases where I feel like the message of the show is being lost on the people how need to hear it most.