Last week, The Advocate invited readers to take part in their annual "Day In Gay America" series, featuring real live homosexuals going about their day and providing photographic evidence.
As part of the project, The Advocate followed Adam Lambert as he prepared for his cover shoot and interview, documenting mundane yet somehow interesting adventures such as pumping gas and downing a wheatgrass shot.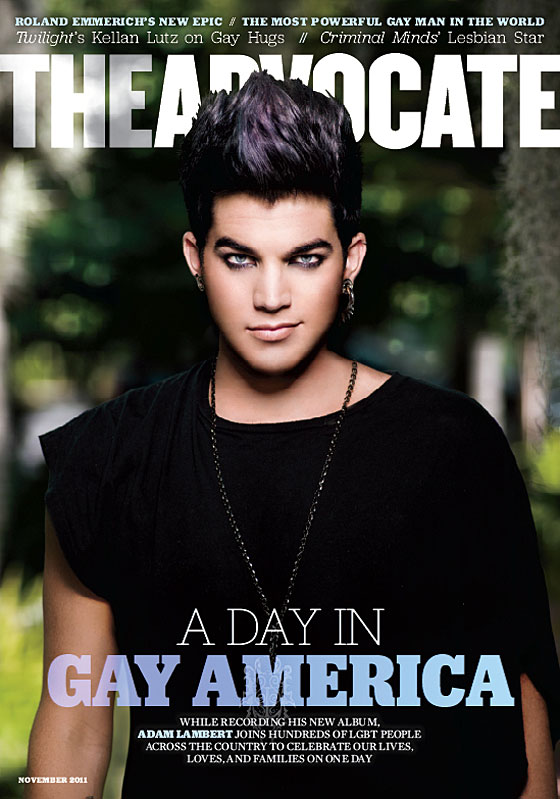 +
In the studio recording his next musical masterpiece
+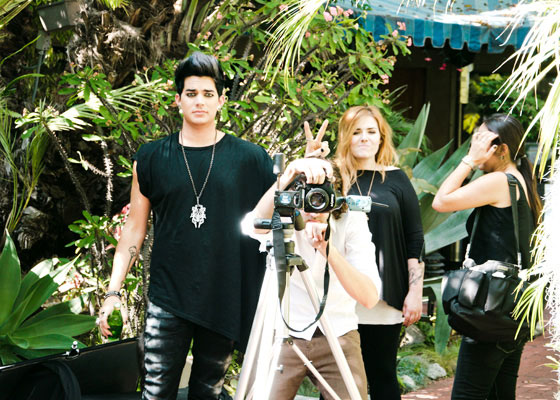 Behind the Scenes of The Advocate photo shoot
+
Interviewing with Advocate Editor in Chief
+
Downing a wheatgrass shot at Real Raw Live juice bar
+
Getting ready for his Advocate closeup

Check out highlights from the rest of the series. Gays, they're just like us!
Corona, Calif.(left) Lee Loyola and wife Ko on a surprise zip-lining date. "She never experienced this before, so I thought this would be a great date!" Loyola says.
Raleigh, N.C. (right) Kathy Bundy and Jill Kidd have hot dogs for lunch with Kathy's mother, Nancy Bundy, at her senior living community. The lunch is for a fund-raising event for Alzheimer's disease.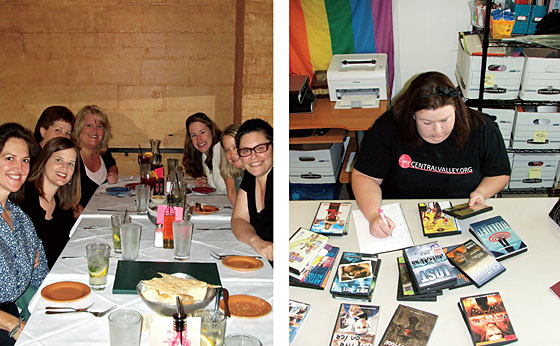 Kenosha, Wis.(left) Stephanie Schroeder (front, right) and three former classmates from Mary D. Bradford High School, class of 1981, dine with their girlfriends at local eatery, Mangia, for a "lezzie power lunch."
Fresno, Calif. (right) Volunteer Jaymi Morgan sorts DVDs donated for the Fresno LGBT Community Center's media lending library. The conservative city had been without an LGBT center for decades until the new center opened in January 2011.
+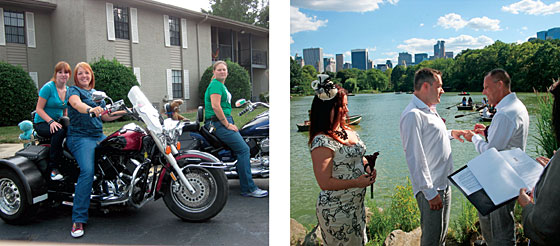 Carrboro, N.C. (left) Biological Sales specialist Lauren with daughter Ariel and Lauren's partner, Angela, getting ready for a ride.
New York City (right) Canadians Ian Mahaffy and Peter Locker wed in Central Park surrounded by happy onlookers. "When the minister announced we were husbands, the entire park exploded with applause," they said.
+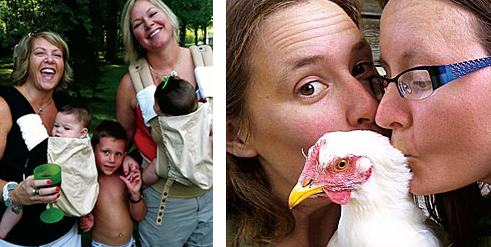 Cleveland Laurie (left) and Betsy Campbell with Henry, 5, and twins Hannah and Finn at a friend's housewarming party. Says Laurie: "This picture­—the laughter, the silliness, and the spontaneity—is a true representation of our beautiful gay family."

Missoula, Mont. (right) Misty Gaubatz and her partner, Kamal Fox, say "good morning" to their hen, Nancy, who showed up in their backyard this spring.