Our gay boyfriend Adam Lambert is featured in The Advocate this week, where he's asked many brand-new, never-before-heard questions like "what was up with that kiss at the American Music Awards?" (which I believed I crowned 'The Best Gay Happening of 2009' in some interview somewhere):
"I kind of asked for it in a way… not everything is so premeditated as people think it is. There are things that just happen, there are things you just do. It was an impulse… [it was] a bit reactionary on my part. I think I was a little overwhelmed with everything. It was me reacting a little bit to that 'you're not gay enough' thing. At that moment for whatever reason I was like, Well, is this gay enough? It was me being a little bit pissed off!"
It's really funny, the impulsive decisions we make in our lives without so much as a second of premeditation that we then spend the rest of our lives retrospectively examining and psychoanalyzing, trying to fit it into some kind of broader narrative that explains how we got here from where we used to be. In any event, he kept on kissing boys in his show.
As I wrote last November, I think Adam's next album, which he discusses at length with The Advocate, will be the one that even hipsters will be forced to like because it's just gonna be that good.
Adam describes it as "a more personal album, driven by vocal singer-songwriter tracks, electrofunk, and synth-pop in a Nine Inch Nails meets George Michael sort of way."
Nine Inch Nails was what I cried/wrote/angsted to in the early 90s and George Michael is what I danced to in the early 90s, so basically it's a gay baby and their Mom is the 90s and she has a lot of feelings and a very "of the now" haircut.
Adam says:
"No matter what the genre is, it's all very personal, even on upbeat, fun tracks. The last album was a little bit more of a fantasy escape…even my image for that last album felt very theatrical and kind of over-the-top and intentionally tacky. I get a kick out of making artistic statements that are kind of ridiculous.
I think it's going to let people underneath my facade a little bit — a self-created and totally admitted facade. I'm trying to convey to my audience that you really can't judge a book by its cover, and there's more to the universe than you can see with your eyes. It's like existential pop."
Described by The Hollywood Reporter as "among the most anticipated releases of 2012," the album has been repeatedly delayed due to Adam's perfectionist nature and other things related to the ever-unfolding "creative process." It's now slated for release "sometime in the first quarter of 2012."
The Advocate also had questions regarding Lambert's position within the industry as an out gay musician. Although two years ago Lambert seemed reluctant to identify as a "gay artist" — understandable, really, as he was essentially the first mainstream male pop star to be out from Day One and that's a scary territory to navigate —  today his beliefs about gay rights and support of LGBT kids overshadow any image-management concerns:
"How many ways can I spell G-A-Y? Everybody knows I'm gay. And the thing that's hard is, where's there balance for me? I'm a musician and I'm writing music. I'm also becoming more involved sociopolitically, I'm getting involved with the Trevor Project and Equality California — these are things that I really do care about. But I do want to maintain a balance. What am I going to be known for in 15 years? I want to be known for my music, that's my art. That's what I'm contributing actively. I think visibility is a great tool, and that's one other reason that I've been so verbal about it, but the irony is that here we are, talking about it."
In mainstream culture, Lambert has found that his sexuality seems to be the primary focus of the conversation about his work, which is new for a guy who'd never been "defined by [his] sexuality."
"All of a sudden it's all about being gay. In some respects a lot of good can come from that. When I was a kid I didn't have that many people to look up to. And if I'd had people in the public eye who were really up-front about it, it probably would have helped me. I feel like this is a conversation [Advocate] readers will understand where I'm coming from, because it's tricky — I don't know what the fuck I'm doing sometimes. Seriously. No one teaches you how to be a gay celebrity."
I feel like he's done a pretty good job so far — and bonus! He's now in love, dating a Finland Big Brother winner with a name like a Nordic God: Sauli Koskinen. He makes Adam feel grounded, inspired, and happy!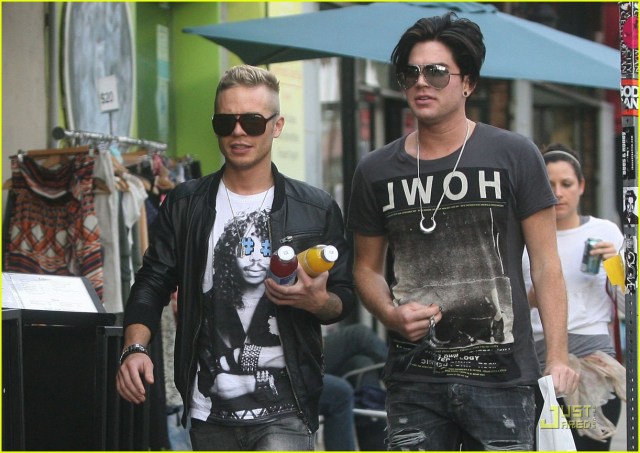 Lambert also talks a little bit about his female fan base, who don't let Adam's sexuality get in the way of their crushes on him. It's an important thing to note when we're talking about "how to be a gay celebrity" — Hollywood mythology has long told its young hotties that coming out will ruin their marketability as a teenage heartthrob, but maybe it doesn't have to be that way anymore.  It's not like many fans realistically envision going steady with their idol, whether he swings that way or not.
Mega-hottie Amber Heard's career has, if anything, gotten better since she came out last year (though coincidentally, I think) — despite the fact that Playboy Club was cancelled, she still had the opportunity to star in a primetime teevee series, and she co-stars in the much-anticipated film Rum Diary, coming out soon. Zachary Quinto, a young male at the peak of what will surely be a storied Hollywood career, came out yesterday and so far the reception has been enormously positive.
Our generation might be setting a different standard for its crushworthy stars whose eminent hunkiness or bombshelldom would have, in prior decades, required an illusion of heterosexuality in order to be properly marketed.
But even aside from questions about commodification or marketability, for people like Adam who grew up in a fairly tolerant world, staying closeted would mean going backwards in the life they'd already built for themselves, would mean covering up the past. Celebrities like Portia de Rossi and Chely Wright grew up in a different world, wherein they were never out to ANYBODY, which made being closeted to the media a natural extension of the privately-established policy that governed every part of their lives.
But now we've got hot young things entering the business as out queer people or coming out shortly thereafter; people like Jonathan Groff and Jessie J and (of course) Adam Lambert. And it's an identity that doesn't define them but it is still a part of what makes them so special to many of their fans.
This was a cute quote:
"I pick up this kind of energy among young people that it might not be the coolest thing to say you like Adam Lambert's music. People don't think that I'm cool. So I love that I have the kids who are like ballsy enough to be like, 'Fuck it, I like Adam's music.' I mean, I am kind of a nerd. I feel like there's a collective eye-roll when it comes to me, in the media and just in general consciousness — with the exception of my amazing Glamberts, my hard-core fans who are the opposite."
And at a time when many Little Monsters are wondering if they still count as weirdos when everybody's doing it, Adam Lambert's hard-core Glamberts have never strayed or doubted the greatness of their American Idol. Can you blame them?