"How are you going to pull it off? How could you ever be pretty enough to be a leading lady? You're not even thin. You don't have long, lean, limbs. You have ordinary looks and an ordinary body. You can't play a leading lady in a movie. You're gay. What a joke! What happens when people find out you're gay and you've fooled them into thinking you're Christian Slater's love interest? How is that going to work? Give it up, you stupid dyke."
– the voice in Portia De Rossi's head when she weighed 89 pounds, from Unbearable Lightness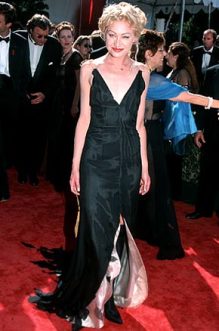 At her thinnest, Portia De Rossi — presently World's Hottest Lesbian and one half of the World's Greatest Lesbian Couple of all time — carried only 82 pounds on her 5'7 frame. She worked out for hours and survived on a diet of 0 – 300 calories a day. On Christmas Day, in Australia, after turning down every meal served on her 14-hour flight and spending her first night home jogging around her hometown, Portia horrified herself by eating "two medium-sized roasted potatoes with rosemary and salt" at dinner. Then her body began shaking, panic set in, and then, this:
"I raised my arms above my head and shook out my hands as if to expel the energy. My cousin and my brother were in the living room, sitting by the Christmas tree, but I no longer cared. In front of my cousin and my brother, I started jumping up and down with my arms above my head and shaking my hands to try to get rid of the calories in the potatoes."
In Chapter 20 of Unbearable Lightness, Portia recounts sprinting laps in the Beverly Center parking lot to burn off the pack of gum she'd chewed on the escalator. In the introduction to Unbearable Lightness, Portia eats six ounces of yogurt, panics about losing control and fitting into her Ally McBeal wardrobe and begins doing lunges while sobbing — "sobbing and lunging — it's got to be at least 30 calories" while yelling at herself: "You're a stupid fat disgusting dyke."
In Chapter 13 of Unbearable Lightness, this Australian Rolling Stone cover debuts…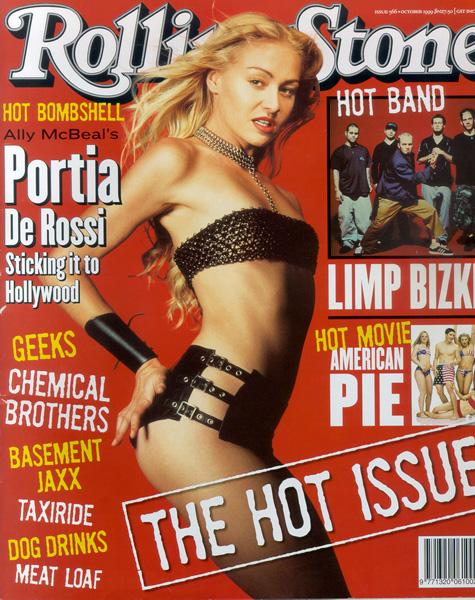 …and Portia worries that"the photo shoot expressed another terrible secret, possibly worse than being gay. It told the world, or at least the people of Australia, that I was fat."
In Chapter 27, Portia remembers filming a movie with Christian Slater at the height of her illness, and how her 25-year-old "wrists, knees and elbows hurt so much it was hard to move them without feeling intense pain." She couldn't lift a cigarette to her mouth. She had to be carried back to her hotel. She didn't eat, she continued working.

Portia attributes her eating disorder to a number of forces but mostly to Hollywood pressure to be thin and the criticism she endured as a 12-year-old in the modeling industry. But it was also about shame:
"[My mother] didn't really know how devastating it is for a parent to say 'I accept [your homosexuality], that's the way it is and it's fine but don't tell anybody." It's a strange message to send somebody. There's a very fine line between being private and being ashamed."
Portia directly addresses how this imposed shame about her sexuality enabled her disorder and how coming out helped her recover. It's another reminder of how non-acceptance can be deadly. Sometimes eating disorders and being closeted complement each other quickly: a talent for concealing your desire for sex/love can translate into a talent for concealing your desire for food.
In Caroline Knapp's book Appetites: Why Women Want she proposes that the "underlying striving" among women today is "the appetite for appetite: a longing to feel safe and secure enough to name one's true appetites and feel worthy and powerful enough to get them satisfied." On disorders of appetite specifically, Knapp writes:
"There's the awareness, sporadic perhaps but familiar to many, that we spend entirely too much time trying to suppress appetite instead of indulging it… there's an ill-defined but persistent feeling that on the whole this is a painful way to live, that it leaves us more anxious than we ought to be, or more depressed, or somehow cheated, as though somewhere along the way our very entitlement to hunger—to want things that feed us and fill us and give us joy—had been stolen."
There's parts of Unbearable Lightness when Portia denies her desires so ambitiously that you might start worrying that Portia is about to die. But you don't, because you saw her today on the teevee. That helps.


Unbearable Lightness is the first book I've read on this amazon kindle I got, so everyone's been interested in touching the kindle and turning its pages and asking me how I like it and, consequently, asking me what I'm reading on it. I say "It's Unbearable Lightness? It's Portia De Rossi's new memoir, it's like about her eating disorder problems, and being gay and like, how it's all mixed up. It's actually oddly really compelling. I dunno. She was really sick. She ate like 300 calories a day. THREE HUNDRED CALORIES A DAY!"
Once the gadget-gawking is over, friends who know me well or who, like me, have also struggled with EDs in the past, all ask the same question: "Is it triggering?"
I've been saying "no, I don't think so," comparing it in my head to the f*cked up trigger-happy headspace induced by Marya Hornbacher's Wasted because Marya described ugly things with such perfect prose that reading it felt like floating without bones. Even Carolyn Knapp's Appetites and Lori Gotlieb's Stick Figure had triggery moments.
But it's possible I'm numb to "triggers" at this point. On top of my own struggles with EDs in my late teens/early twenties, it's like everyone I've ever befriended or dated has an eating disorder. Even though hetero males are the least likely of all demographics to have an ED, I managed to date two who did. Also my Mom was a nutritionist so I grew up surrounded by food/diet information.
Then there's been all the reading and the academic pursuits I've undertaken. Books about body image/the media/self-esteem like The Body Project, The Beauty Myth, Reviving Ophelia, Schoolgirls and Little Girls in Pretty Boxes. I even published an essay in one. I've seen all the TV movies and the movies — A Secret Between Friends, Sharing the Secret, Perfect Body, The Best Little Girl in the World, Thin, Girl Interrupted and Dying to be Perfect.
I  can recount from memory the following anorexia/bulimia TV storylines: Cassie from Skins, Evan Rachel Wood's character in Once & Again, Kelly Taylor on Beverly Hills 90210, Emma on Degrassi: The Next Generation, DJ on Full House, and that girl with the feeding tube and the anorexic twins on Intervention.
After all that — and the countless talk show episodes or BBC/TLC/NBC specials and E! True Hollywood Stories — I still think there's something new here. That surprised me most of all. I think it's her voice. I'm not a big fan of celebrity memoirs so I was surprised by the narrative's ability to be at once intensely personal (resonant), totally alien (non-triggering) and entirely accessible.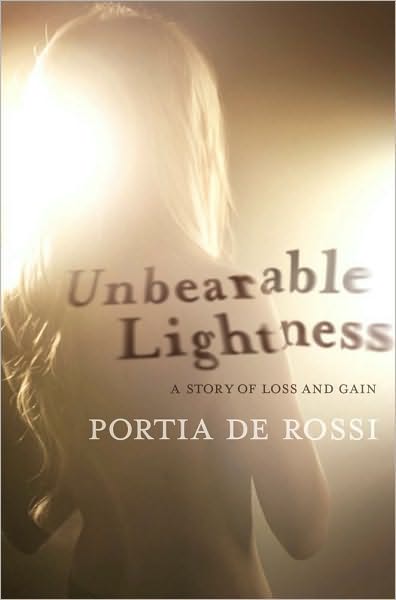 By "alien" I mean that part of what's new here is that this isn't really a story about people like me and you — the emotions are identical, of course. You feel her feelings. But her circumstances are unreachable to the common reader. There's no room, even, for a judgey reader to consider the veracity of the memoirist's self-perception of herself as "fat"/"ugly" because it's Portia F*cking De Rossi. These forces serve to bring the disorder itself into unique, poignant focus as our only common point of reference. Stars are, it turns out, just like us. Just exactly like us.
Portia writes:
"When it's quiet in my head like this, that's when the voice doesn't need to tell me how pathetic I am. I know it in the deepest part of me. When it's quiet like this, that's when I truly hate myself."

Though there have been some excellent lesbian memoirs published (Mean Little Deaf Queer, The Other Side of Paradise, Name all the Animals, Like Me) very few have cracked the bestseller list. Unbearable Lightness already is. Your friends & family are gonna walk into a bookstore and be faced with a book about a BEAUTIFUL STARVING LESBIAN. Not just any beautiful starving lesbian, but a successful actress with a thriving career married to Queen Lesbian Ellen DeGeneres.
The last lesbian memoir to really bank was Rosie O'Donnell's memoir, Find Me, which came out in 2002 when everyone still la-la-la-loved her. (I still do, obvs.) And in an article about the book's upcoming release, Salon.com wrote:
If someone that accessible and brazenly mainstream, so normal and regular, can publicly acknowledge who she is and who she loves, it's time to call Jerry Falwell and tell him it's over, because to marginalize gay people at this point in the game is going to be absurd.

Swap out "Rosie" for "Portia." Maybe it'll actually happen this time? It's been eight years. Right?
Unbearable Lightness contains our impossible dreams, our worst nightmares, our secret shame and our self-destructive tendencies in equal parts, and in the end, everyone lives "happily ever after." Usually lesbians kill themselves at the end of the book/movie, but this girl SURVIVES. FURTHERMORE, when the Prince shows up on his white horse to save the damsel, the Prince is actually a gay lady.
Without ever employing a fairy tale trope or writing the words "fairy tale," Portia De Rossi has written something like a fairy tale — but with more vomiting at the beginning and more out lesbians at the end.
For women of my generation, it's the happy ending to a story we've been watching all our lives: I remember Ellen DeGeneres's coming out and career crash and how that made us feel as homogays. I remember how the hyper-skinny girls of Ally McBeal made us feel as women and I specifically remember Portia because of those infamous photographs.
This story took a turn in a direction more positive than we could've ever predicted and ultimately reading it triggered optimism, of all things. Optimism; the lightest thing of all.
"I met Ellen when I was 168 pounds and she loved me. She didn't see that I was heavy; she only saw the person inside. My two greatest fears, being fat and being gay, when realized, led to my greatest joy."