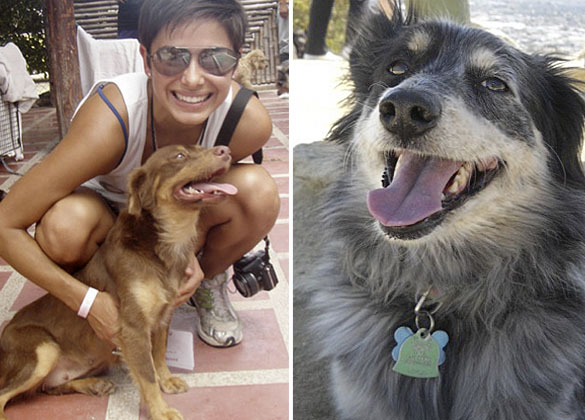 Our very own Nat was in a horrible wreck on Monday, and while she made it out relatively okay, her amazing, adorable dogs are missing! She could use any helping hands in the LA area to look for the puppies, who appear to have fled the scene. Seriously, these dogs are amazing, and Nat absolutely loves them. If you could do anything at all to help, don't hesitate to comment — even if it's just incanting or sending good vibes or something. Please share this, and repost it all over the place like you do already with all the other stuff that isn't about missing puppy dogs.
Here's the story according to the Orange County Register:
"Volunteers will swarm San Clemente on Wednesday in an ongoing effort to find two dogs that fled an accident scene Monday along the I-5.

The crash at 2 p.m. sent three cars flying across the freeway, north of Camino de Estrella. A Volkswagen Bug was sent end over end, injuring the driver, Natalie Garcia, and knocking out all of the car windows.

Garcia's dogs, Maggie and Pistache, ran from the upside-down car.

Garcia, a West Hollywood resident, has enlisted 16 friends to help her comb city streets for her two female dogs.

San Clemente animal control authorities andOrange County Animal Care have been notified to be on the lookout, too.

A caller reported a potential sighting around Avenida Pico, but so far, neither dog has been seen.

Maggie is a 6-year-old blue heeler-Shelty mix and is mostly grey with black ears.

Pistache is about 2 years old and recently had a litter of pups. She was rescued from Mexico about 6 weeks ago by Garcia."
UPDATE: Pistache, the doggie on the left above is home! Still on the hunt for Maggie!