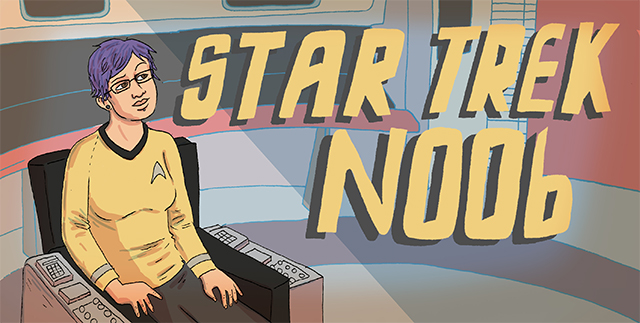 Before you read on, know that this is a continuation of last week's! You can watch along with the second part right here.
Quick recap recap, though: Spock's facing the death penalty! Kirk might be jobless! It's hard to imagine what the hell James T. Kirk would do would even do if he wasn't captaining the Enterprise…
Yeah, that doesn't seem like it would work out.
---
Your Fantasies Are on the Record
The court martial officers continue to watch footage from Episode 1: The Cage, which explains how the Talosians can make your deepest, darkest desires reality.
Considering how embarrassing this could be for Captain Pike, I feel really feel bad for him. Can you imagine Starfleet officers watching your fantasies come true on a widescreen during a hearing, as you sit by unable to move or communicate? Also, WTF future, you need better assistive devices.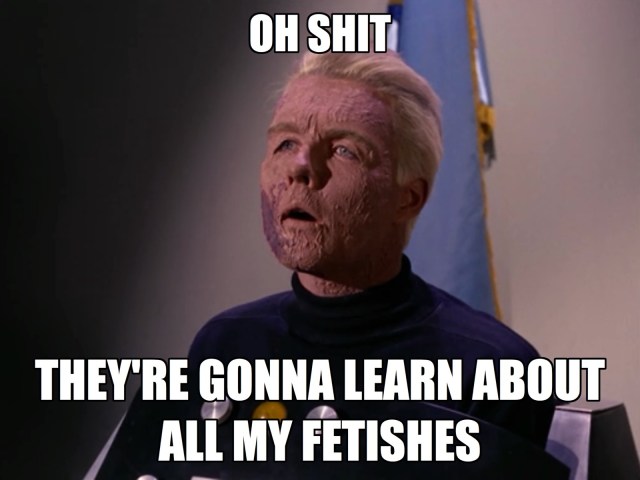 Mendez is shocked when he realizes that the Talosians imprisoned Captain Pike to create a human zoo. "You were captured as breeding stock?" he asks, incredulously.
Yeah. I remember being pretty shocked back in Ep. One too!
---
Spock Gets Voted off the Island
The Talosian streaming video gets cut off, maybe because Kirk forgot to pay their Comcast bill. Since Spock refuses to provide any other explanation besides the footage, Mendez immediately declares Spock GUILTY of mutiny!
Then Pike and Kirk follow up with GUILTY votes too.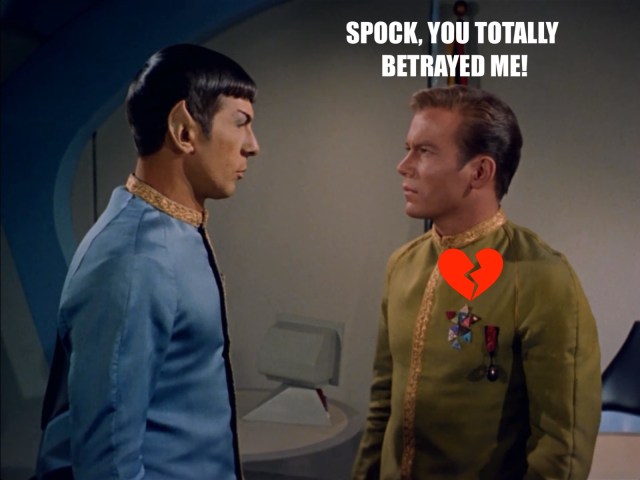 I was hoping that this verdict would elicit some kinda intense emotional response from Spock. You know, like this freaky smile from the first episode? And all those adorable micro-smiles he tries to repress?
But Spock keeps his poker face on, explaining that the Enterprise is now close enough to the planet that the Talosians have control of the ship!
The video stream kicks back up, revealing that the Talosians are able to help humans live with the illusions of idealized lives and bodies — like Vina from Ep 1, who was disfigured by her surgery.
And then we're all hit by a whammy. Kirk turns to consult with Mendez, who turns out be an illusion, OMG!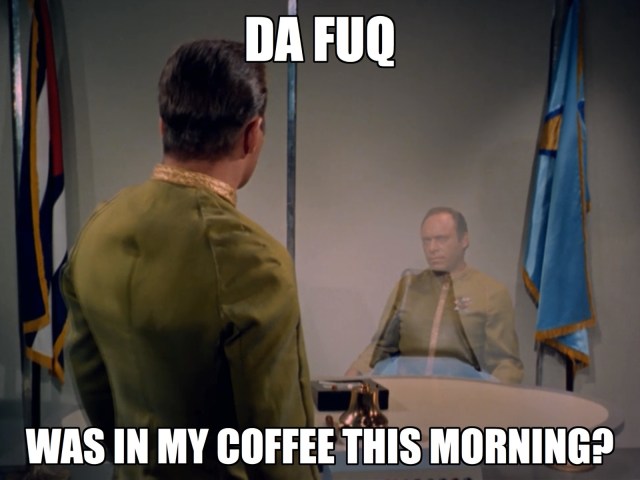 ---
Trollin' Talosians
A Talosian appears on screen and explains to Kirk:
"It was thought that the fiction of a court martial would prevent you from too soon gaining control over your vessel. Captain Pike is welcome to spend the rest of his life with us unfettered by his physical body."
The Talosians are all like: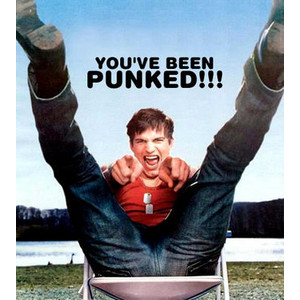 The Real Mendez signals them on the radio. Turns out he's actually still on Starbase 11, watching the Talosian video feed from his office. He announces that the law forbidding officers from visiting Talos is suspended temporarily. Real Mendez removes all charges against Spock and encourages Kirk to proceed to the planet.
So now Spock is off the hook for this.
---
Pike's Virtual Reality Adventure
Kirk and Spock ask Captain Pike if he'd like to shove off on Talos and live in a world of pure imagination. He beeps once for "Yes," and Spock gets ready to drop him off on Talos.
Hold up, this makes me wonder — is this a special exception? What stops Starfleet from tossing other injured officers onto this planet?
Before Spock beams down with Pike, Kirk says, "Mister Spock, when you're finished, please come back and see me. I want to talk to you. This regret table tendency you've been showing lately towards flagrant emotionalism…"
Whoa, things in this relationship are getting serious.
Spock brushes Kirk off, saying that his actions have been logical all along. I can just feel Spock smirking on the inside.
The Talosians stream over some final footage. It shows Captain Pike, as his younger self, climbing into the Talosian cave hand-in-hand with Vina, the woman trapped there. They both seem content.
I'm so conflicted about this ending.
I get that Spock didn't want his friend to suffer, but was it really better to toss Pike into a world of illusion? Also how did they arrange all of this with the Talosians in the first place, if communicating with them was illegal? Also, what does this ending say about the show's conception of disability?
---
Growing up, I had never watched a Star Trek episode all the way through. My family members weren't huge sci-fi fans, and they'd flip the channel whenever Star Trek came on. Now I am embarking on an epic nerd rite of passage, chronicling my reactions to every episode of Star Trek: The Original Series (TOS).
Header by Rory Midhani