This week on The Real World: Ex-Plosion, sh*t got real for Ari.
The episode starts out with Lauren's pregnancy, since we've all been waiting to see how it ex-plodes. As she talks to Cory, an unbelievably loud voice in his head begins to echo, "me, me, me, me, me." Suddenly, all he can think about is himself. It is unclear if he finds this as repulsive about himself as the rest of the world does. Lauren attempts to mute this voice with a call to action…
…but it fails.
Jenny deals with her own problems when some random dude she sat in the hot tub with in Episode 1 comes with flowers for her. She kicks him out while Brian's getting his nose powdered in an interview and then when she tells Brian, he fails to fly into a homicidal rage. For this, he gets a cookie.
Ari, being the only actual real person on the damn show, spends her afternoon consoling Lauren for, y'know, being with (unexpected and inconvenient) child. I personally wonder why nobody is talking about abortion. But I digress. Let's just get to the hug and stuff.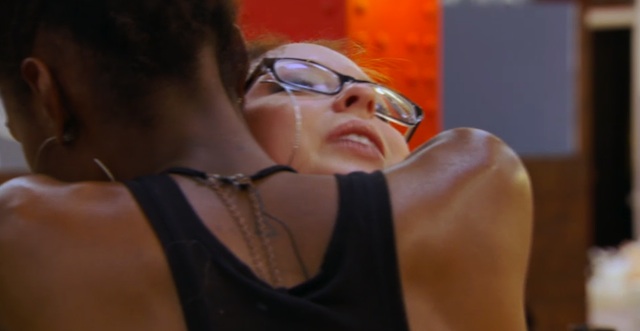 Cory continues to talk about himself.
THEN, LIKE LIGHT THROUGH YONDER WINDOW BREAKS, LESBIANS! MAKING THE FUCK OUT! HALLELU. At this point, it feels like soft-core porn compared to the distraught lives of everyone else in the godforsaken Real World house.
Ari's clearly trying to get it in for a hot minute, because she makes food. We all know how that went last time.
That ends really quickly though, since everyone is going out.
And I mean everyone.
The night ends early when Cory acts like a dick to Lauren, and then we're back to square one: his dumb feelings.
You gotta feel bad for a dude, though, when his ex-but-kinda-still-just-his girlfriend gets pregnant with some other guy's kid and then BAM he is crying on the phone to his grandma.
In moments like these, we're all especially thankful for Ari's scantily-clad existence in the house.
Later on, after Jenny and Brian make fifth anniversary brownies and Cory's done wiping his tears, Ari and Jamie go thrifting.
While they're popping tags, Ari talks about how Ashley wants her to be more femme, despite the fact that she is werqin it girl. 
Later on, in the house, she finds out everyone on the Internet is talking about "the trans roommate on The Real World." And she finds out it's her, which is a bummer for the trans* population who wanted to see themselves on The Real World. And also for Ari's gender presentation and identity, which apparently nobody in the world seems to understand. Not even Ashley.
Shortly after this entire genderf*ck, Lauren makes the best decision ever. She leaves.
Back at the house, Ari's getting ready to go out. Ashley's having conveniently-timed "gender feelings subplot" emotions about Ari's clothes.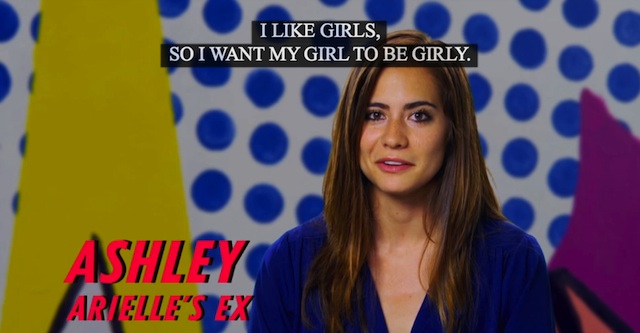 This subplot continues into the night, probably because of that thing where you're fixated on something, and then you start drinking, and you just think about it more and more and more and more…
…and then you kind of explode. Or, in Ari's case, you confess: I HAVE A MASCULINE SIDE. Ashley gets pissed at the notion that Ari owns menswear and/or never told her she wanted to dress that way, despite the fact that the last five minutes were a fast-speed ride through masculine-presenting lesbian hell and she was driving the locomotive train.
The most epic Battle of the Wardrobes begins.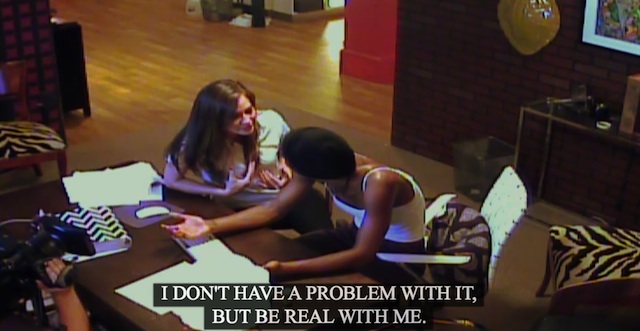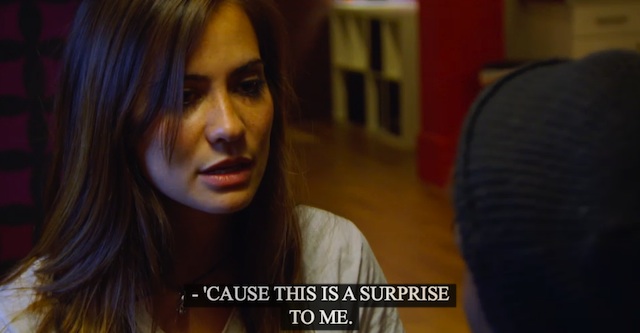 In the end, it turns out the entire situation was seemingly a huge misunderstanding propagated by a shitty producer who fucks with your life so people will watch their dying show. SURPRISE! Either that, or someone's a total liar.
And once you know that you're like ugh, girl, I love you and your lesbian romance so hard right now.
In keeping with the gender subplot, Ari then invites a bunch of queer and trans* folks over to the house to expand her own mind and process her reaction to being perceived as trans* by strangers on the Internet. In the process, a lot of learning goes down.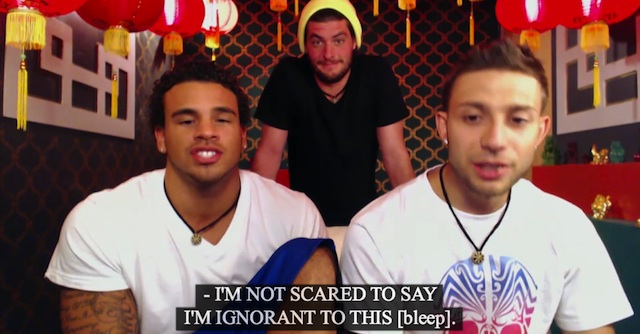 In the end, Ari's friends from her old life and her friends from her new abode agree: it doesn't matter what the f*ck the world thinks you are. Just do you.
And do it loud.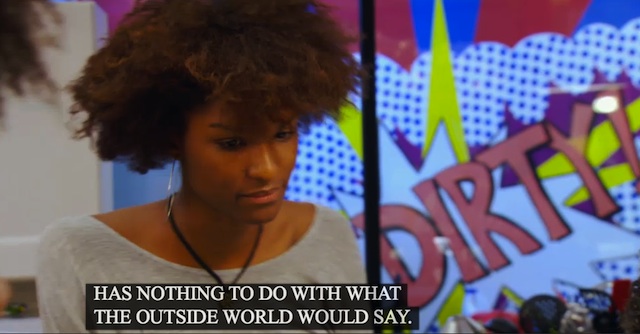 Let's see what questions you had for Ari Sniffles Fitz this week.
This Week's #AutoAri Q&A
On Gender
https://twitter.com/lNHlBlTlONS/status/438880498606411776
First reaction was not the best, I just didn't want the world to think I was anything other than who I've worked so hard to be: Ari.
After that first knee-jerk reaction, I realized how wrong I was, how uninformed I was and how the issue was far bigger than me.
That's why I called on my friends to talk to me, educate me and open my (and now the rest of the world) to trans issues.
https://twitter.com/Peters20Sands/status/438881411324334080
I think the point here is I don't want to decide. I like both, I do both and I don't feel the need to pick a "side." The fluidity of gender expression is me, and I'm so lucky to live in a time where it don't have to make a choice.
Ok #AutoAri How do you deal or confront with family that constantly question your sexuality?

— Zion McThomas (@NeoRasta57821) February 27, 2014
Sigh, great question. I have a family that is incredibly supportive of me regardless of who I love. If I didn't have that, I'd find community elsewhere. Sometimes it's necessary to "build family" with those that aren't related to you, but love you like they are.
On Film
Ari, What made you want to be a filmmaker? #AutoAri

— Zion McThomas (@NeoRasta57821) February 27, 2014
I've always been a storyteller. Film allows me to tell stories in the most visceral way possible: visually. I just love the opportunity to take people to a different world.
#AutoAri What is your ideal film to make? Your dream film?

— ItsStaci (@ItsStaci) February 27, 2014
ECK! Beautiful question and so tough. My dream film would be something that is the most challenging and making it successful.
@itsarifitz #AutoAri my earlier q asking (if you could direct any of the weeknds videos which song. Where. How. Details. Play by play)

— Sasha (@Sashaw101) February 27, 2014
Okay so this one is so tough… I'd say "Initation", it's the most uncomfortable and off-putting.
Although the actual lyrics are gross, I like the idea of initiations in horror. I immediately think Fight Club…. we follow a girl on her way to a tiny room where the initiation is held, she enters the circle of women, only thing is there's really no space for her and we learn why.
Whadya think?
https://twitter.com/countrylove_23/status/438920403084247041
So happy you're into The Anniversary! Actually filming a prequel now + we're wrapping up the finishing touches on the film we shot in the Real World house. Follow me on Twitter (@itsarifitz), I'll be announcing there soon.
On Lurrve
https://twitter.com/Peters20Sands/status/438881775163416576
Of course it upset me. I could never date someone that isn't comfortable with all parts of me. That said… Ashley and I have been together for a long time and I think we've learned to handle issues like these – especially where they're just miscommunication like it was.
We love each other. We start from there and we move forward.
Are you and Ashley okay now? @itsarifitz like is she okay with the way you dress ? #AutoAri

— ⭕️ CIRCLES 1.17 ⭕️ (@WhenInRome_18) February 27, 2014
Haha, yeah. You saw a drunken fight from weeks ago. We've been through so much crazy that something like that is easily squashed by the morning over dim sum. Ashley loves me in whatever, I think she just understands how important the way I dress is to me now.
https://twitter.com/countrylove_23/status/438891188033044480
Aww thank you! You know, Ashley and I are just loving life and each other right now… she's pretty perfect though.
On Ari

If you could describe yourself in 3 words what would they be? #AutoAri

— Jasmine☁⚡☯ (@jasmine__aac) February 27, 2014

Filmmaker. Model. Pusher.
or even better… I am Ari.
#AutoAri What's your favorite Hobby? :D btw love ya!

— bully whites 2020 (@lexational) February 27, 2014

At this point filmmaking (vimeo.com/itsarifitz) … can't wait until it's more than a hobby. Outside of that, dancing love!
@itsarifitz what advice do you have for someone who isn't comfortable in their own skin? #AutoAri

— Sammy-Jo K (@sammyshred) February 27, 2014
Spend more time getting to know yourself and never… ever… apologize for the person you are. There's no one else out there like you.
https://twitter.com/countrylove_23/status/438897103046074369
A) thank you!! and B) I think I just try my best to put judgement aside when dealing with others because I've done more than my fair share of stupid. At the end of the day, we're all just trying to love our best lives and I believe that's true with everyone.
@itsarifitz how does all that hair fit into a beanie?? Haha #AutoAri

— Amy (@Rauhl_JDB) February 27, 2014

Haha! You know I'm just as surprised by it as you are.
On "The 'Real' World"
#AutoAri what's the biggest misconception of being on #therealworldexplosion ? @itsarifitz

— ILLY MUSE (@iLLysWeb) February 27, 2014
Biggest misconception is definitely were just 20-something's who get paid a ton of money to act a fool. That's not the case, we're just living our lives with the addition of cameras.
#AutoAri who has the bigger ego Brian or Corey? Lol jk….or am I?!! @itsarifitz

— ILLY MUSE (@iLLysWeb) February 27, 2014
You're not joking! Great question… I'd say I love me some Cory but he has the bigger ego for sure.
Can you describe The Real World experience in just three words ?? #AutoAri

— a (@Captain_Nibbles) February 27, 2014
Bat. Shit. Crazy.
https://twitter.com/bcraft21/status/438889365021130752
My roommate's support, but even more their openness to talking about their own experiences and need for education, meant the world to me.
@itsarifitz So you guys don't have to do jobs on this season ? #AutoAri

— Elana Cepas :) (@elanacepas) February 27, 2014
Ashley worked full-time and I was always doing runway shows, catalog work, etc from my agency. Later, Jenny started working as a go-go dancer. Overall, most of us went broke partying every night and not really working.
Was that our 5 second ration of @itsarifitz right there, then? #RealWorldExPlosion #AutoAri

— iTelly (@TellyRedux) February 27, 2014
… I hope not! Have no clue what's to come!
Our Winner
Every week, Ari will pick her fave question out of the bunch and we will reward them with lavish prizes. This week's winner, @NeoRasta, will get STICKERS!
Get Into It!
Each week, you can tune in to new episodes of The Real World and tweet your questions for Ari Fitz, raging queer, using the hashtag #AutoAri. ( We can only guarantee that tweets sent during the initial screenings of each episode will be included (10PM EST/PST and 9PM CST) in each week's roundup.) Whether you're curious about her films, what she's eating in the fifth scene, the music that hot tub montage was set to, or how she gets her hair to look damn good, feel free to dig in and pop a question. Within 48 hours of the episode, Ari will answer every single one here on Autostraddle.
In the meantime, you can follow Ari and Autostraddle on Twitter. (And me!)