BULLYING:
Boo, a 5-year-old boy in preschool, likes Scooby Doo in general and Daphne in particular and decided he wanted to be Daphne for Halloween. So he was. Then he showed up to preschool and adults made fun of them because seriously the world is messed up sometimes.
Earlier this week, his mother posted the following on her blog:
"We walk down the hall to where his classroom is.
And that's where things went wrong. Two mothers went wide-eyed and made faces as if they smelled decomp. And I realize that my son is seeing the same thing I am. So I say, "Doesn't he look great?" And Mom A says in disgust, "Did he ask to be that?!" I say that he sure did as Halloween is the time of year that you can be whatever it is that you want to be. They continue with their nosy, probing questions as to how that was an option and didn't I try to talk him out of it. Mom B mostly just stood there in shock  and dismay.
And then Mom C approaches. She had been in the main room, saw us walk in, and followed us down the hall to let me know her thoughts. And they were that I should never have 'allowed' this and thank God it wasn't next year when he was in Kindergarten since I would have had to put my foot down and 'forbidden' it. To which I calmly replied that I would do no such thing and couldn't imagine what she was talking about. She continued on and on about how mean children could be and how he would be ridiculed.
My response to that: The only people that seem to have a problem with it is their mothers."
I highly recommend the rest of the post, because it is awesome. And, as she points out, the point is not whether or not her kid is gay, or transgender, or not, the point is that people are dying all the time as a result of bullying and when it's directed at a five-year-old in a Halloween costume by adult women it's strikingly clear that any solution needs to be all-inclusive (note also that people his age weren't bothered; only their parents).
Also, THIS: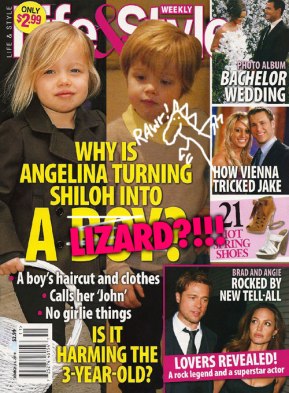 If you think that me allowing my son to be a female character for Halloween is somehow going to 'make' him gay then you are an idiot. Firstly, what a ridiculous concept. Secondly, if my son is gay, OK. I will love him no less. Thirdly, I am not worried that your son will grow up to be an actual ninja so back off.
This incident is an example of a little something we like to call Shiloh Panic. The Editors would like to take a moment to define "Shiloh Panic," named after Shiloh Jolie-Pitt, the royal offspring of Angelina Jolie and Brad Pitt, who are contributing to the moral degradation of this country by allowing their daughter to wear whatever she wants, which is alarming. Apparently.
+
SHILOH PANIC:
Shiloh Panic is a larger commentary on societal moral panic

Shiloh Panic is every moral panic

Shiloh Panic is our society's endless fixation with the regulation and suppression of sexuality and identity and originality. it's the screaming burning blazing honest self, slamming up against the cold steel of a cruel, aged, bitter, stifled world.
+
Got it? Good.
EDUCATION:
The Ottawa-Carleton district school board will be distributing a survey to all students that will ask about students' home life, religious affiliation, and sexual orientation. Students from junior kindergarten to Grade 6 will have the survey completed by their parents, while Grades 7 to 12 will fill it out on their own. According to the board, the results will help with decision-making on programs and services. According to parents, the board doesn't need to know about whether or not mom has a job and it's annoying they have to write the school specifically to remove their child from the program. The survey itself features questions on family structure (for younger grades), including non-traditional family structure, and sexual orientation (for older grades), featuring eight potential answers in addition to a "prefer not to disclose" option. According to Lloyd McKell, the senior advisor to the director of education in Toronto, students are far more open to the survey than their parents: "They take these questions much more in stride than many of the adults in the community."
A similar survey was conducted in Toronto several years ago and was completed by the majority of students and parents. (@advocate)
IT GETS BETTER:
Except for Rick Mercer, who said that it would get better way back in 2007, there have not been a lot of Canadians hoping on the video bandwagon. Until now. The first seven minutes or so are pretty depressing but then things get better, appropriately. (@joemygod)