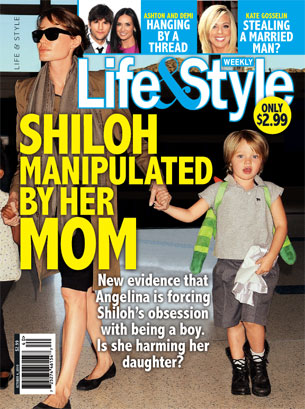 Late-Night "Tomorrow's News" G-Chat between editors Riese & Laneia:
Riese: [Link to a terrible tragic devastating story that is too depressing to address here but will be addressed in a different post later.]
Laneia: Riese. What do you want me to say about this.
Riese: Wait I found something worse.
Laneia: No. Stop.
Riese: ANGELINA JOLIE IS MANIPULATING SHILOH INTO BECOMING A BOY! It's true. It's on the cover of a magazine.
Laneia: I don't like this world
Riese: I am looking at it right now with my own eyes
Laneia: I want to fold it up. I am done with this
Riese: Also, Shiloh is wearing her Doc Martens the way I like to wear mine and Shiloh's backpack appears to be some sort of frog/lizard situation. I want one.
Laneia: I want to hide
Riese: Me too, I'm disgusted. I don't want to live in a world where Angelina Jolie is forcing Shiloh to wear BOYS BOXER SHORTS, she is probably going to give Shiloh a strap-on for Christmas.
Laneia: Nope. Riese.
Riese: What. Are you putting [your son] Eli to bed in a tutu?
Laneia: I am taking another pill. I am worried for me. I think I can't function.
Riese: BOY'S BOXER SHORTS LANEIA. BOYS BOXER SHORTS.
Laneia: i can't write about this I want to die.
So basically here's the deal: Shiloh is, once again, rocking the sporty duds while hanging out with her smokin' hot philanthropic super-talented bisexual Mom Angelina Jolie and the numbfucks at Life & Style have only one thing to say about this outfit/situation, and it's not "where did she get that backpack?"
That's right, it's time for GENDER PANIC! You know, that thing that people feel when they observe others eschewing the gender binary and/or blithley bending the laws of prescribed gendered behavior without any consideration for the conservative, useless, outdated pedagogy to which the Panickers cling so dearly. The first knight of the apocalypse will probably be Joan of Arc.
Here's the big scoop from Life & Style, which is almost definitely completely bullshit:
While Angelina Jolie has always insisted she has nothing to do with daughter Shiloh's controversial boyish behavior, insiders close to the family tell Life & Style that Angelina's actually the one dressing Shiloh like a tomboy. "She's been dressing Shiloh in her older brother Maddox's hand-me-downs, including making her wear boys' boxer shorts, for years," the insider tells Life & Style.
"It definitely doesn't look like she dressed herself," Children's stylist Zoey Washington tells Life & Style, referring to Shiloh's trendy ensemble on Sept. 14 at LAX–an Old Navy Pique Polo boys' top, shorts brother Maddox wore in 2007 and unlaced combat boots. "Maybe her mom had her stylist throw the look together."
"Angelina has an idea that each child should have a specific personality that she picked out for them practically at birth," the insider says. "She's the tomboy." In fact, she even gave her daughter a boy's name. Of Hebrew origin, Shiloh has meanings including "his gift" and "he who is to be sent" and is traditionally used for boys. And she's come to prefer boys' names: Shiloh asks to be called John or Peter, Brad once revealed. And a second insider tells Life & Style she's added the name Gregory to her list.
You may remember in February, when Shiloh Jolie-Pitt's Tomboy Look Scared Media Just Like Ours Scared Our Grandparents and we all admired/felt jealous of Shiloh's cute outfits and had flashbacks to the fashion-forward gender-neutral duds we sported in our youths.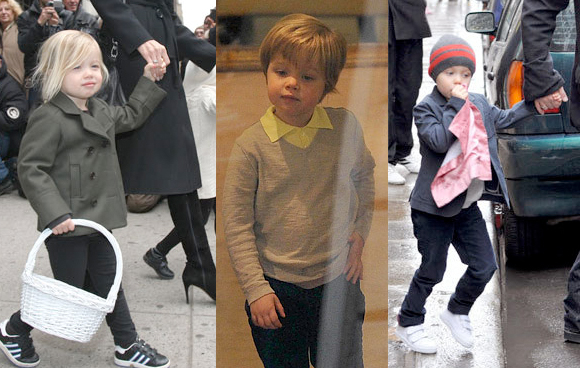 On March 2nd, we asked Life & Style's Shiloh Jolie-Pitt Tomboy-Panic Cover is Borderline Offensive: Should We Care?:
At what point does media panic regarding Shiloh's Radical Androgynous Haircut cross over into Officially Offensive Territory? Do we care that Life & Style's magazine cover, which screams WHY IS ANGELINA TURNING SHILOH INTO A BOY? (our number one feeling on this topic is "we want her sneakers, we wish our parents had given us such a rad tomboy wardrobe") is… something-phobic? Is it transphobic? Peter-Panaphobic? Homophobic? Awesomephobic? We couldn't really care less that it's the child of our Lady Angelina Jolie, this is inappropriate language to use when talking about anyone's child!
We felt very vindicated when a mere two days later, we turned out to be rightfully offended:
Gawker hates it, Bitch hates it, Salon.com hates it, and — and!!! — GLAAD HATES IT! Holler!
In response to all of those criticisms, the best "statement" Life & Style could come up with was:
"Life & Style's cover story 'Why Is Angelina Turning Shiloh Into a Boy?' presents experts speaking from all viewpoints in the debate over Shiloh's new look, which immediately ignited controversy all across the media. The feature provides our readers with a comprehensive look inside one of the biggest entertainment news stories right now."
WHAT A ZINGER! Do they have Jenny Craig-fueled robots over there who just spew out that kind of bullshit? I mean just wait 'til Jolie starts binding Shiloh's breasts and forcing her to take steroids, watch hockey games and say things like "let's get a beer, bro" while punching Brad on the shoulder, etc.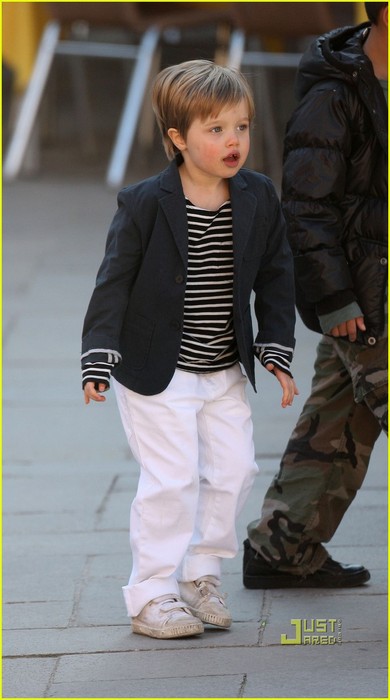 Angelina has spoken about Shiloh's style, which is probably her favorite interview topic by now:
"It's not my choice. I have a very strong willed four-year-old girl who tells me what she wants to wear and I let her be who she is. People look at kids and think they should wear certain types of clothes; I think children should wear what they want and express themselves, so we give them different options of things. Zahara dresses very much like a girl, very pink and flowery, very feminine. Shiloh cried and said, 'Please cut my hair off, I don't want to have long hair.' I'm not going to leave it long because somebody thinks I should,wp_postsshe says "I want to do what's in her head and what's in her heart is to dress like that. I think it's beautiful."
[Shiloh dresses] "like a little dude. Shiloh, we feel, has Montenegro style. It's how people dress there. She likes tracksuits, she likes (regular) suits. She likes to dress like a boy. She wants to be a boy. So we had to cut her hair. She likes to wear boys' everything. She thinks she's one of the brothers."
Oh and since this is about gender issues, Life & Style has tracked down their favorite gender-bender, Thomas Beatie, the "pregnant man," to give his opinion about Shiloh. Because when your magazine is going to promote transphobia, it's always good to talk to an actual transman about it first and have him check yourself before you wreck yourself and find out if Angelina is performing gender reassignment surgery in the basement:
"When you're a child, you don't really have a solid grasp of what male and female are," Thomas tells Life & Style. "Unless Shiloh actually identifies as being male, she is not transgender. Gender is largely a state of mind, and I'm sure if asked, she would identify herself as a little girl."
Only at age 10, he says, did he begin to realize that he thought of himself as a boy — which is very different from just being a tomboy.
The important thing, he notes, is that parents should never try to force a gender identity on a child, as insiders close to the family tell Life & Style Angie's doing to Shiloh. "There was a point in my teenage years when my father pushed me toward modeling," he says with a laugh. "I think it might have backfired!"
Wow! I bet that Beatie is thrilled to see "as insiders close to the family tell Life & Style Angie's doing to Shiloh." Lest they actually treat Beatie properly or anything hahaha that would be so weird!
In conclusion, Angelina Jolie remains one of our favorite humans and not just because we imagine how much Jenny Shimizu enjoyed having those lips on Jolie's you-know-what, but because she lets Shiloh be who she is: a tomboy fashion icon who we'd love to climb trees with.
But don't worry. Shiloh is prepared to handle you Life and "Style" people, 'cause girlfriend does not travel without protection: