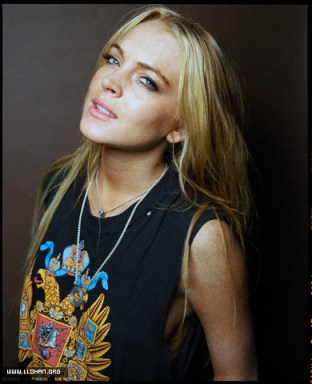 When Lindsay Lohan failed her drug test last week and tabloids began speculating about her potential return to jail and/or rehab, Gawker headlined the story "Lindsay Lohan Failed Her Drug Test, Is Possibly the Most Pathetic Person Alive." The ensuing excerpt asked: "Seriously, what the fuck is wrong with this girl? If prison and rehab didn't help, she's doomed."
"What the f*ck is wrong with this girl?"
Really?
Isn't it becoming kind of obvious?
Drug addiction.
That's what's "wrong" with "this girl."
Only an addict would take drugs despite knowing the repercussion would be a failed drug test that would land her back in jail. Only an addict would party the night away at the Beverly Hills Hotel directly after fessing up to fucking up. Because when you're skating on thin ice, you may as well snort it.
Perhaps you've seen the 2o07 photos allegedly showing Lindsay shooting heroin that surfaced yesterday and maybe they gave you a feeling. Maybe you thought she looked "sick," not "pathetic." Even if the photos aren't real, Lindsay has admitted that she has a drug problem. It's not a secret.
The past week has provided an onslaught of Lindsay-related news as her post-rehab life has gradually fallen apart: Lohan was re-jailed and was facing 28 days imprisonment while awaiting the October 22nd hearing to address her failed drug test. After 14 hours in jail, she was let out on $300,000 bail with a SCRAM bracelet. She may or may not enter rehab voluntarily very soon, and so on.
Celebrity culture isn't my thing so I hadn't followed Lindsay Lohan's trials & tribulations until now, when the cruelty became too great to ignore. Not because she's "America's favorite train wreck," but because her train looks really familiar to me.
Does Lindsay really "want" to get better? I don't know, nobody knows that but Lindsay, and certainly Perez Hilton doesn't — although that doesn't stop him from scrawling "LOST CAUSE" over a LiLo photograph.
We act like kicking a drug addiction is easy. It isn't easy.
I know this, because I've been there.
My name is [redacted] and I am a drug addict and if Lindsay Lohan is the 'most pathetic person alive' then I must come in at a close second.
There are no DUI charges on my record, but I've been in and out of rehab four times during the last six years.
And although it feels strange to write anonymously on a website which prides itself on openness and honesty,  I have to because although Team Autostraddle accepts me — addictions and all — other employers aren't generally so understanding. I'm not hiding my identity because I'm embarrassed or shameful. You should know — and maybe you already do — that drug addiction can happen to anyone, to people like you and me, and it requires compassion and understanding, not rejection and cruelty, and, this isn't the first time we've suggested that you give Lohan a f*cking break.
It's tempting to tell you that I was a drug addict. I've been hard-drugs-free for nearly a year now, but my dismal track record of sobriety encourages me to stick with present tense until I'm confident that I'll never relapse again.
I don't know the details of Lindsay's story, but I empathize because I know how it feels to have people treat your addiction like it's just your personality or lack of morality or rebellious streak that got you into this mess to begin with.
I know what it's like to be told "get your act together" like it's just a matter of deciding you're ready and then doing it.
I know the pressure that accompanies the relief of accomplishing 30 days sobriety, after which everyone expects you to have overcome your illness and remain sober forever. And unlike Lindsay, I at least have the privacy to try and fail as many times as I need to. I don't know how she lasted a single sober hour because if the first thing I saw upon departing rehab was paparazzi and my opportunistic father shouting his slanderous opinions about me from the media rooftops, you can bet that my very first stop would be my dealer's house.
According to the media, Lindsay isn't sick, she's just a privileged brat who needs to take a long, hard look at herself in the mirror before doing lines from it. But it's worth noting that Lindsay has been working all her life and made all the money she's spending herself. She hasn't even talked shit about anyone, let alone drunkenly ranted Anti-Semetic slurs like Mel Gibson or physically abused other people like drunk Charlie Sheen did. She's not a "bad person."
But it's Lindsay who gets the worst treatment by the media. Internet commenters scream "this is the last straw!" and "I'm done with her!" as if she ever had our support to begin with.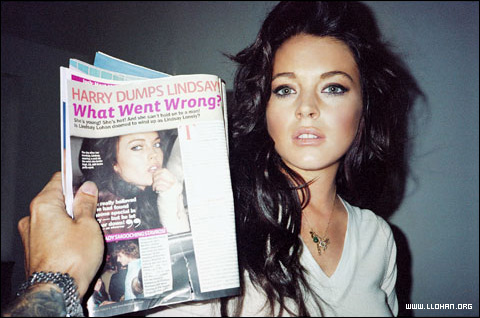 +
Now before I go on I want to make it clear that I'm not condoning Lindsay drinking and driving. It's unforgivable. She put the lives of others at risk and deserves whatever sentence the judicial system sees fit, whether that be 84 minutes or 84 years. That's what the judicial system is there for, after all: it punishes criminals. Perhaps her sentence was unjustly lenient due to her celebrity, as many have suggested, but 5,000 misogynistic internet comments and 36 consecutive back-to-back derogatory headlines aren't going to change her treatment in court — only political lobbying and activism (Look: it's MAAD) can do that.
I'm not commenting on her treatment by the legal system, her friends or her employers. I'm commenting only on her abysmal treatment by the media which seems largely unconcerned with the DUI itself. If they were, they'd certainly find a more productive way to keep her off the highway than perpetuating a "ding-dong the witch is dead" attitude.
There's so much information presently available to the public about the seriousness of drug & alcohol addiction, yet the media disregards this in favor of the cheap shot.
+
Many people have implied that Lindsay's problems may have started with, or have been worsened by, her father Michael Lohan, who was arrested for drunk driving long before she was. Maybe it's the highs and lows of fame, maybe it's genetic, maybe she just partied out of control, maybe it was the only coping mechanism she knew of when times got tough. We can't really know what the root of her addiction is, or when it started. It's likely that she's been avoiding discovering her "root" by using, after all.
I was 12 the first time I took drugs. My guardian had dealt me a swift boot in the ribs and, lacking medical attention or a trustworthy friend, I coped by gulping down cough syrup and prescription medication from my neighbor's drug cabinet. It wasn't easy. I was scared. I knew drugs were bad and stealing was bad and it took an hour to work up the courage to take that first pill. But as scary as that was, it wasn't nearly as terrifying as the pain shooting through my little chest every breath I took.
When I woke up, I realized I'd found the answer to my problems: the pills. They'd taken away all the pain and sadness. Even at 12, I knew it was stupid to keep taking them but I did anyhow. Every new prescription bottle was a mystery: what was I ingesting? What affect would it have on me and for how long? All I knew was that any drug side effect wouldn't be as frightening as a steel-capped boot connecting with my ribs or the way my chest nearly exploded when she'd tighten her belt around my neck or the way my skin split open when the leather cat o' nine was brought down across my back.
My childhood was shit, and I'm not ashamed to admit I didn't want to live it sober. The pills and their accordant blackouts and limb-numbing cloud-floating fuzzy-head tunnel vision side effects saved my life by granting me a few hours of uninterrupted peace that I couldn't get anywhere else.
Eventually drugs stopped being scary and started being necessary.
The next twelve years were dedicated to forgetting the first twelve: weed, pills, coke, speed, and at my worst, meth, crack and ice – you name it and I smoked, snorted and freebased it, with very little regard for the consequences.
It wasn't that I wanted to die. I had dreams of better things: a normal, healthy life filled with love, friends and relationships. But I struggled in making peace with my past and couldn't move forward. Rather than live or die, I created a state of suspended animation where I shot drugs through my heart & lungs & head and let them tranquilize every nerve, fiber and feeling in my body. Drugs helped me deal with the fact that the people who were supposed to love me and look after me simply abused and abandoned me before I'd even hit puberty or had a chance to disappoint them.
Like many addicts, I lied to everybody and had a misguided sense of morality. I convinced myself that I was a higher grade of addict because at least I didn't cheat or steal to feed my habit. I didn't break into cars or steal stereos for a dime-bag.
I was wrong, of course. Lying to people who believed in me made them feel worse than stealing from them would've.
I avoided building close friendships or telling people where I lived so that if I went on a bender or had a come-down nobody would miss me.
I could hide the addiction but I couldn't ever give it up completely, no matter what the repercussions. Not when I was 14, living in a shelter and discovered my friend dead cold on the couch with a shoelace tied around his arm. Not when I was 17 and a friend died in my arms waiting for the ambulance to arrive. I saw worst case scenarios play out before my eyes but I didn't slow down. If anything, I did MORE drugs to block out the pain of their deaths.
In retrospect, I'm shocked by how easily I separated my conception of these tragic losses from the addiction that caused them. But this is what we do. When Lindsay received her wake up calls – in the form of DUIs or possibly other events that we would no idea about – maybe she wasn't ready either.
There's more stories where those come from, stories that should've shocked me into sobriety but didn't. But they're not gonna shock you either. You've heard them all before.
Sometimes I think the only thing that's actually unique about any junkie's story isn't the experiences we had while we were on drugs, but the experiences that made us want to give them up.
+
It's hard to admit you're an addict and it's even harder to admit that you need help. There's so much to lose. It's not returning to an addict lifestyle that makes relapsing so hard, it's the shame. Letting your loved ones down is the worst and scariest part of your addiction, even moreso when your loved one is a smokin' hot DJ with a British accent. Every time you relapse, you show the people who love you and who've cared for you that you're not as strong as they thought you were.
Like many addicts, the fear of losing friends and family was so strong that it prevented me from asking for help at all.
Although I'm presently one of those addicts that would be considered "moderate to high functioning," I didn't start out that way. If camera phones had existed during my spiral towards rock bottom then I'm sure there'd be plenty of grainy compromising party photos of me, too.
Eventually I learned how to pick my drugs and time my highs so I could hold down a job without raising any suspicion. I lied brilliantly and I "modeled through" jobs much like I imagine Lindsay Lohan has been able to do at least a handful of times; whether it was a guest spot at the MTV VMAs or a photoshoot or charity work. I approached eating and washing and paying bills with the same diligence as I approached sourcing my drug supply for the week.
The first time I became serious about kicking my habit was for a girl. I was lucky: I found someone who believed in me and was prepared to stand by me through my highs and lows and recovery. For the first few weeks that girl was okay with my habits. She didn't want to change me and was looking for someone a little 'rebellious' anyway. Her stance didn't last: it turns out a girl will only let you fuck her for so long before she asks you to FEEL something.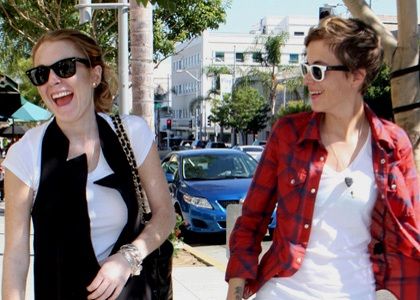 I didn't want to lose her so I went to rehab. I talked to therapists and did art and it paid off with a few months of clean living. We were both satisfied and believed I was committed to cleaning myself up for the sake of our relationship. But it didn't stick. Not really.
Maybe a girl changed Lindsay, too, temporarily. I've always thought she looked her happiest and healthiest when her and Samantha Ronson were photographed doing something totally mundane and domestic like pushing a shopping cart through a Whole Foods carpark.
Rehab helped. My habit became lighter as the years passed. But every time I aimed for complete sobriety it never lasted more than a few months. My head would clear and I'd be forced to deal with torturous memories and I couldn't do it. On top of this I was working in an industry where I was surrounded by drugs and recreational drug users.  It was easy to convince myself that I could be one of them and control my intake this time.
Ultimately nobody can make you change. You have to change for yourself. It's long and it's hard and when Lindsay falls off her wagon and people call her "pathetic," they aren't helping her and they aren't helping you or me, either. It's devastating to hear people expect even less of you than you expect of yourself and it makes getting better really hard.
On this queer website, we try every day to share our own personal experiences in hopes that we can help someone — even just one person — feel less alone or more supported.
So if you're that one person and you read these headlines about Lindsay Lohan and think nobody gives a fuck about your recovery, either, you're wrong. If you think your friends and family don't want to see you healthy, you're wrong. If you expect everyone to turn their backs on you if you trip up, you're wrong. I may be just as anonymous as many of you right now, but even at this distance I hope you know that you're not alone.
And for those who prefer to call Lindsay names and celebrate her demise, I'd like to remind you that, in the paraphrased words of Cady Heron:
Calling somebody else fat won't make you any skinnier. Calling someone stupid doesn't make you any smarter. And rejoicing in the ruining of Lindsay Lohan's life definitely won't make you any happier. All you can do in life is try to solve the problem in front of you.