Once upon a time it was announced that Ann Coulter was going to headline a gay event, which coincided with her saying a bunch of awesomely insane stuff about other conservatives such that we were actually interested in her for about forty-five seconds. Now that she has actually appeared at Homocon and said pretty much what one would expect her to, our level of interest has dropped back down to the level of "correct composting procedures" and "History Channel specials." We have the highlights for you:
+ "Gay marriage is not a civil right because you're not black." (She can tell you're not black because you're gay. There are no gay black people. Or if there are, Ann Coulter doesn't care about them.) (Sidenote: there's definitely a legitimate argument that calling gay marriage a "civil right" is disrespectful to the historically black civil rights movement in America and that terminology like "equal rights" might be more accurate, but somehow I don't think that's what Ann Coulter was addressing.) (@politico)
+ She's not homophobic, she's funny! "…she called former presidential candidate John Edwards a "faggot" — which she explained away at the top of her speech as humor. "The people who get gay jokes are gays,wp_postsshe said, adding that when she talks to Christian audience, "Out of sweetness they don't laugh at the gay jokes.wp_postsWhat is that I don't even (@joemygod)
+ Have you considered conservatism? You should, because you're gay, and gays really "ought to start being antiabortion because "once they find the gay gene, guess who's getting aborted." Also, did you know that Prop 8 is right and good and perfect because religion? (@goodasyou)
+ GOPROUD DOESN'T CARE IF ANN COULTER SAID ANYTHING OFFENSIVE. GOPROUD DOESN'T NEED YOU. GET YOUR OWN HOMOSEXUAL CONFERENCE THING. (@joemygod)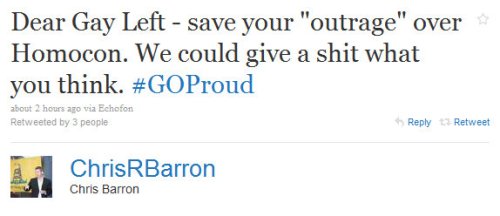 OK, Chris Barron! Consider it saved. Ann, this has been really special, thanks for everything, I'll mail you your bra if I ever find it, we'll always have Paris, etc.