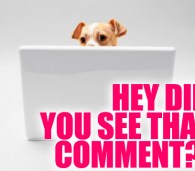 Hi! Guess who wrote the intro for you today? No, not me! It was INTERN HOT LAURA! Here she is:
Let's start with good things a la Martha Stewart: Halloween's over and we have a roundup of your best costumes. Many of you came to the warm communal blanket nest of musical feelings to talk about Ani Difranco and your hearts. As it turns out Lip Service might even be a show worth watching! Are you feeling good? I'm feeling good.
Good, because the world imploded. Despite our fantastic election guide, Republicans managed to take over everything ever and Oklahoma made English its official language. Jessica and Rachel K reflect.
Luckily, Jaime aka Miss November swooped in to save the day. By the by, you can preorder the 2011 calendar RIGHT NOW. National Sandwich Day also took place this week which is another light in a sea full of octopus ink and sharks. Finally, we have 10 lgbt novels that tackle suicide. And if you live anywhere near LA or have a soul, please keep a look out and think positive thoughts for Nat who has lost her dogs.
---
On 5 Autostraddle-Inspired Halloween Costumes for the Queer Soul:
The Sex Riot Award to Lauren, LaurenLu: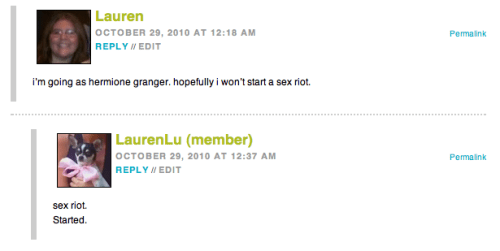 The If Only Shiloh Were A Little Older Award to K.E.H:
My g/f looks like Shiloh/Shiloh looks like my g/f (BUT OLDER OBVS)
She's at least 12.
On Takin' it Back Day: Anti-Gay Politicians 'Apologize' For 'Queers Should Commit Suicide/Get AIDS', 'Can We Marry Dogs?', etc.:
The bcw award for bcw to bcw:
the school board should be apologizing for appointing to vice-president a man who uses the word "thereselves."
The Come To My Tea Party Award to e, annotations, diver, wasteunit: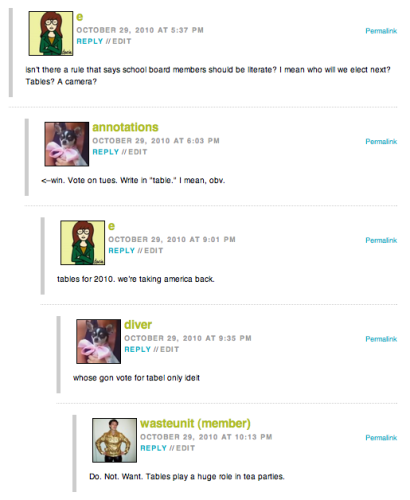 On NSFW Lesbosexy Sunday Wants Your Sex:
The Lesbosexy Sunday Is At Least Enough To Get You To Thursday Award to Abernathy:
OMFG, the photo of the suicide girl is SEXY. Like so sexy that it's Thursday and I came back.
On Lip Service Episode 103 Recap: Everybody Must Get F*cked (Up)":
The Put This On Your To-Do List to Allish:
My flatmate offered me Ket yesterday. I was gonna be all 'ZOMG ITS JUST LIKE LIP SERVICE ROFL!1!' but instead I said'No thankyou I have a lecture now, maybe later' (sweet smile)
That's about the only way I can relate to this epsiode because I've never been discriminated at work, I've never had a famous girlfriend, I've never discovered that I'm actually dead and I've also never had sex on a desk. Sadly.
The Scissoring. It's A Thing. Award to terracottatoes, Petra:

On Ani DiFranco Appreciation Club Meeting #2: Ani DiFranco Is Trying to Break Your Heart:
The You Know You're On A Lesbian Website When… Award to bcw, e, amberb01, caitlin: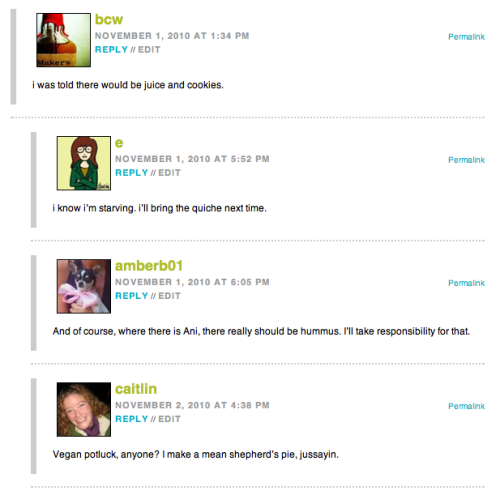 On Pre-Order Autostraddle's 2011 Calendar of Hot Lesbians:
The Dr. Seuss is Witty But Not As Sexy as 12 Ladies In Their Underwear to KZ:
It would certainly be a change from my Dr Seuss calender.
On So, How F*cked Are We, Exactly? Let's Talk About the Midterm Elections:
The Hi Sarah Palin! Award to e:
hi debbie, i respect your opinion, but i think you may have wanted to go here: http://www.foxnews.com/ tell sarah palin i said hi!!
The If Rand Paul Were Anyone Else Award to alice e, Dina, kd15:

On It's National Sandwich Day:
The Sandwiches Leave Room For Creativity Award to Heather:
My kid made an epic kid sandwich yesterday consisting of a beautiful lettuce situation, some cheetos, cucumber, turkey, grapes, and a fruit roll-up on wheat. She ate it like it was the best fucking thing she'd ever tasted. She also laughed the whole time because I was laughing at her. It was a special Sandwich Day moment that I will cherish forever.
On Ricky Martin is Gay On Oprah, Has Your Mom Told You Yet?:
The Double Rainbow Oh My God Award to SomethingClever, terracottatoes, petitekarma: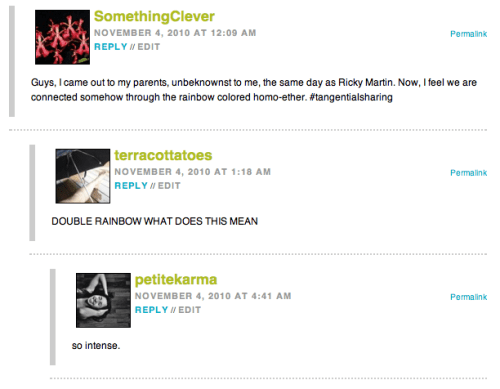 On Oh My God We Are All Unemployed: How Twentysomethings Live Now:
The What Have Our Lives Come To Award to EV, Brianna, uhmina: