Clint McCance, the vice-president of an Arkansas school board, announced yesterday evening that he will be resigning following mass criticism of homophobic comments he posted to his Facebook page on Spirit Day last week.
In an interview with CNN, he said, "I'm sorry I've hurt people with my comments. I'm sorry I made those ignorant comments and hurt people on a broad spectrum."
Those original comments were posted in response to Spirit Day, which was created as a response to the multiple recent incidents of suicides due to gay bullying and to raise awareness. Specifically, McCance wrote:
"Seriously they want me to wear purple because five queers killed themselves. The only way im wearin it for them is if they all commit suicide. I cant believe the people of this world have gotten this stupid. We are honoring the fact that they sinned and killed thereselves because of their sin. REALLY PEOPLE."
Some time after the first post, there was a back-and-forth with several commenters and McCance also wrote:
"No because being a fag doesn't give you the right to ruin the rest of our lives. If you get easily offended by being called a fag then dont tell anyone you are a fag. Keep that shit to yourself. I dont care how people decide to live their lives. They dont bother me if they keep it to thereselves. It pisses me off though that we make a special purple fag day for them. I like that fags cant procreate. I also enjoy the fact that they often give each other aids and die. If you arent against it, you might as well be for it. I would disown my kids they were gay. They will not be welcome at my home or in my vicinity. I will absolutely run them off. Of course my kids will know better. My kids will have solid christian beliefs. See it infects everyone."
So McCance not only isn't going to wear purple to support gay people who are harassed or bullied and/or commit suicide as a result; he'd actually prefer they commit suicide. He isn't kidding. This is the scary part.
The Arkansas Education Department responded with a lukewarm statement saying, in short, that they didn't approve but hey, there was almost nothing they could do:
"The Arkansas Department of Education strongly condemns remarks or attitudes of this kind and are dismayed to see that a school board official would post something of this insensitive nature on a public forum like Facebook. Because Mr. McCance is an elected official, the department has no means of dealing with him directly. However, the department does have staff who investigate matters of bullying in schools and we will monitor and quickly respond to any bullying of students that may occur because of this, as we have with other civil rights issues in the past."
Shortly afterward, Dan Farley, the Executive Director of the Arkansas School Boards Association, released a statement that said board members were "appalled" and "saddened" and that adults bullying children would not be tolerated in addition to violating state and federal law.
On Friday, the Center for Artistic Revolution, a local gay and lesbian advocacy group, held a protest. If McCance hadn't resigned by the November board meeting, they planned to hold another.
And now? He's resigned from the board and apologized for his comments. He's also disowned them:
"I would never support suicide for any kids," he said. "I don't support bullying of any kids. I'd like to extend apologies to those families that have lost children, for all those children who feel that suicide is the only way out, especially for the five families who have already lost children. I brought more hurt on them… they didn't deserve that and I do feel genuinely bad for them."
Except that he quite publicly bullied people, and despite the obvious legal gloss to this statement, it would seem — if not sincere — at least a little repentant. He mentions installing a security system and moving his wife and kids to a different state out of fear for their safety, and "reaping what [he's] sown." Which is fine, but according to CNN, here's what comes next:
"[McCance] said he would resign from the school board to spare the district the bad press and distractions of dealing with the fallout from his comments. 'If they decide after five or ten years to vote me back in, then I'll run again,' he said."
McCance isn't resigning because he recognizes that his actions were inappropriate bordering on illegal and, his position of authority or any state and federal laws notwithstanding, terrible beyond belief. He's resigning because it's bad PR and he doesn't want it to be a distraction. And he's receiving hate mail and phone calls and it's making him uncomfortable and he thinks this is equivalent, somehow, to a lifetime of bullying and self-doubt and hateful comments from people such as himself. If his resignation proves anything, it's that having your bigotry appear in international media can be a little uncomfortable sometimes and that people will say anything to make that attention go away. It is tempting to see results like this one as victories, since after all, he did resign. But doing so would be a huge error and would take away from recognizing the need for actual change.
"Clint McCance's decision to resign from the school board is a step forward for the community he represents. We are hopeful the wounds that were inflicted will soon be healed," said HRC President Joe Solmonese. "What remains troubling is that Mr. McCance focused his regret on particular word choices not the animus behind those words. We hope he will take this time to reflect not only on the language he used but on what he can do to make the lives of lesbian, gay, bisexual, transgender and questioning young people better."
He's not the only public figure under fire for homophobic statements these days — in Wisconsin, lieutenant governor nominee Rebecca Kleefisch had to apologize for remarks she made on Christian radio, in which she opposed domestic partner benefits on the grounds that gay marriage would lead to — YOU GUESSED IT — people marrying objects and dogs! WE DON'T WANT TO MARRY THE TABLE. HOW MANY TIMES DO WE HAVE TO TELL YOU WE ARE NOT INTERESTED IN MARRYING THE UPHOLSTERY:
"We can't at this point afford to just be handing out money to anyone," Kleefisch had said, opposing the domestic partner benefits. "This is a slippery slope in addition to that — at what point are we going to OK marrying inanimate objects? Can I marry this table, or this, you know, clock? Can we marry dogs? This is ridiculous."
Meanwhile, NOM is touring the country, attempting to rally voters against gay marriage with facts like "sodomy causes AIDS" and questions like "Can I marry your camera? I mean, I really like cameras." To that last one, I think maybe you should marry your camera, but only if your camera loves you. And only one person can tell you if your camera loves you or not and that person is Tyra Banks.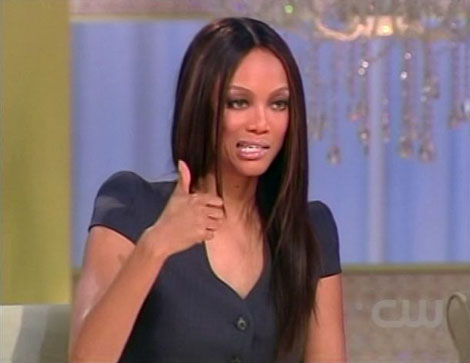 In other apology-related news, today NBC affiliate KETK in East Texas will have to publicly apologize for its recent segment debating the question: "Do you think this country's acceptance of homosexuality could lead to the fall of America?"